Santa Paws has stopped off at House of Scamps early so that we can give you a sneak peek of the Lily's Kitchen Christmas collection for 2022, and it's full of familiar fan-favourites your dog is certain to go barking mad for, whether they're repurchasing for a second year, or just discovering it for the first time.
Making it easier than ever to get your dog in on the festive fun, Lily's Kitchen have covered all bases with everything from Christmas dinners and turkey jerky, to advent calendars and gorgeous gift boxes, with prices from just £3.25.
Dogs are part of the family, so it's only right they're able to indulge in a few festive treats and this special Christmas menu will delight your doggos and make sure they can join in with all of the fun this December.
The collection launched in September, giving paw-rents plenty of time to stock up and spread the cost of Christmas. It features four gifts for dogs this year, with a further three for cats if you happen to have a feline family member, too.
Samantha Crossley, Marketing Director at Lily's Kitchen, said: "Who said Christmas is just for humans? Let your pet join in the festivities as well! At Lily's Kitchen we know that pets are family too, and households up and down the country will want their four-legged family members to be just as much a part of the festive season as those on two. Our latest range does exactly that, while also providing the very best, all-natural, ingredients."
Now, Lily's Kitchen aren't ones to show off, but in 2019 they were awarded a Royal Warrant by HRH The Prince of Wales – now King Charles – himself, officially giving it the Royal seal of approval. And well, if it's fit for a King, it's fit for the Scamps, too, so here's what we thought of the Lily's Kitchen Christmas range 2022.
Firstly, all of the products are beautifully packaged in midnight blue designs, complete with a little drummer dog to finish off the festive look. It is the same design as last year, but that doesn't stop it being any less gorgeous. We loved it then, and we still adore it now.
Lily's Kitchen Advent calendar for Dogs – £12
I get Phoebe and Frank an advent calendar every year – you can find our round up of top picks here, which Lily's Kitchen naturally features on. The dogs quickly cotton on to the morning routine and associate the sound of perforated cardboard with delicious daily treats, with little paws scampering across the kitchen each morning.
The Lily's Kitchen hand drawn Advent Calendar for dogs features 24 windows to take you up to Christmas Eve. The design features the iconic Christmas drummer dog who counts down to Christmas with a beat of a drum, as well as canines in Christmas jumpers and rocking horses. Each drumroll welcomes the festivities, the feasts, the opening of presents and wet-nose kisses under the mistletoe, or so the story goes.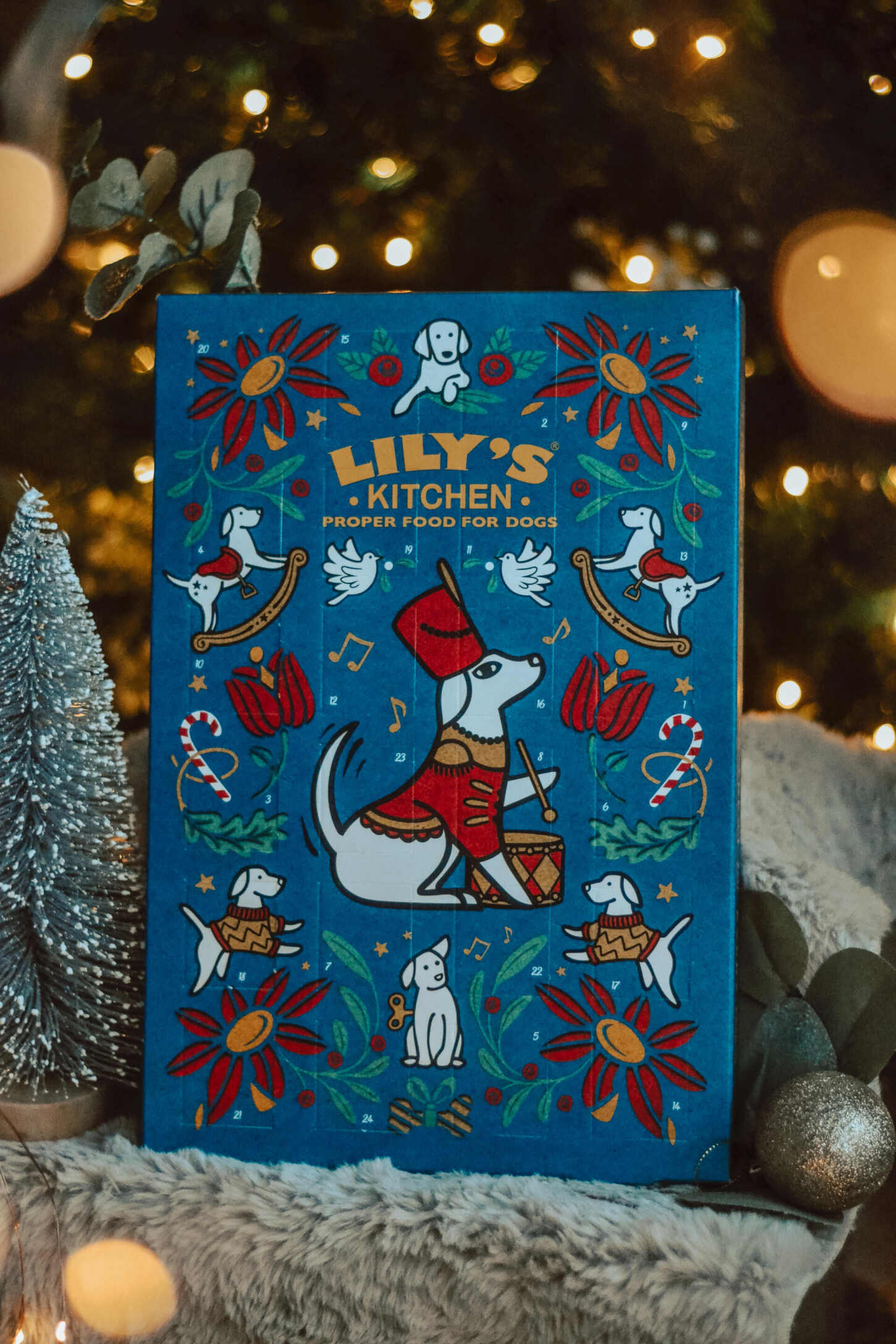 Behind each door, every day offers a surprise of one of three Lily's Kitchen biscuit varieties, and sometimes, there's more than one treat behind the window, ideal for multi-dog homes. They're particularly generous with the training treats.. We're big fans of the Lily's Kitchen biscuit range,  but those who aren't familiar with the biscuits, here's what you can expect to find behind each door:
Training Treats – A troupe of mini organic bone-shaped biscuits, made with organic apples and farmhouse cheddar to help keep your dog's attention on wintry walks in the park.

Rise and Shines – Flower-shaped treats made with beef liver, fresh carrots, blackstrap molasses and alfalfa to help keep your dog's coat as shiny as a Christmas bauble.

Bedtime Biscuits – Blissful bedtime treats, made with honey, yoghurt, chamomile and passion flowers to help soothe your dog on those exciting nights before Christmas Day.
The Lily's Kitchen advent calendar comes in at £12 this year, £2 up on last year's price.
Lily's Kitchen Three Bird Feast for Dogs – £3.35
Christmas dinner. It's really the dinner of the year, isn't it? And now, Lily's Kitchen have brought back their sell-out Three Bird Feast so it can be the meal of the year for your pooch, too.
Complete with all the trimmings, this popular tin is comprised of 40 per cent turkey, 10 per cent goose and 10 per cent duck. It also contains seasonal parsnips and cranberries, with carrots broccoli, apples and added minerals, herbs and botanicals, like rosehip and milk thistle, which are rich in Vitamin C and antioxidants.
The showstopping dinner can be fed alone as a complete meal, as a topper, or even get creative and spread it on a Lickimat, or stuff it in a Kong to keep your dogs entertained whilst the family share gifts or make sure the turkey doesn't end in disaster.
And what's better on Boxing Day than left over Christmas dinner? We've bought a couple of tins of the Three Bird Feast to make sure the guys have enough for a couple of days, to make it feel like Christmas has lasted longer.
What's more is that Lily's Kitchen are supporting Dogs Trust this Christmas, so ensure those who are still searching for forever homes can still enjoy their festive season. For every dog food order placed on their UK website, Lily's Kitchen are donating 60p to Dogs Trust until they reach £25,400. 
Lily's Kitchen Festive Turkey Jerky Treats for Dogs – £3.25
Who said turkey is just for humans at Christmas? Let your dogs join in the festive feast with Lily's Kitchen's delicious Festive Turkey Jerky – the perfect stocking filler this festive season.
Made with proper meat, for a proper treat, this tempting grain-free recipe is made with natural ingredients, including 68 per cent freshly prepared turkey, so your furry family members can enjoy them throughout the festivities, guilt free. Not that Christmas calories count, right?
Jokes aside, it is easy to overdo it at Christmas (mostly on cheese, for me), so Lily's Kitchen recommends feeding up to five of these a day, and avoid feeding scraps under the table, no matter how tempting.
As these are limited edition, you might want to stock up on them and opt for the box of eight – this way, you can even gift your canine friends a bag for Christmas. One pack of these treats comes in at £3.25 – 25p more than last year – while a box of eight is £24.70, saving £1.30 compared to buying separately.
Lily's Kitchen Cracking Festive Treats for Dogs – £18
Is it even Christmas if you haven't got the festive biscuit tin or a giant tub of Quality Street and spend the best part of an hour snaffling all the good ones? Lily's Kitchen's answer to the family confectionery tin is this Cracking Festive Treat tin for Dogs, filled to the brim with goodies your dog will devour. There's no 'bounty' bars here – everything's a winner.
This stunning gift tine contains Festive Turkey Jerky, Scrumptious Duck & Venison Sausages, and Best Ever Beef Mini Burgers, and is a great way to stop the dog slobbering over your Christmas pyjamas whilst you rifle through the biscuit tin yet again.
The tin is really lovely, white with gold detailing, which can be reused to store your dogs' favourite Lily's Kitchen treats year round. We've used last year's as storage for back-up treats, so this year, we're going to think of a new way to reuse the box.
So, whether your pup has been naughty or nice this year, we still think they deserve a treat or two this December, and the Lily's Kitchen collection for 2022 is the perfect gift to find under the tree on the 25th.