The Hounds Chew Box is a box full of natural goodies for your pooch to enjoy. It launched in July 2018, and after a successful, sell-out trial, it's become a monthly must-have for its subscribers.
Each month the Hounds team hand picks a selection of natural chews and treats from their in-store range – from chicken feet and pig snouts to meaty bites and vegan treats.
Anya Sczcur started the independent dog shop Hounds after realising how many nasties and toxins there were in pet products on the market. She wanted to provide a space to educate dog lovers and offer them the best quality products at low prices. Two years later she launched the Chew Box subscription, available as non-commitment one-off boxes, or with a subccribe and save option. It's something we've been buying for the last four years, and the contents are always great value for money and allows us to discover new and interesting brands and treats.
So, if you've never bought a Chew Box before, here are nine reasons why you should:
They're always a surprise
The contents of the Hounds Chew Box changes every month and are always a total surprise. Of course, they'll always be products stocked in the shop, but if you like the element of mystery, you won't find the monthly boxes shared on the Hounds pages – so you're at no risk of any spoilers! Trust me when I say it feels like Christmas unwrapping everything.
They're money-saving
One-off Chew Boxes cost £8.49, and usually contain more than £10 worth of treats. However, if you choose to subscribe to the Chew Box and have a monthly box, the price goes down to £8.07. That's a total saving of at least £23.16 a year on treats. Not only that, but if you use our discount code SCAMPS at the checkout, you'll get 10 per cent off, taking a one-off box from £8.49 to £7.64, saving at least £2.36 per box based on the value. Which means more money to spend on toys, accessories, days out and probably more treats.
They're all natural
The Chew Box contains selection of natural chews hand picked by the Hounds team. This is often a combination of packaged treats like Soopa, Forthglade, Denzels or Edgard and Cooper, paired with pick 'n' mix natural treats like pigs ears, chicken feet, pizzle sticks and meaty coins. All of the treats and brands stocked at Hounds have been picked for their ethos and sustainability, and contain no nasties – just the good stuff. You'll never find rawhide products in these boxes, just healthy, safe alternatives.
You and your dog can discover new treats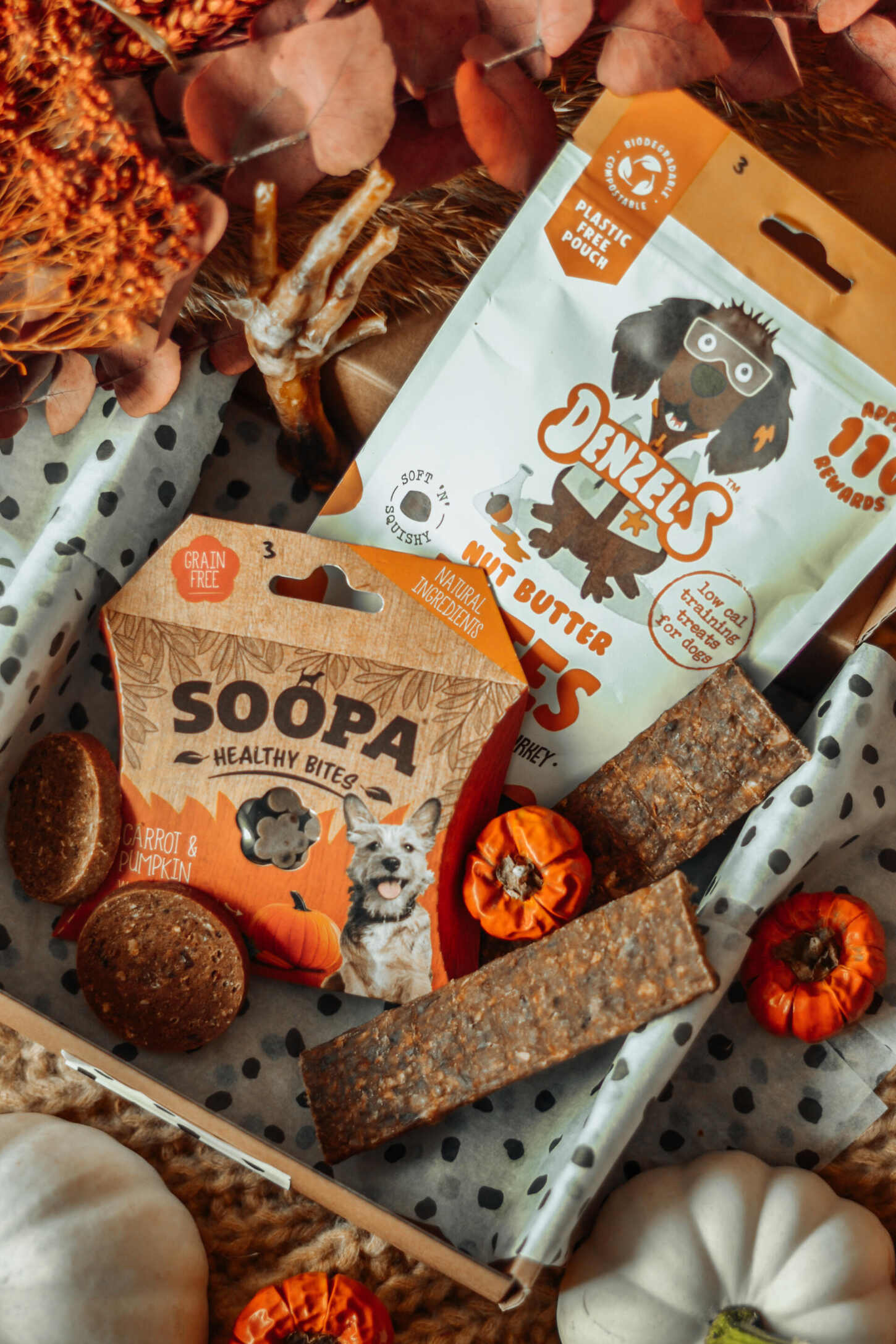 Sometimes shopping for dog treats can be a little overwhelming – there's just so much choice. Ordering a monthly Chew Box takes the stress out of searching, but also means you and your dog can discover new treats and brands to work out what they truly love. We've found so many brands we love through the Hounds Chew Box, like The Innocent Hounds and treats like Pawtato sticks – we've then gone on to buy these separately because Phoebe and Frank love them so much. Sometimes you might find more unusual treats in the box that you wouldn't have thought to pick up – but you wait and see how much your dog loves it.
They're sustainable
Not only are the treats selected often packaging free due to the nature of the pick 'n' mix table, but a lot of the brands that Hounds stock are on a mission to reduce their plastic waste, and have therefore moved to more eco-friendly packaging, such as Denzel's, who switched to a wood-pulp based packaging last summer. The Hounds Chew Boxes come in a cardboard box which can be recycled, but we often save them because they come in super handy when you need to post something. Then the tapes, tissue packaging and stickers are all paper-based, too, making them environmentally friendly, so there's no waste!
No two boxes are ever the same
We've been ordering Chew Boxes ever since they launched in July 2018, and in those four years, I can't recall a time we've ever had two identical boxes. No two boxes are ever the same which keeps treat time even more exciting for your pooch each month. Of course, you may see the same brands crop up, even the same flavours, but the actual combination of sometimes six or seven treats are always different, making it fun and fresh every pay day.
They're suitable for puppies
Everything inside a Chew Box is suitable for puppies over 12 weeks old, which means even the newest furry members of your family can enjoy one of these boxes. Just remember that dogs and puppies should be supervised at all times when enjoying chews and treats.
They support a small business
Spending £8.49 with a chain brand is a drop in the ocean and a number on the till roll. But at an independent business like Hounds, than money goes towards paying an employee, supporting a young entrepreneur, feeding a dog and growing the local economy in Newcastle-under-Lyme, Staffordshire, where the shop and adjoining groomers is based. Buying a Chew Box supports a small business and in doing so, you become a valued customer who is often known either by name, if not at least by their dogs name as 'Fido's mummy'. You'll also get a much more personalised experience shopping in store and can ask questions, gain insight and learn more about the products in a way that just isn't possible in big chain stores.
Your dog will love them
Trust me. Phoebe and Frank know when I've been to Hounds to pick up a Chew Box as they recognise the packaging and go crazy for it. There's nothing not to love about this monthly subscription. You can try one for yourself here, and don't forget to access your 10 per cent off with the code SCAMPS at checkout.