This post contains affiliate links, we may receive a commission on any sales we generate from it.
If you have a dog that loves to chase, jump and catch, then I've just discovered your new favourite enrichment tool for summer – and it costs less than a tenner. 
If you have little ones in the family, you'll probably have bottles of bubble solution coming out of every drawer and cupboard when the warm weather is out, but did you know that your dog will love them too?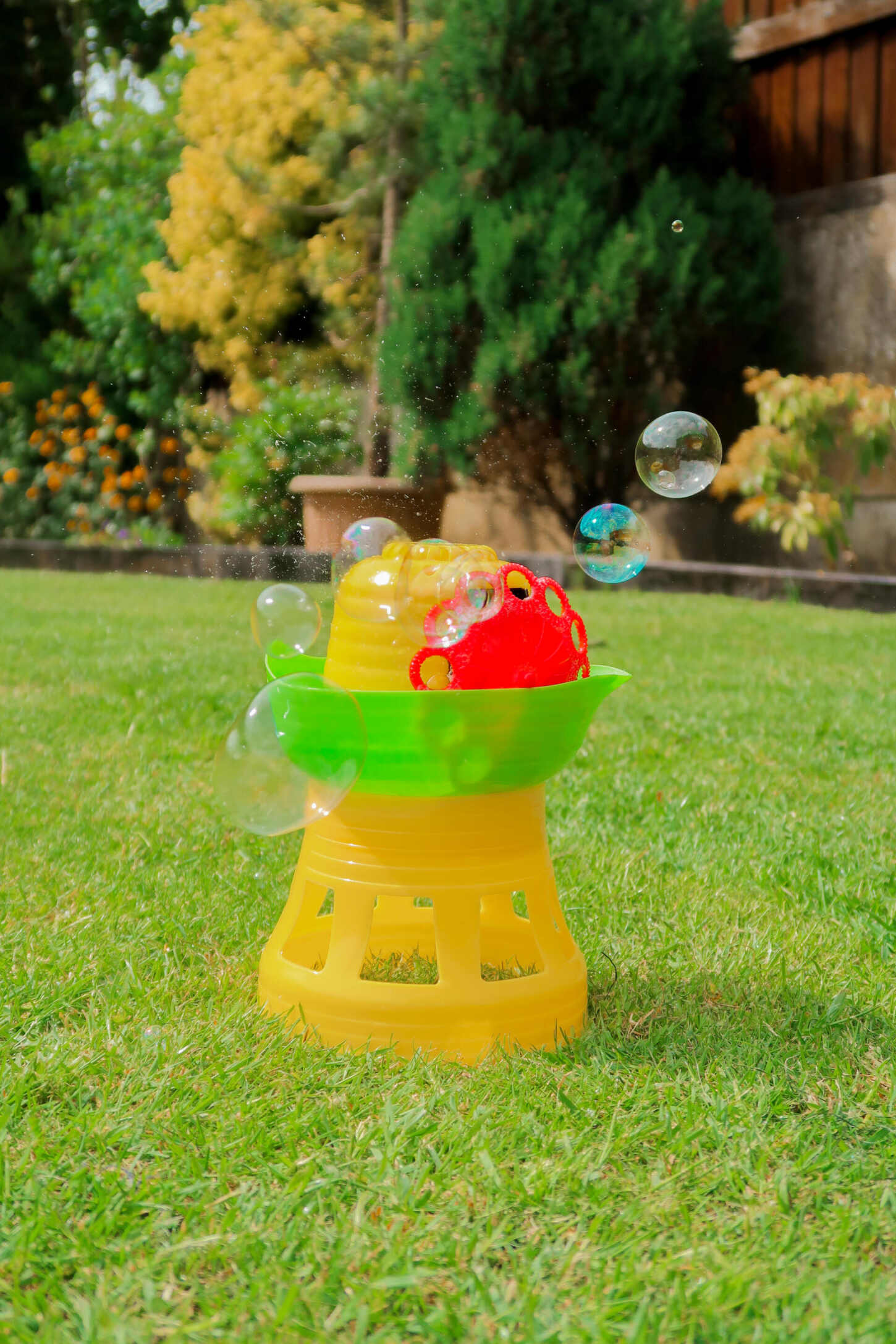 Phoebe and Frank love to chase bubbles in the garden in summer, and it's a really fun and entertaining way to mentally stimulate your pet with minimum effort on your part. 
We've bought a bubble machine windmill for £8 from B&M, which provides human hands-free enrichment, which is perfect because you're really going to want to use your phone's slow-mo video effect for this one.
The battery operated bubble machine takes three AA batteries and requires you to fill the moat with bubble solution, press the red button and off it goes. The bubble wheel spins clockwise while rotating around the windmill propelling bubbles around the whole garden so your dog can run around trying to catch them before they pop.
Most regular bubble mixtures contain ingredients that are toxic to dogs, so I bought a pet-safe solution from B&V Trading at Altrincham Market. The bacon flavoured solution shouldn't cause any digestive problems like those marketed for humans, and can be used with a wand or in the bubble machine. They smell subtly meaty, which gets Phoebe and Frank even more excited as they chomp at the air to pop them.
The machine makes a small amount of noise due to the motor, but it's not too bad, and you just have to be careful of the dogs knocking over the bubble machine or drinking the solution from the moat, actively getting them involved in focusing on the bubbles. It's a great way to play with your pets, or you can sit back, relax and just supervise the bubble-induced chaos. 
The bacon bubbles we used can be purchased on B&V Trading here, or you can find similar pet-safe bubbles on Amazon too. Alternatively, you can make your own solution using eco-friendly washing up liquid and water.
This bubble machine is one of the cheapest, but best enrichment toys for the garden and can keep the Scamps entertained for hours in the summer. You can find similar here on Amazon, but our favourite is this dog one for £8.99, down from £12.99, with free Prime delivery.