Know a dog obsessed pet parent? Then look no further for the perfect stocking filler or secret Santa gift.
B&M are stocking their Woof and Whiskers collection in store – and almost everything is under a fiver. Here at Lady and The Scamps we've picked out seven gifts between £2 and £5 that we think your dog-owning friends will love.
People who live and breathe being a dog owner adore any gifts that pay attention to how much they love their dog, or that benefits their fur-baby. We've put in a mixture of genuinely useful and thoughtful gifts that won't break the bank.
Dog Plaque £2.50
This adorable hanging plaque is complete with mustard string foryou to hang up on the wall. It reads 'wake up, hug dog, walkies, have a good day', and is ideal for hanging up your pet's lead, or your own keys.
Mustard is a popular and trendy accent colour in many homes, so this will fit in perfectly with home decor. It's a recurring colour in the Woof and Whiskers collection, meaning gifts from the range will also match. You could even put together a little pet parent hamper!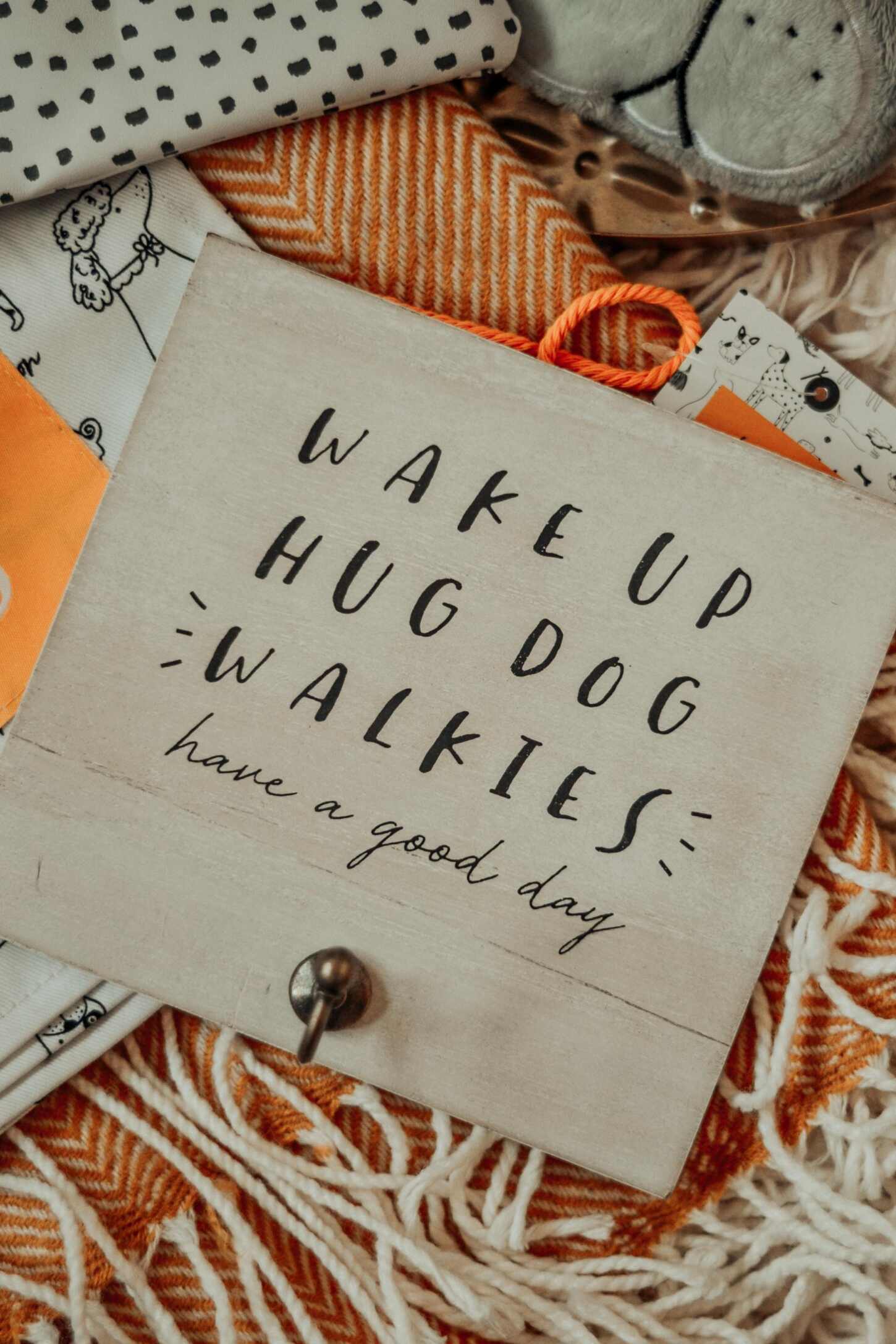 Pouch and Eye Mask £4
I'm obsessed with this dalmatian print pouch, which can be used for bits of makeup, pens, or just bits and bobs. It could also be used for storing treats in your handbag for when you and your dog are on the go.
The bag – around A5 in size – also comes with a sleep mask embroidered with the phrase 'Woof Day'. It's super soft and fluffy, with a mustard elastic strap and lord knows pet owners need their beauty sleep.
Insulated Bottle £4
Metal flasks are a cute, eco-friendly alternative to plastic bottles or disposable cups. Pet owners could use this to keep their tea or coffee warm on their dog walk, or even use it to store water for their pet, alongside a collapsible Beco bowl.
There are lots of different breeds on the cute and colourful design, including dalmatians, dachshunds and poodles. There's a similar cat-themed design, too!
Rectangular Cushion £5
Has your dog got their own 'spot' on the sofa? We've actually bought these for Phoebe and Frank because they adore laying their heads on a cosy cushion. This one is mustard on the back, and says 'Reserved for the dog' on the front, with mustard pom-pom detailing (which we suspect will be nibbled at).
Dog Tea Towel £2
The cheapest item on this gift guide is this £2 tea towel. It could be used for it's intended purpose of drying dishes, or could be the dedicated dog slobber drier. The tea towel is mostly monochrome with illustrated dogs, with a yellow patch in the centre that says 'I like dogs'. This would be really cute with a mug and some tea bags as a little 'kitchen' themed gift.
Frenchie Hand Warmers £3
I've already used these several times and are super handy – pardon the pun – for cold dog walks. These can be heated in the microwave for about 60 seconds and then pop them in your coat pocket. They stay warm enough to get you through your walk without getting cold fingers, making them an essential winter warmer.
Initial Pet Toy £3
We can't forget the dog – right? This £3 chew is ideal for smaller breeds, and come embroidered with letters of the alphabet, adding a personal touch to the gift. They come in mustard and teal, but we love the mustard ones the most. They're not tough enough for chewers like The Scamps, but dachshunds and similar breeds will enjoy carrying it around and playing.