This post contains affiliate links, we may receive a commission on any sales we generate from it.
Phoebe has always loved playing with toys, and isn't overly fussy about what they are – rope toys, tuggers, chews, they're all fun. Frank's always been much less interested in playing, more keen to sit with you for a cuddle in the hopes you'll give him the last bit of your cup of tea.
This summer though, the four-year-old pooch appears to have had a change of heart and has become absolutely obsessed with balls. They scamps have been playing with the B&M Scooby Doo balls for hours on end and I stand by the fact they're one of the best cheap supermarket toys you can get your hands on.
And with Frank being more keen to play fetch, I was happy to spend a little bit more money on a ball to switch things up, just so long as it would last. Enter – the Chuckit Ultra.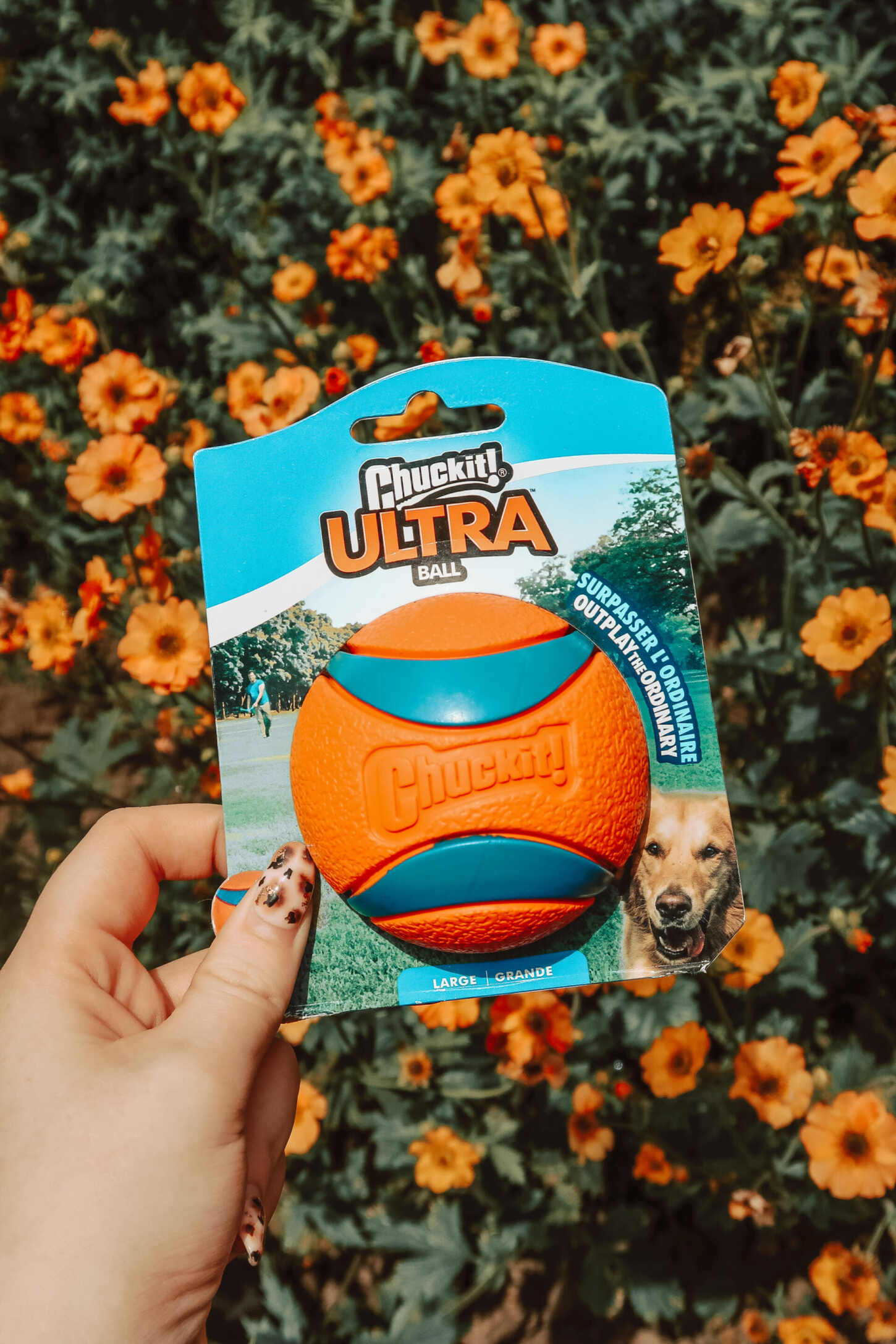 The Chuckit balls have been on our radar for a while, but frankly I just didn't think they looked particularly sturdy, and coming in at around £10 for a large – or £7.30 on Amazon – it's pretty pricey if it's not going to last more than a day. But I finally took a chance on the blue and orange ball and I'm so glad I did.
The Chuckit Ultra is said to be 'no ordinary ball, designed for the most demanding use'. I'm always sceptical about these claims because I'm not convinced they've ever been given to a power chewer, but as it stands, the ball is still going. 
The high bounce ball is in bright colours blue, which dogs can see, and orange, which looks more yellow to dogs, making them much more fun to play with. They're also high buoyancy for dogs that like to take their ball to the beach or the park for a swim. They're designed to be durable and to last 'longer than ordinary tennis balls', which in our house is five minutes because Phoebe can split them and nibble all the fluff off them in lightning speed.
Chuckit said: "Chuckit performance toys are designed to take interaction to the next level. Our toys are as fun for people as they are for pets, getting owners outdoors and inspiring a healthy, active lifestyle."
The balls are not intended for solo play, and rely on that human interaction to leave it, fetch it and bring it back to start the loop again. The brand added: "Built on innovation and ergonomic design, Chuckit! has revolutionised the classic game of fetch. This enhanced experience encourages more fun play. Pioneering play since 1998, the human-animal bond is at the heart of every Chuckit! toy we make. Sharing the exhilaration elevates playtime to a new standard."
Made with robust natural rubber, the non-toxic ball is available in small, medium and large, but we got large for Frank, they're suitable for dogs of all ages, but just make sure you get the appropriate size for your pet.
Chuckit promises 'hours of fun' playing with your dog, and to feel, I fully expected the ball to have been popped in 20 minutes, but the rubber is deceivingly tough yet soft so as not to damage teeth. It bounces right back into place despite excessive chewing, and there's not so much as a toothmark in it. You can see just how hard Frank is chewing the Chuckit in these photos.
Large dogs and dogs that need lots of exercise and energetic play 100 per cent need a Chuckit, because not only does chasing them around the garden trying to retrieve it to throw it again burns off calories (for both of you, let me tell you), but it also really strengthens the bond between pet and pawrent, as well.
I've been really pleased with the performance of the Chuckit so far, and having read some of the Amazon reviews, I'm much more optimistic that this ball will last, with lots of owners saying it's 'Staffy-proof' and 'indestructible' – though I'd always say no toy ever is, I'm confident this will last a long time.
One owner said: "My staffie has tried his hardest to destroy this ball, but has not even managed to dent it and this is unheard of. Six months on and the ball is still as good as new. My staffie loves it and when he isn't busy playing fetch, boy does he try to bite into it with his strong jaws. The ball is indestructible! Best dog toy I have ever purchased – well worth the money, can't recommend enough."
Another added: "Doesn't look it, but this ball is tough! If you have a dog that loves to play chase and kill standard tennis balls, you can't go wrong with this one."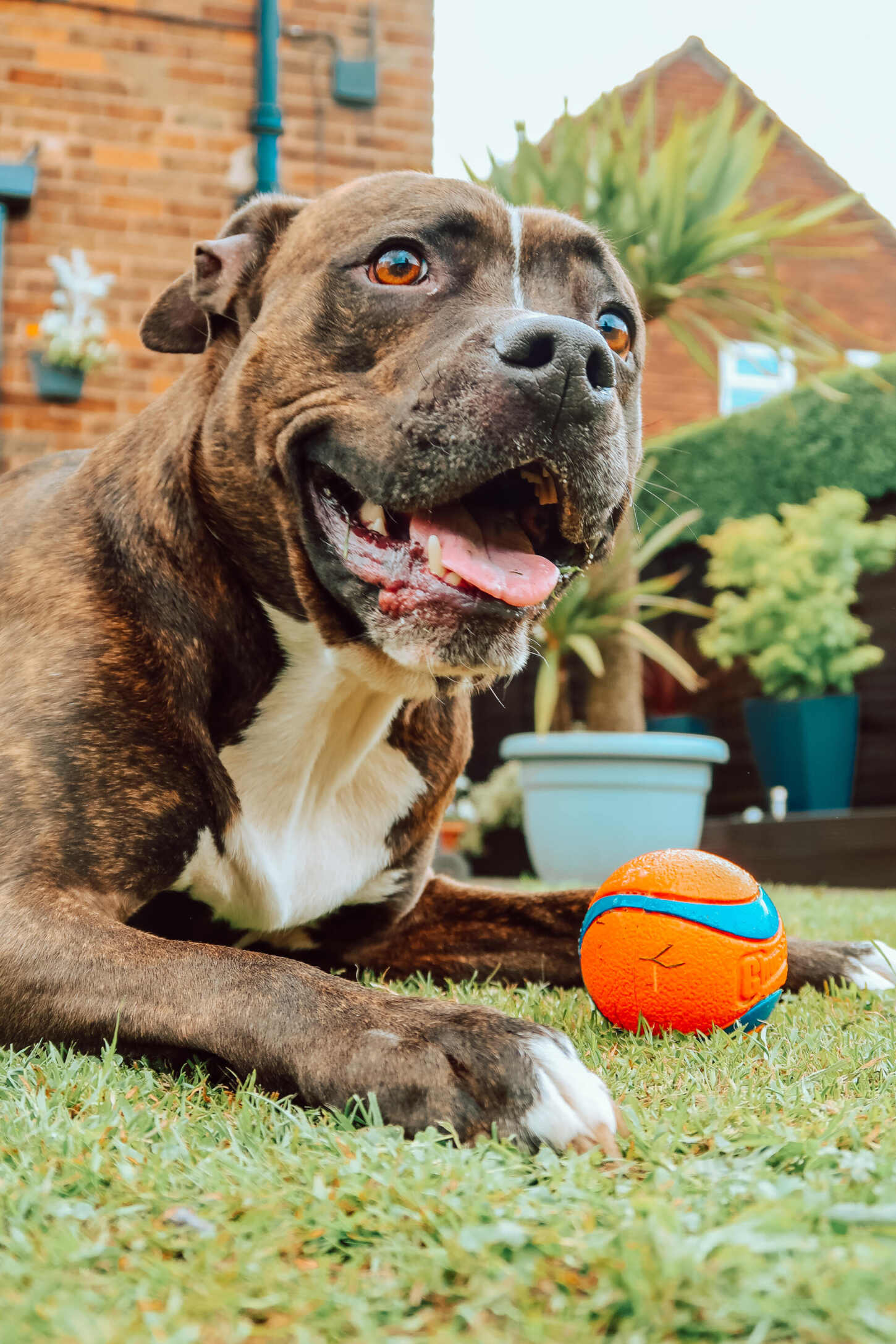 "These balls are almost staffie proof," said a third. "The dogs take around a year to chew through these balls, any heavy chewing dog owner will know what good value that is."
The Chuckits are really fun to play with and are easy to clean after use. They just wipe clean and rub dry so they always look practically brand new. I'm definitely going to get a second one so that there are no ball-related arguments in the garden, and I'm tempted to get some of the squeaky ones, too! Chuckit, you just made it onto our top five favourite toys for power chewers list.