Amid the cost of living crisis, it feels as though prices of pet food, insurance, vet bills and everything else concerning the care of our beloved dogs has been on the rise. As such, the Scamps and I have been on a mission to seek out treats that strike the perfect balance between affordability and quality – and we've found a real winner in Betty Miller's collection. 
I first came across this brand at Crufts in the Spring, and for me, their stall was the most beautifully decorated, recreating a farmhouse kitchen, with a table set and dishes filled with their little biscuit bones so you could get a really good look and feel of the product. It was immediately evident that this was a company that really believes in their brand and what they have to offer, so I picked up a packet of each of their 'little packs' – 100g bags of mini biscuit bones in a variety of flavours each with its own purpose. 
Thought up by dog-loving brothers Alex and Leo Baker, the range currently features six different flavours of these slow-baked biscuits, which are all made here in the UK at their Hampshire bakery, where they are dedicated not only to natural ingredients and quality, but also ethical and fair working practices, too.
Each of their recipes are designed for different needs, with their Good Pup treats making for the perfect training reward for your new puppy. These bite-sized biscuits are made with highly digestible proteins like goats' milk and whole egg, while the wheat-free recipe and absence of artificial additives make them a wholesome choice for dogs of all ages. Each biscuit measures 15mm by 12mm, with owners recommended to feed up to 10 per day depending on the size and weight of the pooch.
For dogs in need of a breath freshener, Betty Miller's Fresh Dog treats are a great addition to their daily routine. Infused with peppermint oil for minty breath and charcoal for digestive support to help reduce wind, they're a refreshing solution to those occasional unsavoury odours.
Watching your dog's weight? The Chunky Dog biscuits are lower in calories and fat while still being delicious, making them ideal for training and rewarding good behaviour. They contain a blend of rice flour, barley meal, chicken meal, chicken fat, mixed herbs, mint, oregano, marjoram and have been slowly baked to retain all their goodness.
Founders Alex and Leo added: "We don't just throw anything into our treats. We think long and hard about making nutritionally sound recipes and if an ingredient is in there it's with good reason, whether that's to enhance your dog's coat, improve digestive problems or help their bone development. We need the goodness of every ingredient to be preserved throughout the cooking process. This is only possible if we bake them slowly at low temperatures."
A personal favourite of mine is the Brunch Dog treats, which has an ingredients list I'd love to order on toast – packed with salmon, spinach, berries, linseed, and ginger. Weekends are all about lazy brunches – in fact, any day is a good day for a brunch and your dog certainly shouldn't miss out. These soft-bake treats are such a cute way to fill the gap between meals and make your dog feel a little bit boujee. I mean, it's literally made for popping in your bag when you're taking your four-legged bestie to the bar to meet the girls, right? Like the others, too, they're grain-free and free from added sugar, making them suitable for dogs with sensitive tummies.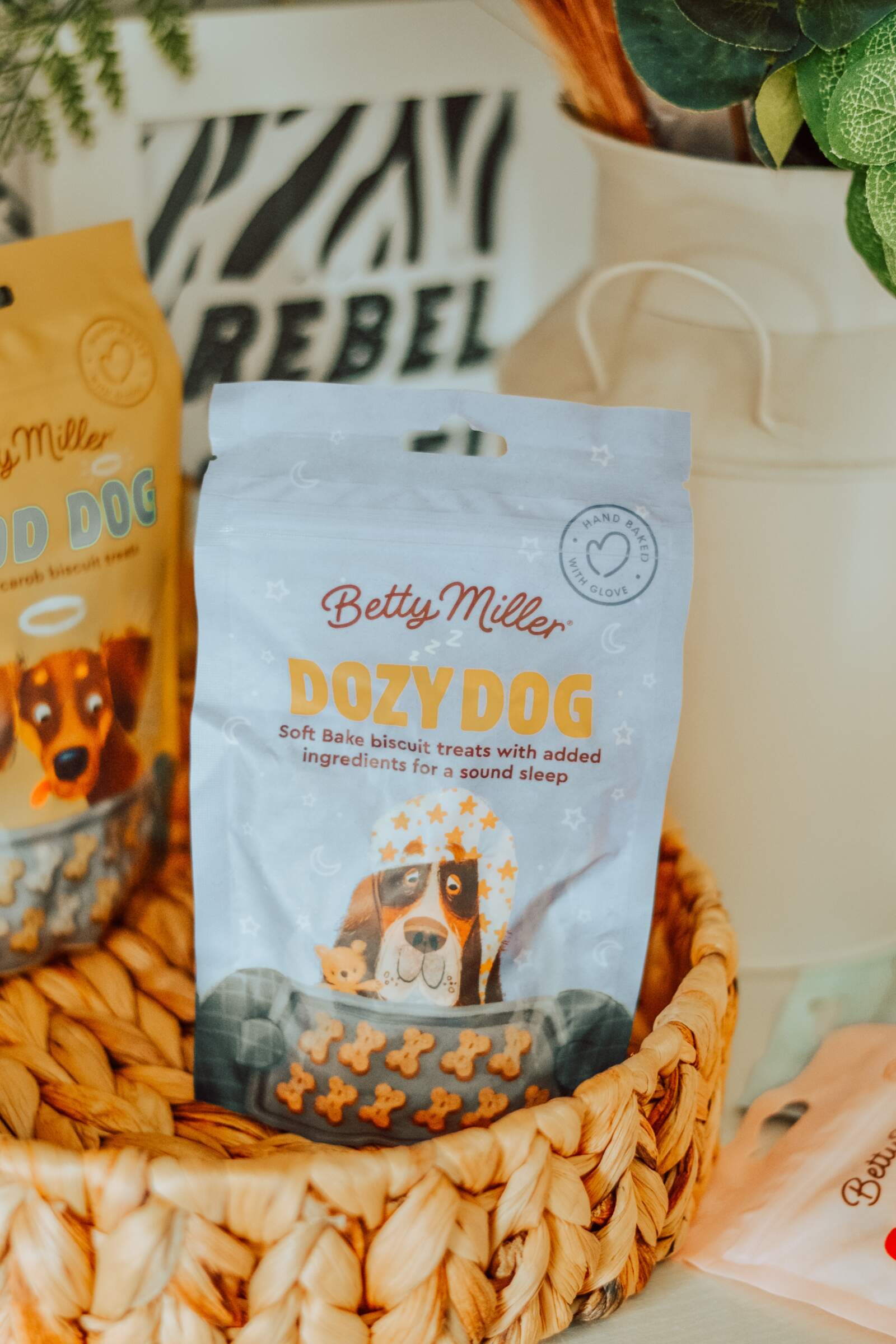 Looking for a new bedtime biscuit to try? Phoebe and Frank can't get enough of the Dozy Dog treats, formulated with a blend of herbs like chamomile, valerian root, and lavender to settle your furry friend at night or during times of anxiety. These treats are free from added sugar, ensuring a peaceful slumber for your pup.
Last but not least, the Good Dog treats are suitable for all dogs, whether they're the best behaved hound or need a little convincing. This recipe has varying shades of bones, with the dark bones containing carob, while the lighter bones feature chicken liver.
If that wasn't enough, what sets Betty Miller treats apart is their commitment to ethical practices. They are committed to paying their staff a living wage, source locally whenever possible to support the economy, and power their ovens using renewable energy sources. They're also actively working towards making their packaging recyclable.
Then of course, there's the price point. These 100g bags of treats start at £1.99, with the slightly more premium recipes – Brunch and Dozy dog – coming in at £2.39. I think these are incredibly reasonable prices and very affordable, making them great value for money. You can even get bigger 500g bags of their treats for under £5 on the website, though they are not from the same range as above – but look equally as tasty. Since they're stocked at Hounds, we're going to chuck a couple onto our next dog food order to stock up our treat jar.
With their commitment to providing natural, nutritious, and ethically produced treats at an accessible price point, Betty Miller has fast become one of our favourite treat brands and proves how pet owners can indulge their furry friends without breaking the bank. Suitable for  dogs of all shapes and sizes, they fit snugly into budget-conscious households but also cater to a wide range of needs, which is something we think is really important.
You can shop the full range of Betty Miller treats here on their website.