When we came to visit Cornwall last year, we spotted the Chapel Farms Secure Dog Field just a three minute drive from Hendra, where we were staying. Whilst the popular paddock was fully booked at the time, I made a mental note to book in during our next annual stay.
A few weeks before our holiday, we booked Phoebe, Frank and Winston into the field for the day we arrived, to burn off the energy pent up from being in the car for six hours.
The field was really easy to book, selecting a time and date to suit, and I opted to pay cash on arrival. I got an email about two hours before our slot which included the code for the lock to access the field, as well as some ground rules to take note of.
On arrival, we opened the gate using the code and drove the three cars into the field and closed the gate behind us. I really like that you can pull the cars into the field to ensure 100% safety, with no chance of your dog hopping out of the car and running straight onto the road that links Newquay to Quintrell Downs.
The field costs £5 per half hour, and £8 an hour to book for up to four dogs – any additional dogs are priced at £1 each, but there are no extra charges for cars. When I got there, I headed to the summerhouse to pop my money in an envelope and posted it in the letterbox before letting the dogs explore the field. It had been a little drizzly throughout the day, but had stopped just as we arrived, but we were pleased we could huddle beneath the summerhouse if it did start to rain again.
Chapel Farms Secure Dog Field is a two acre field which overlooks the beautiful Cornish countryside. It's totally private and secluded, with six foot fencing around the perimeter that was really sturdy. Inside, there are tyres for your dogs to run through or climb on, as well as some agility equipment for them to have a go on. These kinds of additions to freedom fields are great for mental stimulation, but also for building confidence in shy dogs like Frank. Going to these kinds of facilities has been really good for him in particularly.
Next to the summerhouse, there is a picnic table that owners can sit at, and the design of the field gives you full visibility of your dogs no matter where they are. We took some of our own toys along, too, which Phoebe and Winston chased around whilst Frank still found his paws in the paddock.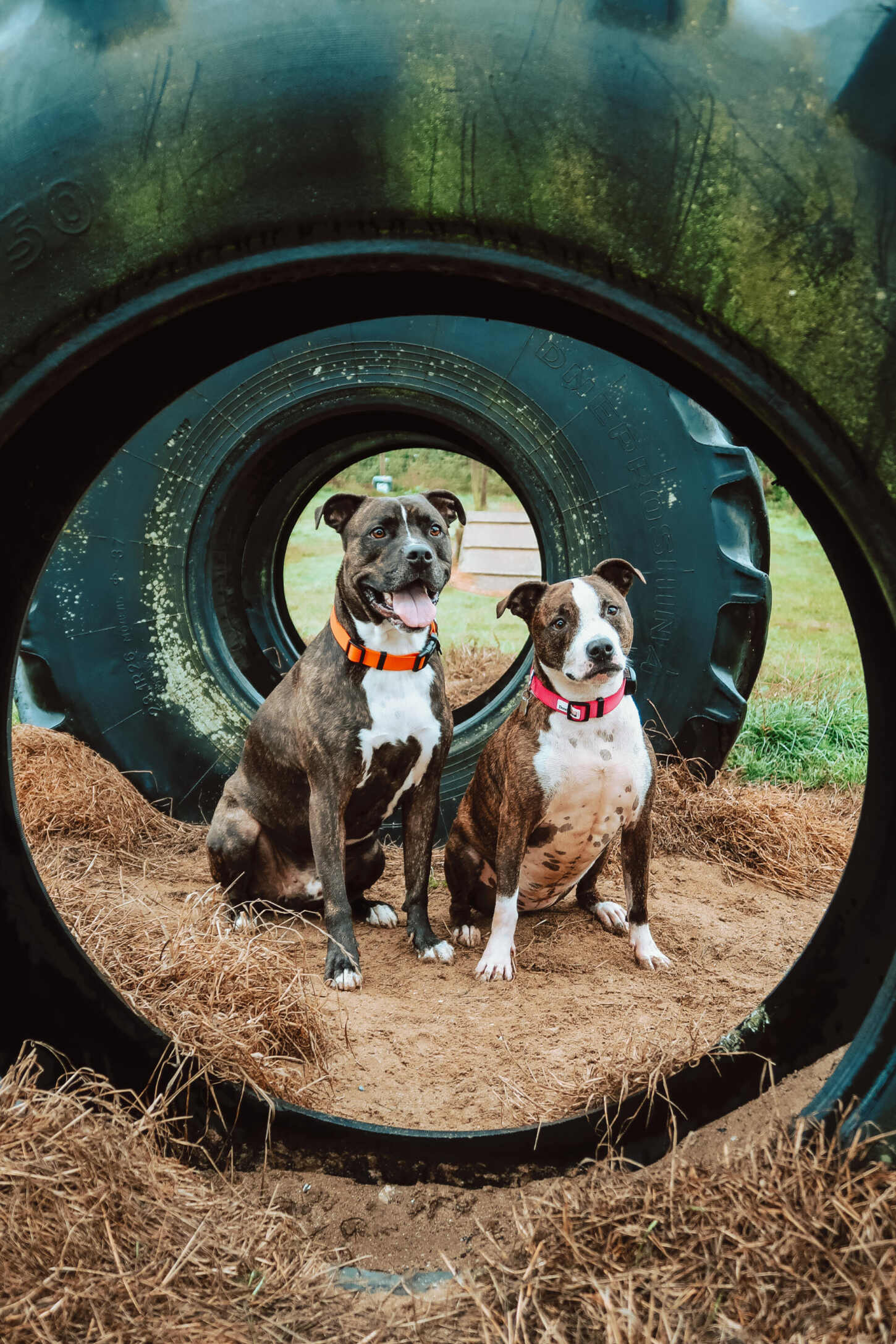 We found the space to be really clean, with fresh water down and waste bins at either end of the field to dispose of poo bags. Before we left, we could wash down our shoes and the dogs' paws at the wash station so that the cars weren't covered in mud.
The field is great for locals and holiday makers alike, ideal for training, walking and exercising dogs. It's brilliant for reactive dogs like Phoebe, who knows she can enjoy a run around without fear of being approached by another dog. As tourists, we think the field is fab for burning off energy after the long drive down, which kept them both really good in the evening when we went out for a drink on site. It's ideal for, if the weather forecast is too hot, or too wet for dogs, booking early in the morning to tire them out so they'll just sleep in the caravan during the day.
You'll be hard-pressed to find a last minute slot because it's so popular. On Saturday, there was just one slot left on Sunday, and none then until Wednesday! But if you know you'd like to visit, I'd book a week or so in advance because it really is worth it.