I don't mean to alarm anyone, but there are only 11 days until Christmas – of which nine are postal days. Which means the window for ordering gifts, particularly personalised ones, is rapidly closing.
But there are still lots of gifts for dog lovers available to order this week, but you'll have to be quick so that they can be expertly wrapped and placed under the tree ready for December 25.
From gorgeous photo calendars and novelty cushions, to safety devices and pet parent accessories – order any of these presents before the end of the week and choose the fastest delivery option, and they should all arrive just in time. Gifts range from under £5, up to £75 – so there's something to suit everyone's budget.
So, without further ado – here are eight gifts for dog lovers you can still order for Christmas day.
Papier Calendar
Papier's 2022 wall calendars are a great gift for that person who is always forgetting their appointments, or who just loves to be organised. Their personalised calendars are really easy to make, just drag and dropping the photos you'd like onto each month. You can even alter the text on the front cover to read their dogs' name, or, for example 'The Shuff's calendar 2022'.
Each one is printed using high-quality inks on silky, smooth paper, and they feel really beautiful. It's the kind of gift that keeps on giving as you flip over a new page each month to reveal another adorable photo of their dog. When I've ordered these previously, I try and match the photo to the season, such as pumpkins in October, or beach days in August.
This is paw-fect for pet owners to keep track of their vet visits, vaccinations, grooming appointments, birthdays and walkies all year round, not forgetting to add reminders to order dog food every month!
Prices start at £9.99, with the final delivery date being December 17.
Yappy Personalised Board Game and Books
Just in time for Christmas, Yappy.com have released some brand new personalised products for pet parents to share with their pooches, including the 'Your Dog' is a Star book, and 'Your Dog' Breaks the Internet board game.
The site allows you to create a pet profile for your dog, which superimposes their icon onto their products so you can see exactly how they'll look when they arrive.
This hardback book really puts your dogs name in lights with an imaginative and witty story, great for pawrents with children, who can share the story about their dog together. It's wonderfully written and illustrated, and the personalisations make it extra magical for the reader as their pooch becomes a Hollywoof star.
The books can be personalised and dispatched within three working days, which is perfect if you're thinking of a last minute Christmas gift your pet parent friends will love. You can get the soft cover version for £18.99, but I think it's worth paying the extra £4 for the hardcover.
And it's not Christmas without a board game, and we've loved playing Frank Breaks The Internet. The Yappy board game launched this year, and is a fully personalised game perfect for up to six players. The game can be personalised and dispatched within five to seven working days, and has an introductory offer of £24.99, which will rise to £39.99 – so it's worth bagging quick if you want a version for your pet. Order now, and it should arrive for Christmas – if not, then you'll still be able to play it before the New Year!
Wren and Rye pooch parent T-shirt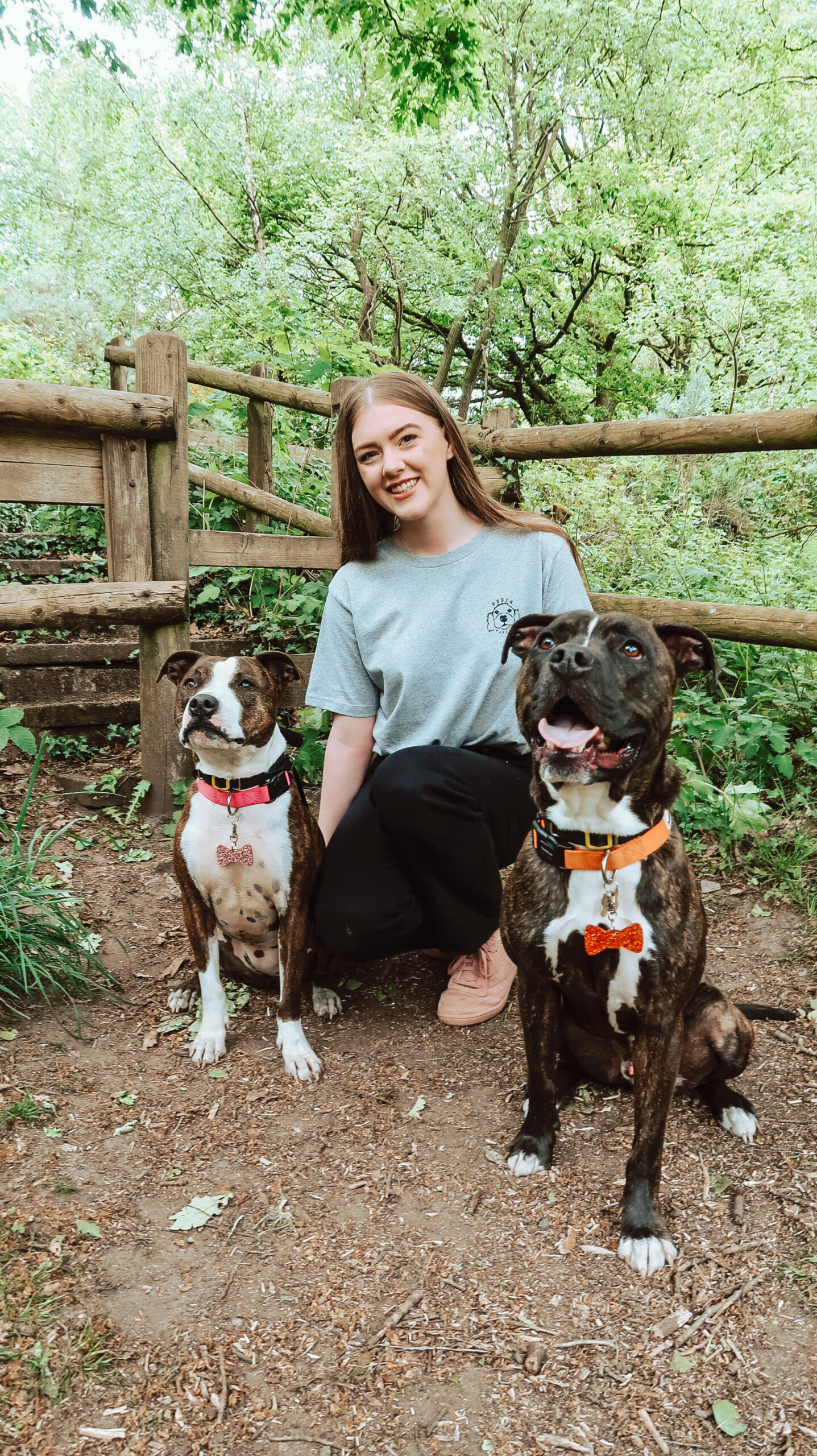 The Wren and Rye Pooch Parent t-shirt is the ultimate dog walking attire – and what's more is that it's currently on sale, reduced to £12 from £20.
Each t-shirt is made from super soft 100% combed organic cotton and has been designed and screen-printed by hand – using water-based, eco-friendly inks – in Manchester.
Comfortable to wear and made of breathable material, the versatile tee can be worn year round, styled with jeans and trainers, or layered up for those chillier walks.
And why not add a Pooch and Pooch Parent BowDangle set to your order while you're at it – using the code BEFFSHUFF20 for 20% off.
Shipping is only £2, or free with orders over £25 – with the shop still accepting orders for Christmas this week.
Sainsbury's 2022 diary
I've had this same diary design two years in a row and I love it so much – this years was actually a gift from a fellow dog mum after I house sat for a few days, confirming the fact it's a great and much appreciated gift. It's only available in store, and is around £5 – so it's ideal if you'd rather shop physically than wait for online orders to arrive.
Dogsy cushions
Who doesn't need cushions of their dogs' faces that are bigger than their actual dogs faces?
The standard 45cm cushions cost £29.99 each, or go big with a huge 75cm cushion for £44.99 for a surreally life like creation. All you have to do is upload a photo of your dogs' face to the order, and Dogsy will do the rest, delivering your order within five working days, meaning you should be safe to order any time before December 18.
These cushions are really soft, and make a great gift for someone like a university student currently living away from their family pet. You can even bag 10% off by signing up to their newsletter.
A photo shoot gift card
We adored our photo shoot with Katie at Adventure Pawtraits earlier this year, and recommend them to all our dog-owning friends – so why not give an experience gift this Christmas that they can book themselves?
Katie's sessions cost £75 – so you could chip in with siblings to buy the gift for your parents – which includes a 90 minute shoot with two pets from the same household around the Staffordshire area. It includes a 7in x 5in gift print of your choice from the images taken at your shoot, which is of absolutely exceptional quality.
These look amazing hanging in the home, so serve as both an experience the recipient can enjoy with their dog, as well as a lasting gift they can keep. This is particularly special for end of life pets as a beautiful way to remember them in the future.
Gift vouchers come printed with a gift envelope or as an e-voucher – just message the page to order.
Barkie
I think every pet owner needs a Barkie – I take mine everywhere with me. The personal safety alarm is deafeningly loud, with a flashing light that sets out to deter dog thieves and draw attention to an incident.
The lightweight device is just £14.95, and you can get a 10% discount for ordering three, or 20% off when you order a pack of five – so all your dog owning friends could share the cost and save some pennies.
The Barkie was inspired following the rise of dog thefts in lockdown, and offers a practical, reliable and stylish way of staying safe – but still remains affordable.
Barkie simply clips onto a leash, bag or keys and needs 1.5kg of force to pull the pin and activate the alarm, disabling when you reinsert the pin.
Express shipping between 1-2 days is available on these devices, but I wouldn't leave it too late to order.
Doo-Kee
The Doo-Kee is an ingenious tool which means you'll never have to carry a dog poo bag in your hands again!
This is the perfect stocking filler for your pet parent friends who are always complaining about carrying dog poo – and even better for dog walkers who walk multiple dogs at a time.
The keyring is made from PLA, which is a bioplastic derived from renewable resources such as corn starch and sugar cane. Made in Somerset, the Doo-Kee comes in a whole rainbow of colours, and allows you to carry your dog poop hands free, as well as keeping a low carbon pawprint.
We think it's a great idea too match your Doo-Kee to your dogs collar colour – or why not opt for one of their festive designs for just £4.99.
Orders are usually processed and in the post within 2 working days, sent via Royal Mail 2nd class, usually delivered within two to three working days – though this could see delays over the festive period.