You may have noticed on your daily dog walk that the darker nights are drawing in, and the leaves are crisp and colourful beneath your feet. You might contemplate the big coat on the way out, and maybe even a jumper for the dog, too.
And if there's one thing that really epitomises Autumn, it's the Pumpkin Spice seasonal drinks on the menu of your favourite coffee shop.
Phoebe and Frank are no strangers to a puppuccino and love to lap up the whipped cream, or get their snoots into my empty cup for caramel remains on the off occasion. Now, they can get well and truly stuck into the PSL trend with these DIY Pumpkin Spice 'Lattes' for dogs.
The human Pumpkin Spice Latte is a coffee drink flavoured with autumn spices and sugar, often topped with whipped cream and syrup. The dog-friendly version holds a similar concept, but uses a vegan milk alternative, and doesn't contain any coffee, as it's toxic to dogs. 
Read more: 8 autumn toxins that could be dangerous to your dog
Pumpkin isn't just a trendy autumnal flavour, but is also a seasonal superfood packed with nutrients and health benefits for your dog. And because it's low in calories, it's the perfect fall treat for our pets.
As well as immune-boosting vitamin C, pumpkin also contains potassium, which aids muscle recovery after exercise, and is also a great source of fibre and prebiotic, offering added digestive benefits.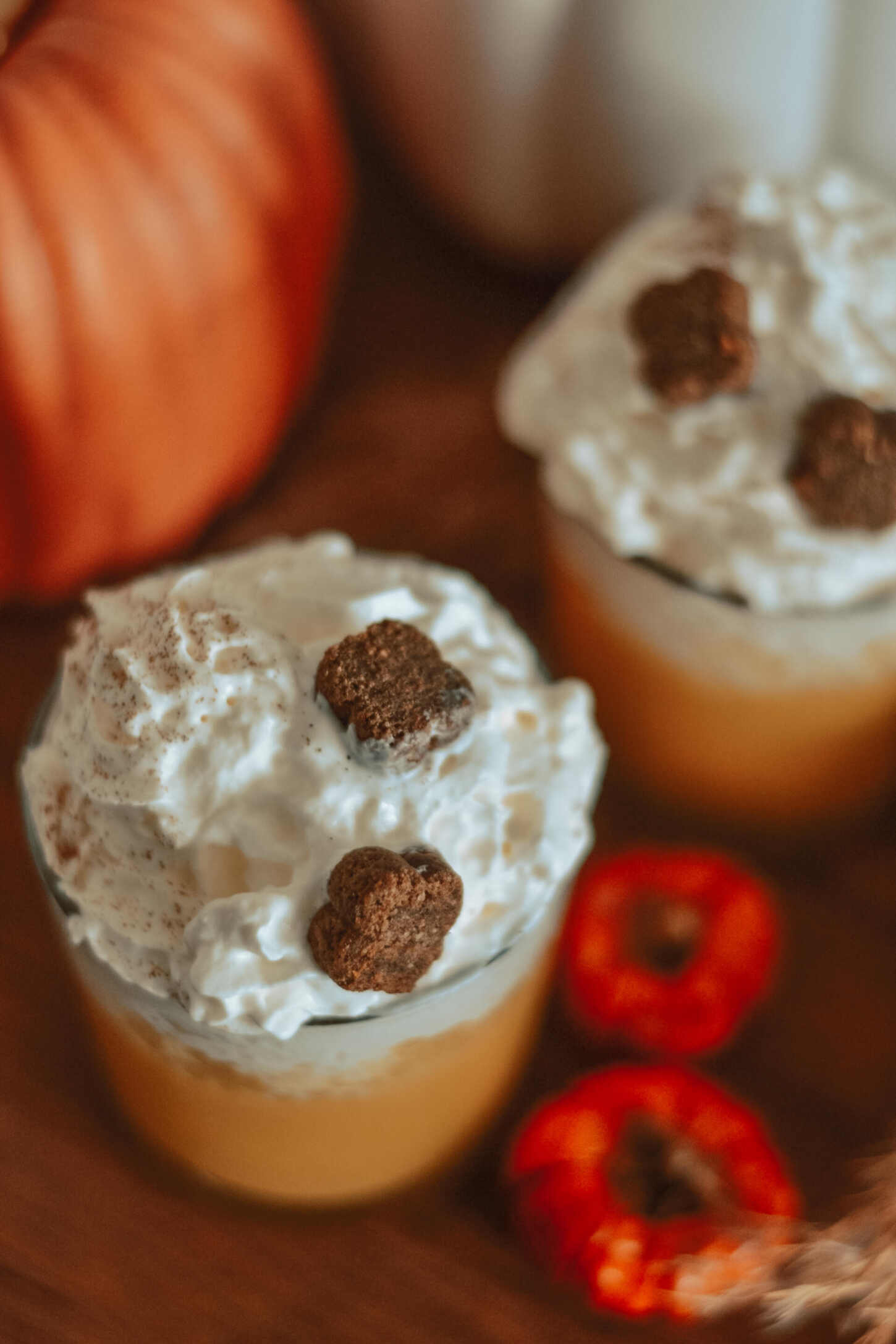 Here's a really quick and easy recipe for DIY Pumpkin Spice 'Lattes' for dogs, so you can enjoy the warm beverage of the season together.
Ingredients:
Coconut milk

Pumpkin puree 

Ground cinnamon

Whipped cream

Pooch and Mutt Pumpkin Spice treats
How to make the dog-friendly PSL:
I used coconut milk for this recipe, as you'll want to avoid regular milk because it contains lactose, which most dogs are intolerant to, and if you're using whipped cream, you don't want to overdo it on the dairy. Similarly, if you want to top them with whipped cream, make sure it does not contain xylitol, as this is toxic to dogs. 
I added one cup of coconut milk to my milk frother, which I previously bought on Amazon, before mixing up my pumpkin puree. I used the Hackney Dog House pumpkin powder, adding two tablespoons of powder to two tablespoons of water to create a paste, adding it to the milk in the frother.
Don't forget that you'll want to use a plain pumpkin puree as opposed to pumpkin pie filling, because the latter contains spices and sugars that you don't want to include in this recipe.
To the coconut milk and pumpkin puree, I added a small pinch of cinnamon for the 'spice' element. This is a natural anti-inflammatory and is rich in antioxidants, but should be used sparingly.
Read more: Pumpkin and cream cheese pupcake recipe
I blitzed these in the milk frother and watched as it turned a golden shade and poured them into the tumblers. I planned on holding the glasses for the dogs to avoid breaking, but you could recycle a Starbucks pupcup, or use plastic tumblers if you'd rather place them on the ground. 
Then I topped the drink with some whipped cream and added two of the Pooch and Mutt Pumpkin Spice treats – the perfect finishing touch. 
Phoebe and Frank loved their Pumpkin Spice 'Lattes' and they went down such a treat! I'll definitely make them for the times I pop to Starbucks for myself. Just remember that all dogs are different, and we recommend consult your vet before introducing any new food into their diet.