Helping your dog maintain good oral health is super important, and will help prevent dental disease and plaque build-up. The main purpose of cleaning your dogs' teeth is to reduce that build-up in order to keep gums healthy.
The RSPCA said: "Dental disease can appear quite suddenly, or progress overtime and take months." They recommend contacting your vets if you notice tartar build up, bleeding gums, an infected mouth causing a 'foul smell', as well as teeth falling out or your dog refusing food/having difficulty eating.
Breath freshening treats shouldn't be the only tool you use to keep on top of your dogs dental care. You should really be using them alongside other products like dental chews and pet-friendly toothpaste. In this roundup, we will chat about some of The Scamps' favourite products to keep their teeth clean and breath fresh.
Pooch and Mutt Fresh Breath Treats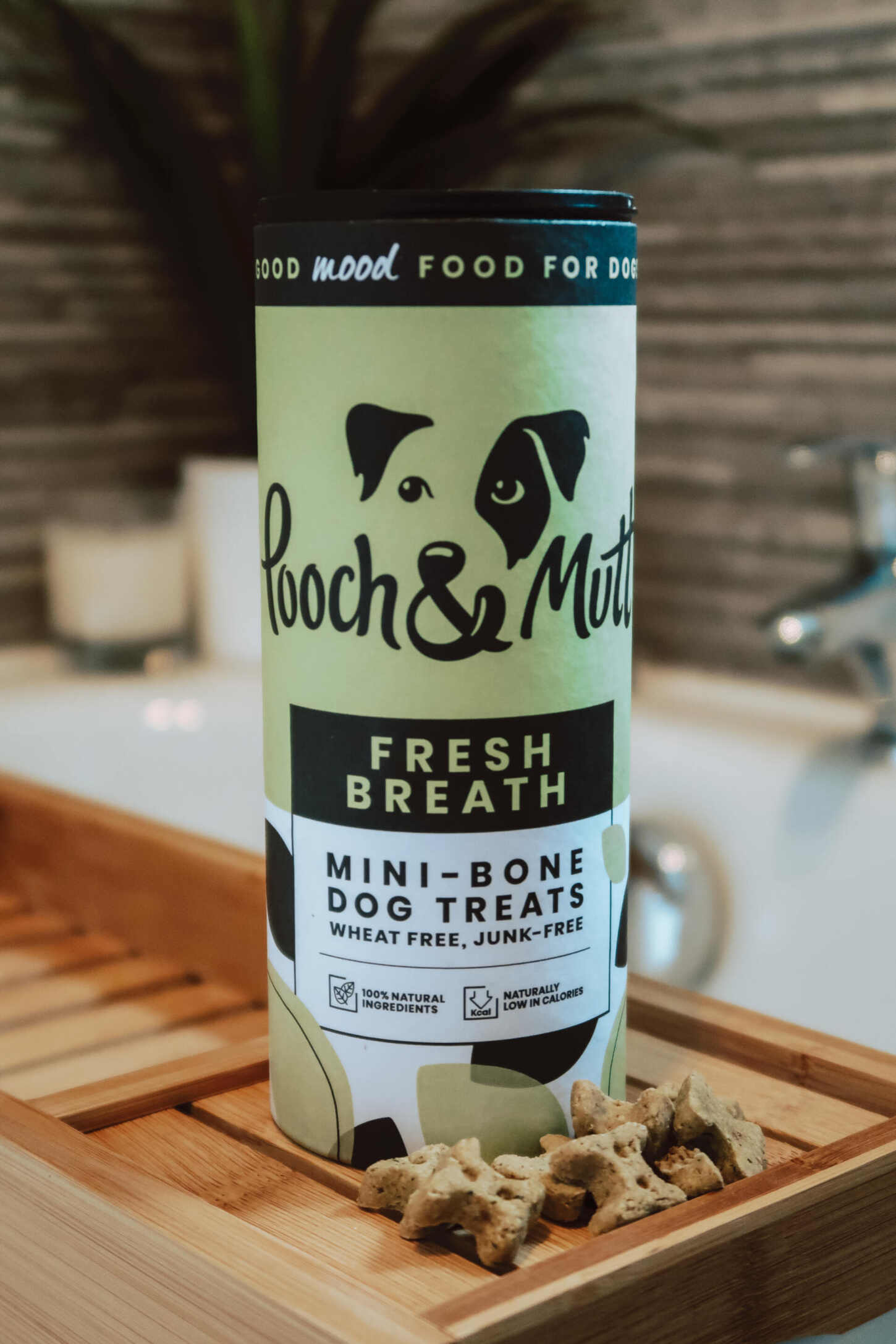 Pooch and Mutt were one of the first brands I purchased when I started buying my own dog treats for the dogs. Ever since, it's rare we don't have a tub on the kitchen counter.
The junk-free bone shaped biscuits are wheat free, with each tub containing around 150 treats for £2.99.
As a result, Pooch and Mutt ensure their treats are 'junk free' as well as wheat free. They've recently rebranded their packaging and reduced their plastic too, for more sustainable products.
The Fresh Breath treats are low calorie, gluten free treats packed with parsley and peppermint to help keep your dogs breath smelling fresh. The treats also include and chicory, with a slightly abrasive surface to clean teeth as your dogs chew – much more effective for smaller breeds, seeing as they barely touch the sides with Phoebe and Frank. They're very much 'bite sized', which we love for training. They also smell quite minty – like a Polo Mint for your dog!
Taking a closer look at the ingredients, parsley is a source of chlorophyll, a natural deodoriser, whilst peppermint aids digestion and helps breath smell fresher. Chicory is a natural prebiotic which aids proper functioning of the digestive system, as poor digestion is often a cause of bad breath.
Green & Wilds Fish Crunchies with Charcoal
Green and Wilds are all about natural, healthy products and 'good, wholesome, honest ingredients'.
These Green and Wilds treats were launched in November 2020, and are made of 96% whitefish, and 4% charcoal. One tip for these – don't whiff the bag.
These crunchies are said to 'eliminate the smells that come from either end of your pooch', from flatulence to dog breath – thanks to the charcoal. The treats are low in fat and high in omega 3, which is brilliant for skin and coat, too. A little like the Pooch and Mutt biscuits, the crunch in these treats can help remove tartar build up.
When we first introduced these treats to Phoebe and Frank, they weren't too sure what to make of them – they don't often have fish based products. But now, every time they hear the bag rustle, they come skidding in to the kitchen. The bag recommends feeding up to five a day, depending on the size of the dog, but so far we've been offering them to The Scamps once a day, and they appear to be doing the trick!
Dorwest Roast Dinner Toothpaste
Dorwest are a brand over 70 years old, and specialise in herbal medicines authorised by the Veterinary Medicines Directorate, and nutritional supplements.
We'd been meaning to pick up the Dorwest Roast Dinner toothpaste for ages, and finally got our paws on it.
Sage oil and liver flavour paste – yummy. Whilst I wouldn't advise brushing your own teeth with this product, but your dogs will love it. The Dorwest Roast Dinner Toothpaste has been developed in conjunction with veterinary professionals to create a low foaming, gentle toothpaste for your pooch.
The sage oil is an anti-oxidant with antiseptic properties for healthy teeth and gums. We brought long armed toothbrushes for the dogs so we could easily get to their back teeth, all you have to to is pop a small amount onto a soft bristled brush and gently scrub.
The toothpaste costs £9.99, but a tub will last you quite a while.
Forthglade Fresh Breath Biscuits
This range of heart shaped Forthglade treats come in four flavours with various benefits. We love the Calming and Training Treats, but the Fresh Breath ones have some obvious benefits.
Forthglade are a Devon-based brand, and have been making pet products since 1971. Their treats are junk free, with no fillers, artificial flavours, colours or preservatives, fortified with vitamins and minerals.
The handbaked biscuits have a small score down the centre making them really easy to break into half. For bigger dogs like Phoebe and Frank, they could have a full treat each, but they can be broken up for smaller breeds. We tend to break them up for training, and it means they go twice as far!
The fresh breath treats recipe uses a mix of natural herbs like peppermint, rosemary and parsley, which all help to keep your dogs breath fresh – as well as sweet potato (30%) and turkey.
Lily's Kitchen Woofbrush
The Woofbrush, by Lily's Kitchen, was launched in 2018 in a bid to encourage better doggy dental care. Ranging from £4.50 to £7.00 a pack, the sticks come in mini, small, medium and large. You get seven chews in each resealable packet – besides the mini, where there is 10.
The Scamps prefer the large Woofbrush over the medium, so that the chew lasts slightly longer. Ingredients used in the dental stick include potato flour, algae, coconut oil, green tea extract, fennel, which supports the immune system, and parsley – a natural breath freshener.
Created alongside vets, the bubbly textured dental chew works as a natural toothpaste to eliminate bacteria and minimise plaque. They're designed to be used daily, and as such, a pack will last a week. Be sure the choose the correct size for your pooch – and always supervise them with treats and chews.