Ad – press samples – all views are our own
We've fed our family pets the same brand of dog food for 15 years – but Phoebe and Frank both began to turn their noses up at it in recent months.
We'd put their refusal to eat down to being fussy, the change in weather, and various other factors. But when The Scamps were sent a bag of PitPat food to try out, it made us realise that Phoebe and Frank weren't being fussy – they just hadn't been enjoying their food anymore.
Since summer, we'd tried adding salmon oil, warm water, various multivitamins and tasty additions to our dogs' breakfast in a bid to tempt them to eat. I'd spend half an hour encouraging Phoebe, in particular, to her bowl where she'd take a sniff, then trot off back to her bed unamused. She'd perhaps graze throughout the day and finish her food at around 3pm, and then wouldn't want her tea come 5pm.
The moment we placed down a bowl of PitPat food, we realised that their usual food just wasn't cutting it anymore. There was no coaxing needed for either Scamp to stick their snout in their bowls – and it took the pair of them 44 seconds to finish their meal. Less than one minute.
PitPat Food is made by the family-owned Josera – a German pet food brand established 80 years ago with a 56-61% rating on All About Pet Food.
The brand said: "PitPat Adult is the complete, premium food for active dogs. It's gentle on tummies and promotes healthy joints, skin and coat with a recipe that will delight even the fussiest of eaters."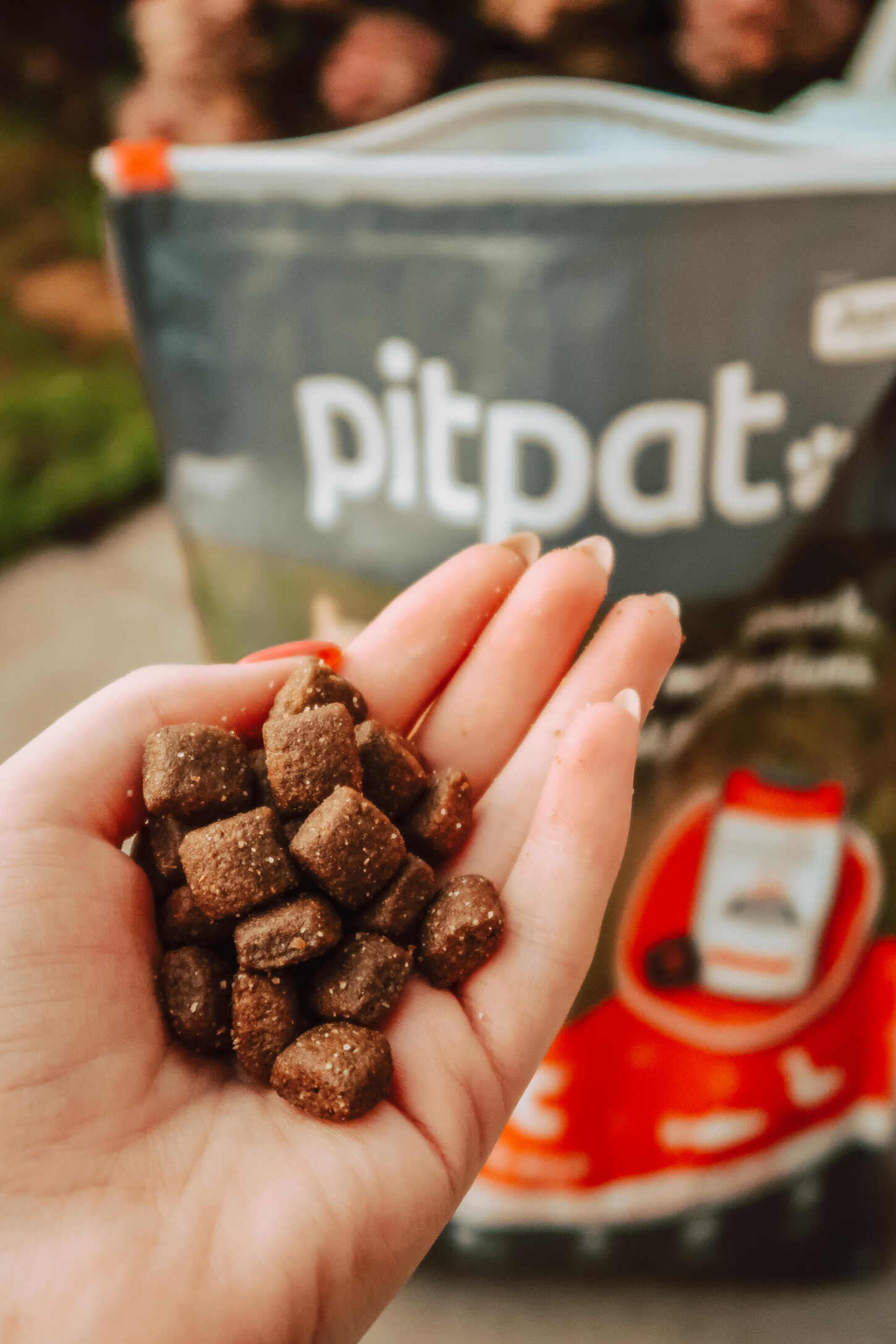 The kibble is a rather large size in comparison to other brands, but Phoebe and Frank seem to like this being larger breeds. Designed for dogs aged one to seven, the salmon and duck dogs dinner sees rice at the top of it's ingredient list, alongside 13% dried poultry and 9% dried duck, 4% dried salmon and various herbs with added health benefits.
The kibble comes in a zippable bag which keeps the food fresher for longer, and has no artificial flavourings, colourings or preservatives. It's also gluten free, with no wheat, soy, dairy or sugar.
PitPat pride their food on being made in a 'carbon-neutral factory', with 'sustainable ingredients', with Josera being named Most Sustainable Brand by the Pet Sustainability Coalition awards.
On the PitPat app, which we use for Phoebe and Frank's activity monitors, you can find out exactly how much PitPat to feed your dog taking into account their age, sex, weight and whether or not they're neutered. If you also have a PitPat activity monitor, the app will also factor in your dog's average exercise and adjust their feeding guidelines to suit.
Read more: I got my dogs PitPat activity monitors – and here's how our first week went!
They added: "Say goodbye to vague feeding guidelines on the back of food bags. Say hello to feeding recommendations that are precisely tailored to your dog. When you use the PitPat App with PitPat Food, there's no more guessing whether they're getting the right amount to eat. We got you."
According to the app, Frank requires around 180g of food per day, and Phoebe slightly less at 145g a day. Whilst it's great to use the activity monitor alongside the app, you don't need one to find out how much to feed your dog, or to order the food, but it is nice to have everything all in one place. PitPat promise 'food your dog adores or your money back', with free next day delivery when you order before 2pm, which is perfect if you hadn't realised you'd run out.
PitPat Food prices start at £25 for a 4.25kg bag, but you can save money with their multi-bag bundles, and if you're a PitPat Life member, you can also get 10% off.