Ad – press samples – all views are our own
From seasonal supplements to superbly scented shampoos – Herbal Dog Co offers an array of animal-centric lotions and potions for your dog.
The female-owned company was born from founder, Gemma's, love of dogs, and the nostalgia of making flower-petal-perfumes with her grandmother. Now, she's the head of a natural pet brand creating supplements, tonics and grooming products for pets, whilst also doing her bit for the environment.
Herbal Dog Co use no harsh chemicals, and are sustainably packaged, all the way down to eco flow packing peanuts which are 100% compostable (or reusable – they come in really handy for gift wrapping!)
The Scamps were gifted some of Herbal Dog Co's grooming products to try out, as well as some everyday essential multivitamins. We were really impressed with the brand, and loved the sound of their Seasonal Soother, which we ordered ourselves to see if it could ease some of Phoebe and Frank's summer allergies.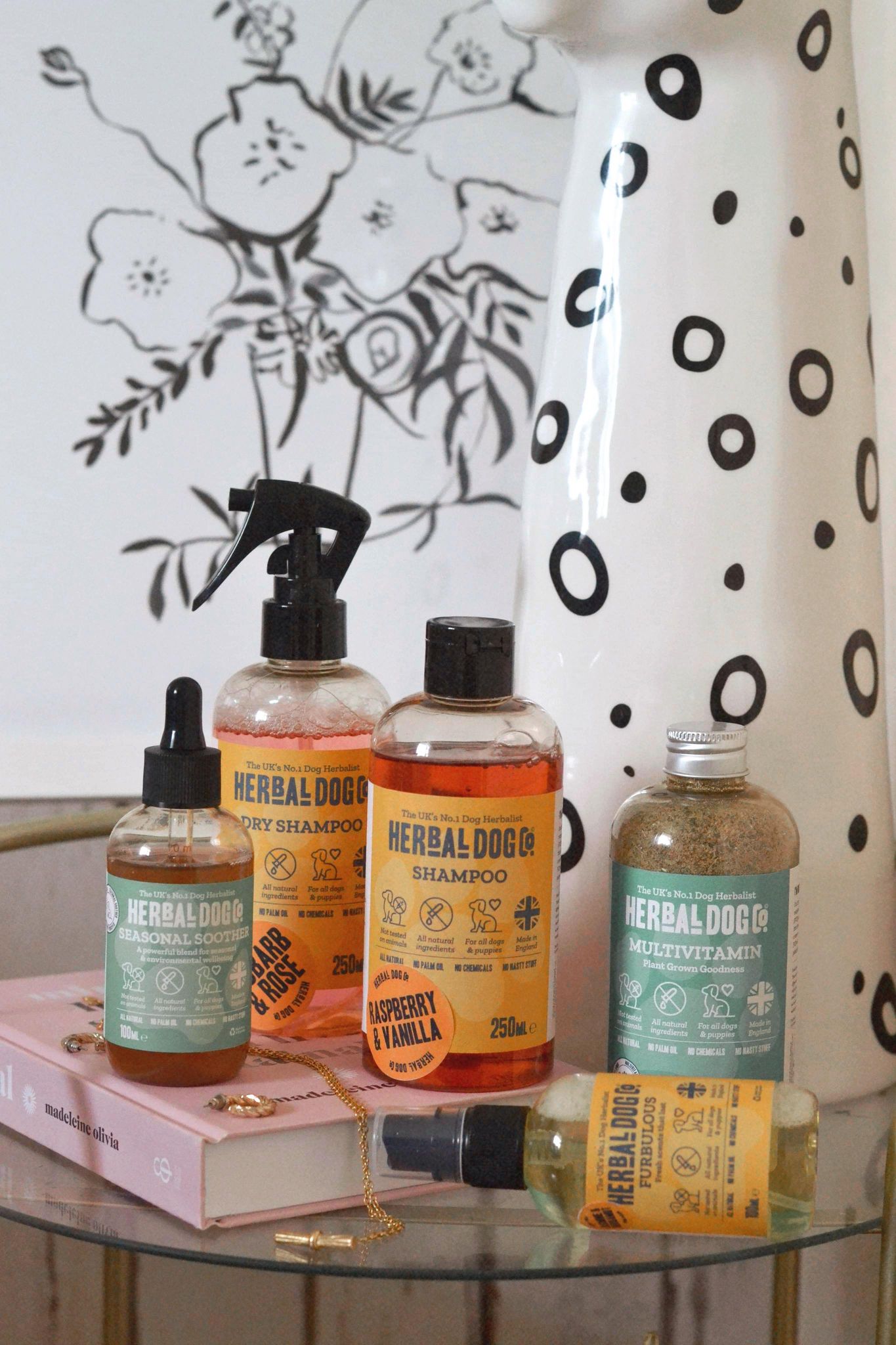 Here are five products from Herbal Dog Co you and your dog will love:
Natural Shampoo – Raspberry and Vanilla – £8.50
There are 22 different Herbal Dog Co natural shampoo fragrances, each as deliciously sounding as the next. The raspberry and vanilla shampoo smells of freshly picked berries with the familiar sweet scent of vanilla – the combination is almost good enough to eat (don't do that, though, for obvious reasons).
The shampoo is suitable for dogs and puppies of all ages, and uses herbal and fruit oils to naturally cleanse your pet's fur and skin. It also features chamomile, which is naturally calming for dogs so will help them relax in the tub, as well as wild sage and sea salt. It lathers well to help remove loose hair and dirt, and leaves Phoebe and Frank looking super glossy and bright.
Natural Dry Shampoo – Rhubarb and Rose – £12.95
For in between baths or after a muddy walk, the Rhubarb and Rose Herbal Dog Co dry shampoo is pawfect for freshening up your pooch – without the need to get them in the tub.
When that distinctive 'doggy' smell beings to linger, the dry shampoo is really handy to deoderise your doggo. It can also help remove dust and pollen, which is ideal in summer when Phoebe and Frank manage to come inside from the garden covered in pollen at this time of year. It can be used on wet or dry fur, and can be applied all over – avoiding the face – then brushed through or towel dried off.
The Rhubarb and Rose scent is a beautiful combo of tart fruit and fragrant florals, made with herbal infusions and 100% natural ingredients. Both I and The Scamps are really pleased with how quick and easy this is to use, and will be perfect for taking on holiday after a day at the beach paddling in the sea, or lounging around the barbecue.
Furbulous Perfume Deodoriser – Jasmine and Bergamot – £8.50
We adore a doggy pawfume, and there are 17 different scents to choose from. We received the Jasmine and Bergamot Furbulous, which is designed to keep your dog smelling 'fragrant and fresh all day long'.
The Furbulous is great for between grooms or after long walks, and a little spritz goes a long way. This is SLS and paraben free, containing plant based fragrance, as well as chamomile to calm anxiety. The Jasmine and Bergamot isn't our favourite scent from the range, but combines citrus notes with floral fragrance that will last all day.
Seasonal Soother Tonic – £12.95
Phoebe and Frank have both suffered seasonal allergies in the past, from yeasty ear infections to itchy hives. This sounded like a brilliant product to add to their breakfast in the months they typically display these symptoms, and I really liked the ingredients used to create it.
The Seasonal Soother is made with a unique blend of lemon extract and organic honey, both of which offer soothing properties – I mean, we've all had a honey and lemon when we're feeling under the weather! The other ingredient though, is colloidal silver, which is deemed a miracle product in our house – we're never without a bottle and we use it on everything, from cuts to rashes, so I was really confident buying this tonic.
Each bottle – which may change colour and consistency from batch to batch due to the raw, fresh ingredients – contains 100 pipettes. The pipette is also marked with 0.5ml and 1ml so you know how much to give to your dog. For Phoebe and Franks weight, they should have 1ml morning and evening. If your dog is suffering with visible symptoms, you can give 1ml every hour up to four times in a day.
This can be given directly to your dog, but we find it much easier to just add it to their breakfast each morning.
Herbal Dog Co Multivitamin – £17.95
Just a sprinkle of this multivitamin powder over food can help support your pets immune system with minimum effort. The product contains iodine-rich seaweed, as well as vitamin K, zinc, iron and B vitamins. Brewers yeast supports the immune system, whilst milk thistle is added for liver support, and flaxseed has natural supporting properties.
Phoebe and Frank should have two teaspoons a day, so we find it best to spread that over breakfast and tea.  It's a really quick and easy way to add nutrients to your pet's diet using natural, healthy ingredients.