Ruddy Paws is a secure dog field located in the beautiful Staffordshire Moorland countryside, offering a safe and fun way for anxious dogs to burn off energy, and practice their recall.
The field is located behind dog-loving Christine's home in Rudyard, where she cares for her King Charles Cavalier, Odie, and Rollie the sprocker. The dog boarder also offers a dog daycare service and overnight care, and added the secure field branch to her business in 2020.
Phoebe and Frank made their first visit to the paddock over the Easter bank holiday weekend and had an absolute blast. We had booked our slot online which cost £10 for up to three dogs from the same household for one hour. We were then sent a confirmation email which detailed directions to the field, and other ettiquette such as where to park and which bin to place dog waste in.
After parking the car in the designated parking space, we made our way through Christine's beautifully maintained garden to the gate at the top, and let ourselves in to the secure field. I did a quick walk around the perimetre to check for any damage to the fence – which there wasn't – before letting the dogs off their leads. I do this at any secure field we visit, just in case for my own peace of mind.
Read more: Paddocks for Paws, Staffordshire – our first time visiting a secure field
Inside the field, which I'd guess is approximately two acres, is a scattering of small trees and a beautiful cherry blossom, as well as a wood store and a picnic bench. There's also a butt of water and a dog bowl for your dogs to help themselves, though I do recommend taking an extra bottle or two in case it's nearly empty or runs out.
The fence around the field is fully secure and stands around eight feet high. The top of the field backs on to the country road, and the two sides meet other fields. A small portion of the field overlaps with a neighbouring garden, but has private fencing behind the wood store. While the neighbour's dogs did have a little bit of a bark through the fence at Phoebe, they were quickly settled by their owner, so didn't much bother us or ruin the experience – Phoebe, who is more reactive to other dogs than Frank, forgot about the incident pretty quickly.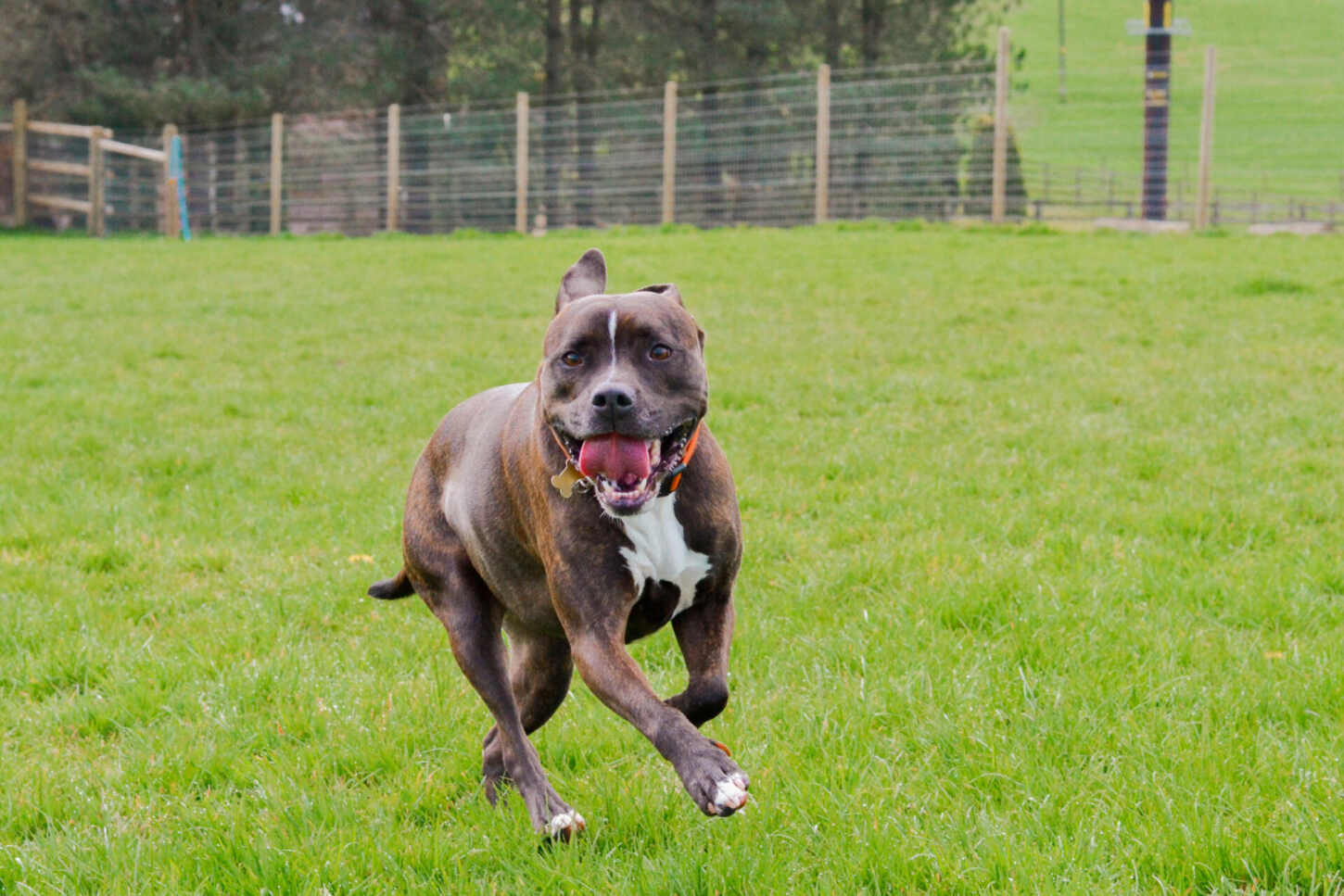 Mum, dad and I were able to sit on the picnic bench and watch Phoebe and Frank tire themselves out doing laps of the field at full-speed. Because the field is rectangular, we always had sight of the dogs, and there were no corners for them to disappear around. The field is on a slight incline, so it was hilarious to watch the Scamps running back down the hill towards us.
Read more: Chapel Farms Secure Dog Field perfect for Newquay tourists
Phoebe took a keen interest in the chicken coop, visible in Christine's garden from the field. She's not a great fan of birds and became a bit fixated, but we hope that in time and during future visits, we can get her out of this behaviour through exposure and positive reinforcement, as we'd love to have a coop of our own in the future. We also know for next time to bring a toy or two of our own to play with, like a tennis ball or tug toy, which will help distract Phoebe from thinking that there are more exciting things beyond the field than in it.
Ruddy Paws
' field was clean and tidy, and obviously well maintained and much loved. It's open for bookings from 6am to 7pm, with online payments to make everything easier. All you have to do is turn up, tire your dog out, leave the field how you found it, and put your dog mess in the bin.
Things I recommend taking with you include a bottle of water, a flask of tea, poo bags, treats, snacks (for yourself – we took some sausage rolls) and a toy. Oh, and your dog, obviously.