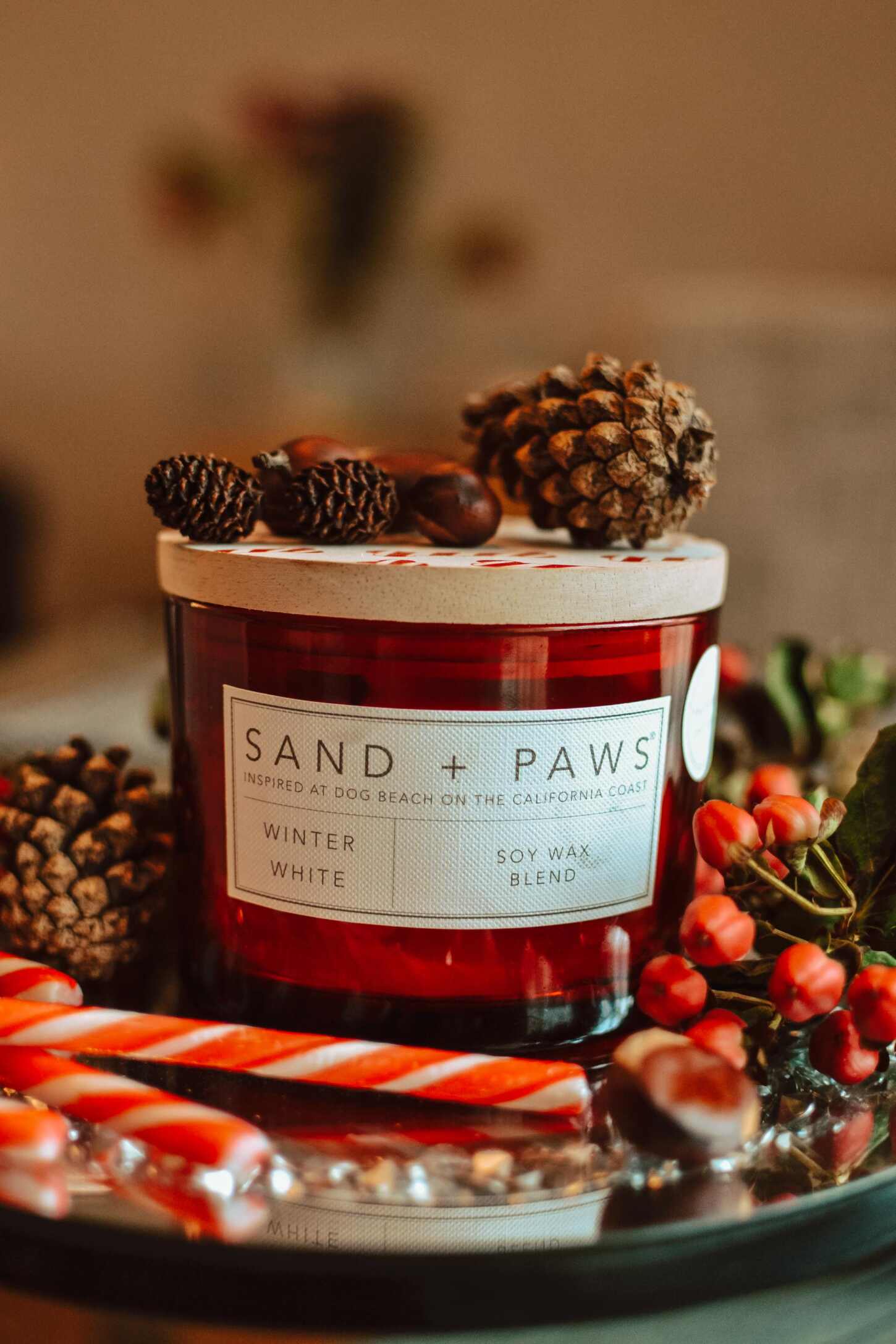 How many of you knew that not all candles are safe for your pets? That said, Frank ignored that rule and ate five metal cased tealight candles (he was fine, thankfully, and pooped them out a week later). But no, really you're always best aiming for specifically pet safe candles, or soy wax, cotton wicks and non-toxic fragrance oils.
When I spotted the selection of pet friendly Sand and Paws candles in TK Maxx back in October, I couldn't help but pick one up for our front room. Sand and Paws is a range of pet safe candles produced by Californian company Sand and Fog. The brand was created by three women who 'love candles and their dogs'.
The fragrance that I picked up was Winter White, which is a really clean smelling scent with notes of pine, cypress, eucalyptus, cinnamon, clove, patchouly, cedarwood. What I love is that it's not overwhelmingly Christmassy – but still offers that cosy, winter feeling of being wrapped in a blanket with a hot chocolate, snuggled up next to your pooch.
The 12oz soy wax candle is in a red glass jar with two 100% cotton wicks, free of lead and zinc, which can cause issues for pets. The brand do not test on animals, nor intentionally add animal derived products to their candles – though it must be said that they're not certified as vegan.
The Sand and Paws candle comes with it's own festively designed lid – ours has candy cane coloured bones on it. In TK Maxx, others featured dogs in Santa hats and Christmassy paw prints. Other fragrances in a range of sizes included Winter Pine, which smelled just like a Christmas tree, and Holiday Berry, which was delightful – I'd have picked this up if they had it in the 12oz.
On he first burn, I lit the candle on a heat proof surface, lighting both wicks. We waited around an hour until the wax had melted all the way to the edges before tipping the wick into the wax to extinguish the flame. This helps the candle burn evenly all the way down due to candles' wax memory. Sand and Paws recommend burning anywhere up to four hours at a time. The candles usually retail at around $19 in the US, but I bagged mine for less than £8 in TK Maxx, which felt like a bargain.
We've since been lighting the candle for a couple of hours in the evenings whilst watching Netflix or The Great British Bake Off. It's got a really warm and cosy fragrance which fills the whole front room. You can smell it the moment you walk in, and it absolutely helps banish the 'doggy' smell after the scamps have spent all day playing and snoozing in there!
If you loved this candle review, you might also enjoy this post about our dog calming candle!