I spend more on the dogs at Christmas than I do most humans, which might make me seem like a crazy dog lady – but I do run a dog blog so we all knew I was one anyway. That said, I didn't realise quite how much I'd bought until I tried to start packing it into a hamper box and it wouldn't all fit!
This year, The Scamps have got tonnes of treats so that I won't have to buy any for a good few weeks in the new year, as well as toys, training tools and accessories. Their main presents were the Hounds Personalised Christmas Sacks and Barkley and Co collars – but we have lots to show and tell you about.
Here are all the Christmas presents I've picked up for my dogs.
Christmas Jumpers
It can be really tough to get cute Christmas jumpers for bigger breeds on the high street, but we really dropped on with these festive favourites! These Christmas jumpers were around £3.50 each from Home Bargains, and the XL size fits Phoebe and Frank nicely. Frank has a Christmas pudding jumper, because I'm forever calling him my little pudding, and Phoebe's is an elf design, because she's my little helper. Phoebe appreciates the jumper more than Frank, and didn't want to take it off when I checked them for size! These will be super cute for them to wear on Christmas day, and to wear on cold walks when it's not raining.
Dog Beer and Pawsecco
Who doesn't love a cheeky Christmas tipple? Whilst I pour a G&T with my Christmas dinner, Phoebe and Frank will be enjoying a Woof and Brew bottom sniffer dog beer, or Pawsecco. Both of these non-alcoholic treats make for a fun novelty gift for your pet, or their four-legged friends.
Hounds Personalised Christmas Sack
We unboxed the Hounds Personalised Christmas Sack here and it's one of the most beautiful personalised gifts we'll be able to reuse each year. The sack was filled with treats and toys which we've unpacked to fill out the hamper. Inside was a festive sprout toy from PetFace, as well as some JR duck pate, venison sticks, Lily's Kitchen Christmas cracker and Denzel's Christmas chews. We'll likely use the sack to store our excess treats throughout the year, and it looks like a cute stocking hung off the fireplace or placed under the tree around Christmas time. This was definitely their 'big' present this year, but we'll get so much use and joy from it.
Festive Toys
Because there was the sprout toy in the Hounds sack, we picked up the PetFace carrot toy in Sainsbury's for around £3.50 so they have one each. The little Santa-hat wearing carrot reminds me a bit of the iconic Kevin the Carrot, who's become as much a part of Christmas as Michael Bublé. I can't imagine these squeaky toys lasting long, but it'll be cute whilst it lasts.
Barkley and Co collars
After seeing Hounds shopdog, Ubba, in a Barkley and Co collar, we just couldn't resist a pair ourselves. The Staffordshire-based brand is local to us and launched in November, so we were chuffed to be supporting a new small biz near us. The vegan leather collars are absolutely gorgeous quality and come in four autumnal colours. We've opted for a beautiful mulled wine shade for Phoebe, and midnight blue for Frank. It was such a tough call though, seeing as the onyx and bonfire toffee are equally as stunning.
The collars were £11 each, and we will be saving them for best. They're really beautiful quality, affordable, and very stylish. We'll be doing a full feature on this fabulous brand in the New Year, too, and can't wait to see what they release next!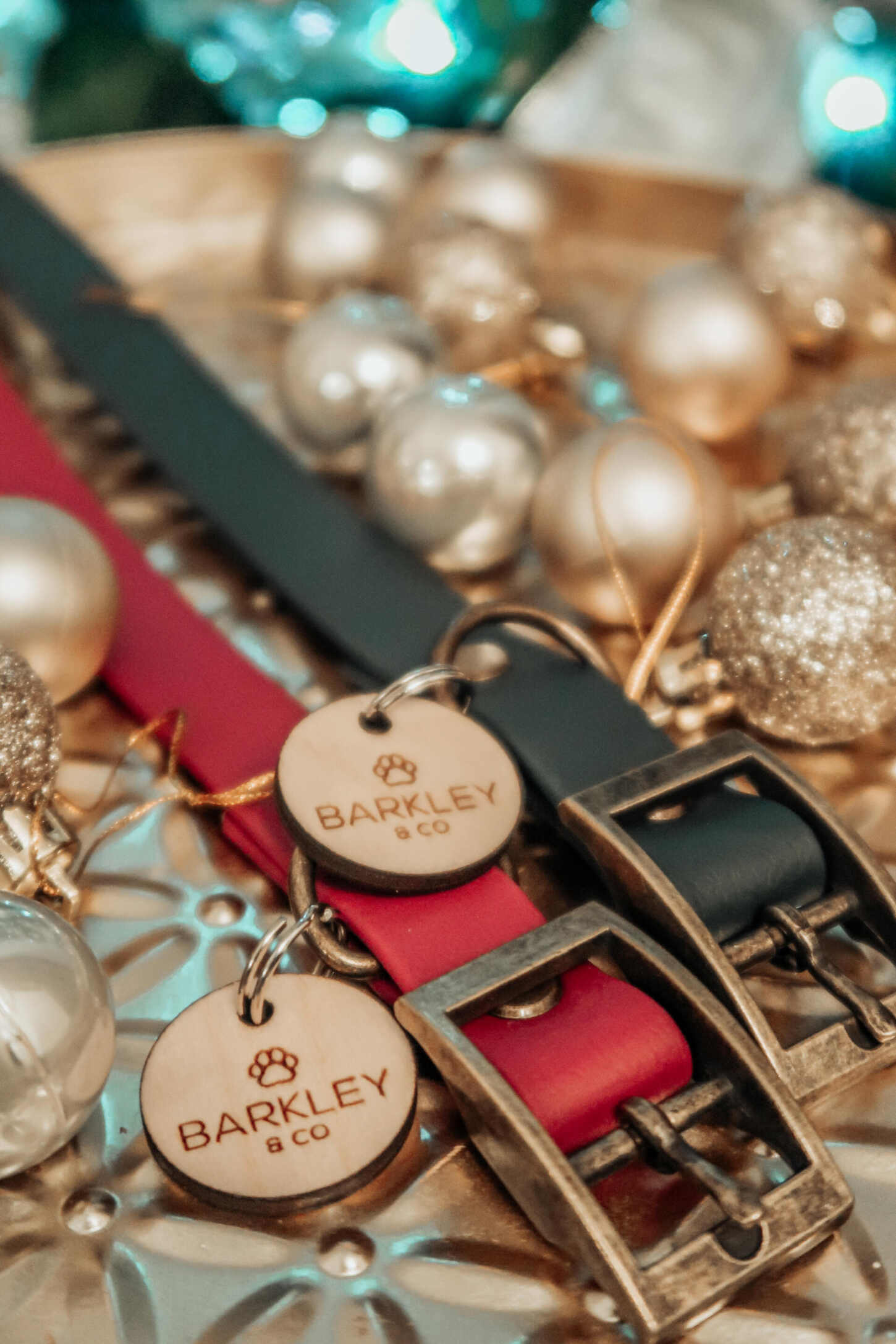 LickiMats
The Scamps absolutely love their LickiMats, but the original rubber design is no match for Frank's teeth and he's already taken chunks out of it. I picked up two of the LickiMat Buddy Deluxes which are more tough and durable for less than £15 for the pair. I got two different colours and designs that will offer mental stimulation for Phoebe and Frank. They'll certainly come in handy on Christmas day to keep them good whilst cooking dinner or opening presents.
LickiMat sprinkles
To sprinkle on their LickiMats, I got two tubs of the branded sprinkles, which is essentially a box of broken biscuits and biscuit dust. That said, they're such a brilliant idea! You can spread yoghurt, pate or peanut butter on the LickiMat and top with the biscuit sprinkles for a super tasty treat. I got the flavours 'liver, tumeric and black pepper', as well as 'duck and orange', which I thought sounded pretty festive.
Peanut Butter
Another great treat for LickiMats is xylitol-free peanut butter which can be spread over the mat, or even frozen onto the mat for a longer-lasting treat. We recently discovered the Woof Butter brand and adored the packaging, so I picked up a tub of their 'coat health' peanut butter. It's enriched with vitamins and minerals to keep coats looking shiny, and contains no palm oil.
The Innocent Hound Luxury Christmas Treats
We had so much fun baking The Innocent Hound Christmas Cake, and we were also gifted this fabulous box of festive treats. Inside are two types of air-dried meaty treats: Turkey and Cranberry Triangles, and Venison and Apple Bites. They're high meat content and high in protein, and The Scamps have gone barking mad for them already.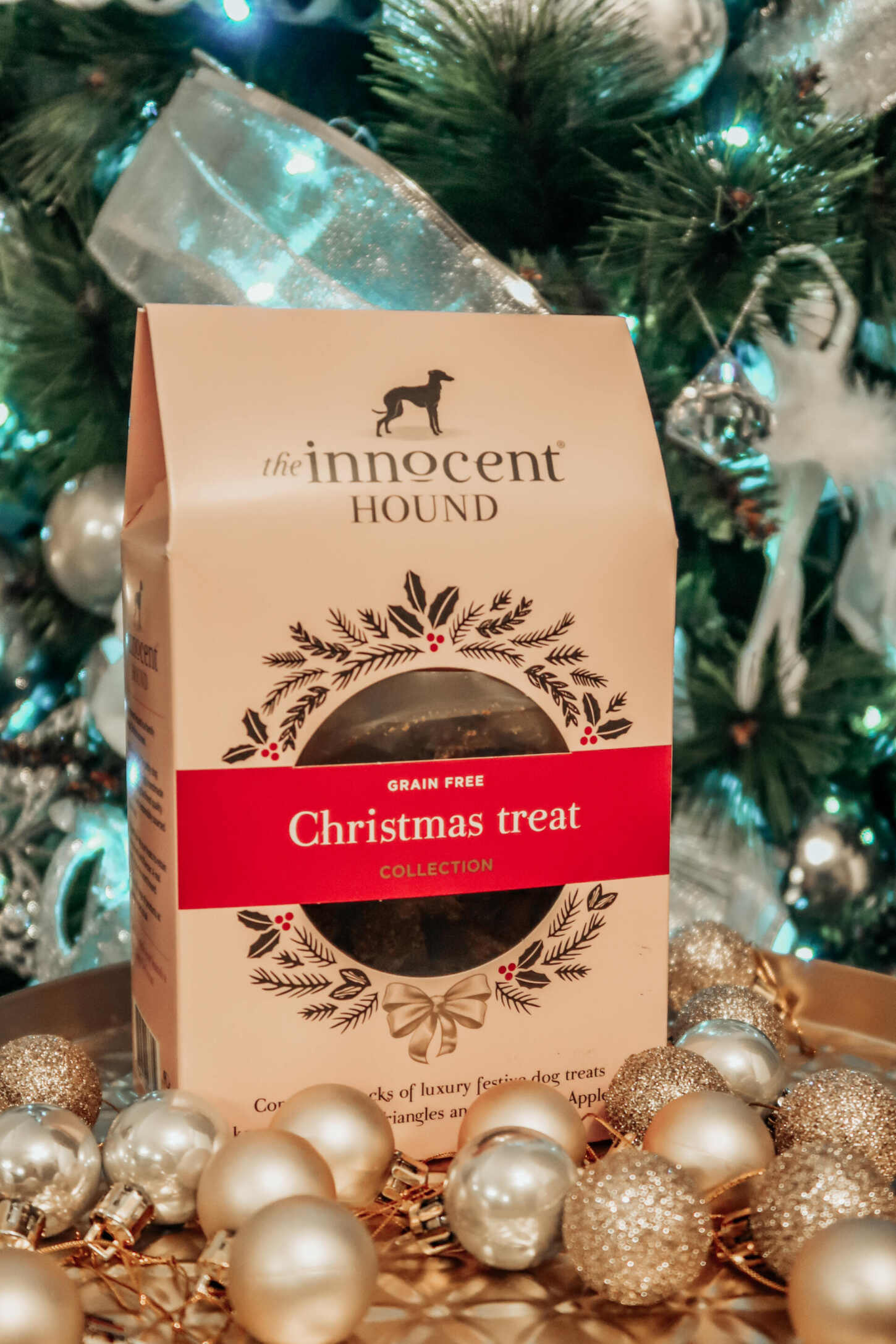 Lily's Kitchen Festive Range
As well as the Lily's Kitchen Advent Calendar Phoebe and Frank have been enjoying on the countdown to Christmas, The Scamps also have the rest of their festive range. The range features a Christmas cracker full of baked treats, and a pantomime themed box of meaty treats including proper beef burgers and chicken bites – as well as duck and venison sausages. The Scamps also have their Three Bird Roast ready for Christmas dinner, for the second year in a row.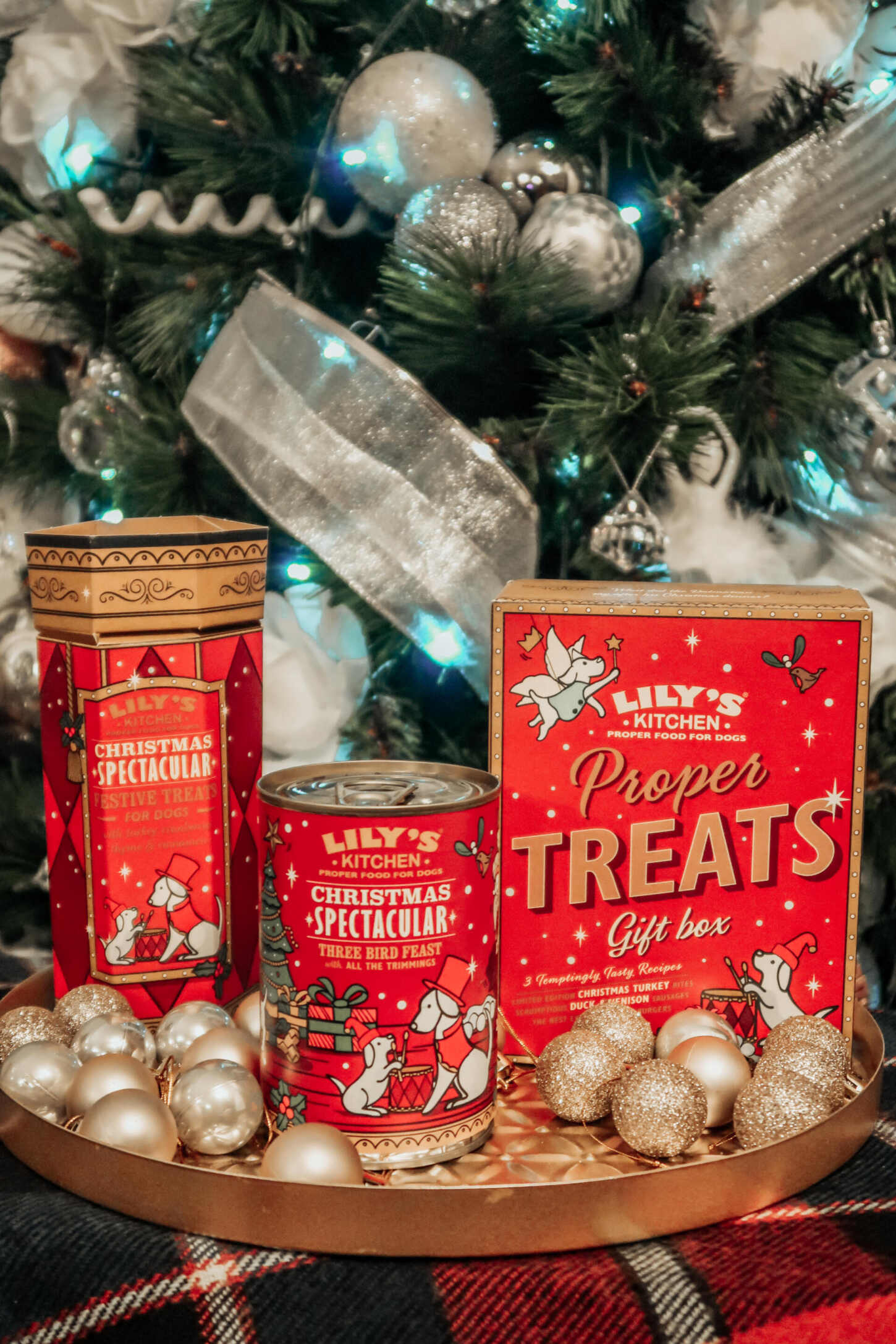 Other treats
I've also put The Scamps together a hamper of treats to take us through into the new year. We opted for some of the Pooch and Mutt Move Easy and limited edition Peanut Butter biscuits, which are a brilliant low calorie training treat.
I'll likely pick up some more natural chews before breaking up for the festive break, but Phoebe and Frank have got a lamb ear and a chicken foot each. There was more, but naughty Frank managed to get into the office and scoff two pig snouts and a ham and cheese stick in under 10 minutes.
From the Lily's Kitchen range, we've got the Lily's Kitchen beef burgers and chicken coins, which we wrote about previously here. The beef burgers are made up of 80% real beef and include kale and chia seeds, too. They're just over an inch wide, so the perfect bite sized treat for my big-breed dogs Phoebe and Frank. The chicken bites are slightly smaller, containing 80% chicken, and include ginger and quinoa.
Another fab training treat we use regularly is the Edgard and Cooper range, so they've also got the Good Boy Beef Bites and Top Dog Duck and Chicken Bites. They are high in protein, grain free and slowly baked to preserve the ingredients – and the packaging is super cute.
To finish off the treat hamper, they've got some festive bone shaped biscuits from Sainsbury's, as well as both flavours of the Denzel's Festive Chews – Pigs in Blankets and Christmas Lunch. The boxes each have three chews which can be fed as a treat, or broken up for smaller rewards. We love the Christmas packaging and think Denzel looks super cute.