Ad – tickets gifted by ManyPets pet insurance – all opinions are our own
Owners and their four-legged companions are getting ready for an exciting date in the doggy diary as DogFest 2023 – the nation's favourite canine-friendly festival – comes to Cheshire.
Last year, Phoebe and Frank attended their first ever DogFest set in the stunning grounds of Tatton Park, and loved it so much we're heading back again this year"
The dog-dedicated day out is an absolute must for pet owners, with so much to see, do and explore, from big dog walks and breed meetups, to fun dog shows and photo opportunities, alongside a whole host of big and small dog businesses, with food, drink, ice cream and live music to also enjoy.
We've put together a list of all the things we're most looking forward to getting involved in this year, so whether it's your first time attending, or your 10th, you'll be able to have the time of your lives.
Here are the six reasons we can't wait for DogFest 2023 at Tatton Park from June 17-18:
All the dogs
Thousands of dogs are set to attend this pet-centric event at Tatton Park and it really is a sight to behold and a dog-lover's dream. It's a great opportunity for dogs to socialise, train and play, while meeting like-minded dog lovers and sharing a passion for pooches.
As well as there generally being a lot of hounds around on the day, there are also more dedicated opportunities to meet up with other animal enthusiasts, such as the Big Dog Walk and breed-specific meets.
The Big Dog Walk, sponsored by ManyPets pet insurance, gives owners the chance to join other pet parents and their pups on a 2km or 4km leisurely walk to explore the beautiful grounds of Tatton Park.
There are two walks throughout the day, including a quieter walk for anxious dogs at 10am, or the ultimate Big Dog Walk at 11am.
Then, running all day throughout the weekend is the chance to meet other members of the DogFest community, share stories, take pictures and maybe even arrange to meet some local dog owners for a play date with the breed meet ups. You'll catch us at the Staffies meet on Saturday at 12.30pm!
If you don't have a dog, it's also a great chance to pet some pooches and learn about their breeds.
Shopping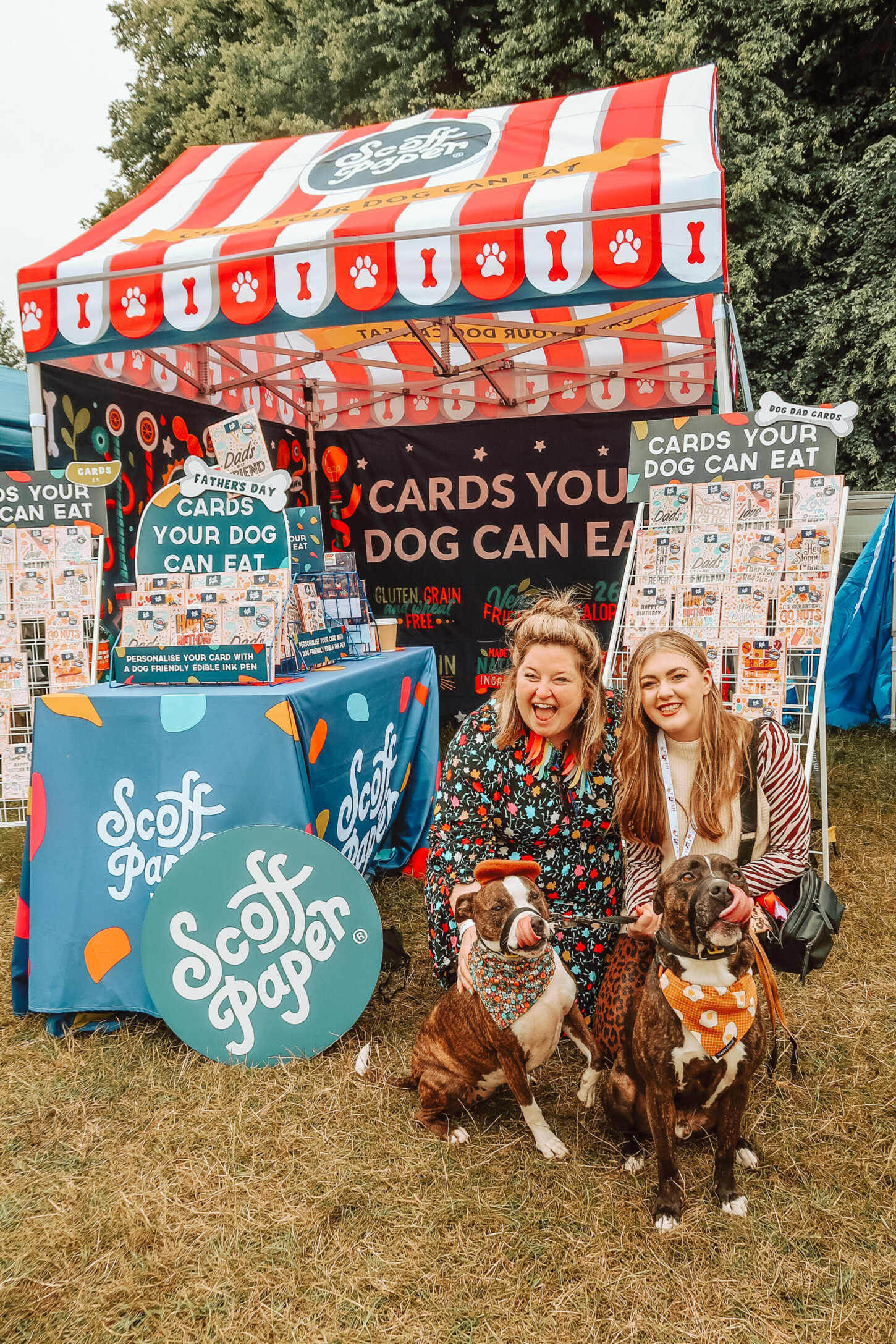 Last year we came home with so many goodies from the shopping village, including brand new leads, Scoff Paper cards, W'Zis and more. There are more than 100 stallholders offering a huge selection of dog related brands, products and services, so prepare to be spoilt for choice!
We're looking forward to discovering new brands, meeting up with some of the amazing brands we've worked with previously, and treating the Scamps to some new treats and toys, too.
You can find the full list of brands attending on the DogFest website.
Fun Dog Show
We had a blast taking part in the Fun Dog Show last year, and although Phoebe and Frank didn't win Best Rescue, they had a fantastic time getting involved in all of the fanfare. 
Presented by The Ministry of Fun, this year's spectacle will return with nine classes and an opportunity to win the coveted 'Best in Show' title. The Fun Dog Show will take place on both Saturday and Sunday and is open to everyone. Entry is £3 per class and bookings are taken on the day.
Activities
DogFest provides a safe environment to have a go of some fantastic activities and experiences. Last year, the ManyPets village had a go in the amazing pink ball pit and explored the sensory area which included textured floors, fragrant plants and brain training games too. 
There are also dedicated have a go activities like hay bale racing and flyball running throughout the day, which offers a chance to teach your dogs new tricks or discover your dogs superpower. Frank loves a ball, so I actually think he'd really enjoy flyball, while Phoebe would more so enjoy the agility as she's quite athletic with great balance.
Brilliant demos and talks
After trying some have-a-go activities, there are also some pawesome demonstrations where you can watch the professionals at work in the Action Arena. The area will see some fast-paced, canine demonstrations and competitions from some of the world's top teams in flyball and agility, with police dogs and TikTok sensations in attendance, too.
Elsewhere, the Behaviour Zone provides  a safe space to come and ask for advice and learn ways on recognising different behaviours in a dog, while experts in canine behaviour, grooming and nutrition will be on hand to pass on their knowledge and practical advice for keeping your dog's happy and healthy all year round during informative talks throughout the day.
A full schedule of talks and demos is available on the DogFest website. 
Photo opportunities
Finally, there are photo opportunities a-plenty for you to snap cute pics of your pets for their Instagram account or social media pages. From giant deck chairs to instant photo booths and the famous DogFest sign, there are countless chances to capture amazing memories with your pooch.
There's also often a professional photography stall where you can go and get your pawtraits taken, too – so make sure your dog wears their best bow tie or bandanna!
Tickets to DogFest 2023 at Tatton Park cost £20 per adult in advance – you can find all the information you need and book your tickets on the DogFest website.