This weekend Phoebe, Frank and I attended our first ever DogFest – and we already can't wait to go back next year. The canine-centric festival is held at seven different UK locations each year, and we headed over to Cheshire's Tatton Park on June 18 to get involved in all the fun.
The dog-dedicated day out is an absolute must for pet owners, with so much to see, do and explore, from big dog walks and breed meetups, to fun dog shows and photo opportunities.
Set in the stunning grounds of Tatton Park, there are more than 150 stalls to shop from a whole host of big and small dog businesses, with food, drink, ice cream and live music to also enjoy.
So here's how we spent the day at the nation's favourite dog-friendly festival, DogFest – in partnership with ManyPets. 
VIPooch
Phoebe and Frank were gifted VIPooch tickets for the event, so our first stop was the VIPooch lounge which we would be able to use as a base for the day. We were all given free tickets for ice cream, as well as tokens for a dog ice cream, free drink at the bar and a DogFest goodie bag containing a toy, treats, training pouch, sunglasses and hand sanitiser.
The lounge has a gorgeous little marquee housing the bar, so you can choose to sit in the sun or the shade with your pup. 
I claimed my free prosecco and Phoebe and Frank enjoyed their ice cream while we made a plan for the day. However, having now attended my first DogFest, planning your day is something you're going to want to do before you get there to make the absolute most of it.
Inside the VIPooch area there's also a little splash pool, as well as a foliage wall for the perfect Instagram photo – though there are also plenty of picture opportunities around the festival too.
The £75 VIPooch fee also gets ticket holders fast track entry into the festival, priority parking, a complimentary cloakroom, a separate food vendor to beat the queues, luxury loos, and an off leash area, too.
Stalls
After setting ourselves up with a drink, we made our way around some of the amazing stalls, including Waffle and Woof where we bought two new dual ended rope leads for £10 each, and Bartley Studios, where Phoebe and Frank had their pawfessional pawtraits taken. 
There are dozens of stalls to explore, some totally new to us, and others we've discovered through Instagram and friends. We spotted Olive and Berry, who's products I've admired online for a while, and Equafleece, too, as well as W'ZIS, who were impressed we'd brought our refillable tin along with us, too.
Some stalls were a little crowded, so we looped back to them when they were quieter as we weren't quite sure how Phoebe and Frank might cope with so many dogs around – but they actually really did us proud. 
Fun Dog Show
We entered Phoebe and Frank into the Best Rescue Dog heat of the Fun Dog Show, where around two dozen dogs congregated in ring three to be judged by a lovely representative from the Dogs trust. 
Frank got very brave and made some new friends in the queue, including a Rottweiler cross Old Tyme Bulldog called Huxley, and a pretty little greyhound, and both Scamps were very well behaved in the ring while we chatted with other owners about their rescue stories. 
Unfortunately neither of our pooches won a rosette, but we know they're Best In Show at home, anyway.
Family reunion
DogFest is a great time to meet up with members of the dog community from Instagram, but Frank even bumped into his actual brother, Archer! The boys spotted each other from 50 yards away and dragged us all towards each other and were inseparable for the whole day.
More stalls!
We headed round more of the stalls like JR Pet Products and Tug-e-Nuff, as well as Manchester and Cheshire Dogs Home and Lucy and Lola's embroidery stall. There's so much shopping that could be done, and you almost do need the two full days to do it all in.
ManyPets village
We headed over to the ManyPets village where Phoebe and Frank dipped a paw into the pink ball pit before posing for a photo on the giant beach chair. We then queued for a photo at their instant photo booth before exploring the sensory area they've developed, which included textured floors, fragrant plants and brain training games too. 
Phoebe and Frank's photo from the booth was too cute – even if they did nearly drag me away to get back to dad! And I thought it was really sweet that you get an instant print as well as a digital copy, which acts as a cute memento from the day.
Food
There's a whole section of stalls serving up delicious burgers, fish and chips, pizza, doughnuts and crepes at DogFest – you really will be spoilt for choice. I grabbed a cheeseburger from one of them and managed to get a picnic bench to enjoy it on, fuelling me for an afternoon of further adventuring and shopping.
Even more stalls
One of my favourite things about the DogFest stalls was that I was able to go and meet the brands we've loved working with over the years, and it was so great to finally meet Gemma – the lovely lady behind Scoff Paper.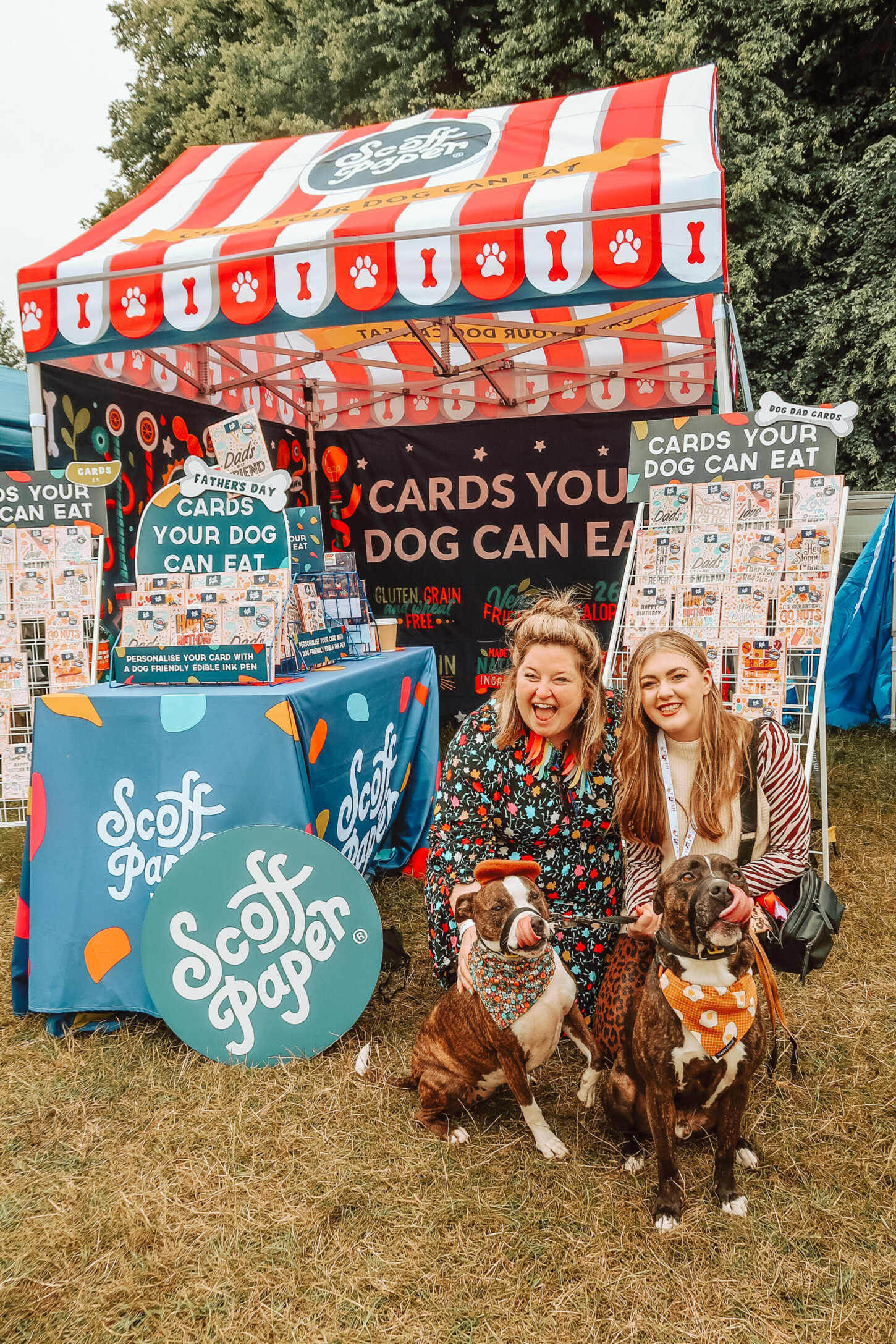 Scoff Paper is a brand we've loved using for birthdays, gotcha days, Christmas and basically any other celebration you can think of, and to finally get to say hello in person was blooming lovely. And we couldn't leave without a few cards, of course! 
We also visited Pawesome Paws Boutique, The Dog Bowl Deli, The Barking Bakery and so many other fab brands we can't wait to order from. 
Heading home
Before we knew it, 5pm was approaching and yet there still felt like there was so much to do and see. We had caught snippets of talks from the Main Stage, but would have loved to watch some more, and while the have-a-go activities looked incredible, from hay bale racing to flyball, we didn't think it was suitable for Phoebe and Frank, so left that up to the more laid back dogs.
Next year we'd love to go to a breed meet up and on the Big Dog Walk, and would definitely get there earlier and plan our day tighter to fit it all in. We had the best time and there were logs of tail wags from Phoebe and Frank, who were totally wiped out by the time we got home, which is a sign of a day well spent.
Another way to do it would be to visit one day without the dogs and hit up all the stalls, so that you can spend the second day doing all of the activities, walks and photo opportunities with your pet. 
Created by dog-lovers, for dog-lovers, DogFest is an absolute must and we can see why it's the nation's favourite dog friendly festival. We'll be sure to book our tickets to next year's festival as soon as they're on sale because it's truly one of the best days out we've ever had.