Summer is fast approaching and already the weather has been pretty glorious. And as the mercury rises, it's best to make sure the freezer is stocked up with frozen treats not just for yourself, but for your dog too.
There are dozens of frozen ice cream style treats now available for our four-legged companions, and trust me when I say there's nothing better than watching a dog navigate an ice cream pot.
Having had our snoots in quite a few, we've rounded up some of our favourite brands that have been thoroughly tried and tested by Phoebe and Frank, and have received a firm paw of approval.
Here are six frozen treat brands to fill your freezer with to help your pooch beat the heat this summer.
Frozzys
Frozzys offer lickable frozen yoghurt treats suitable for all dogs and puppies, available in original, strawberry, blueberry and cranberry as individual pots or in a pack of four. The lactose-free recipe is also rich in calcium and packed full of vitamins and minerals, with only 44-53 calories per pot.
Founders Noel Conlon and Michael Hunt wanted to develop a fun and delicious, yet healthy dog treat that was low in fat, to keep dogs cool without them gaining weight.
They said: "Frozzys is the dog treat with a difference and we are meticulous when it comes to canine nutrition and enjoyment. You won't find any preservatives, artificial colours or flavours in Frozzys frozen yogurts. We only use natural, simple and healthy ingredients that we know your pooch will love eating and you will love feeding them. With canine obesity and disease rates ever-increasing, we felt a personal responsibility to develop simple, yet effective, recipes which would deliver multiple health benefits and features."
Billy and Margot
Inspired by Billy the ice-cream loving Labrador and his canine sister Margot, owner Marie took this iced treat idea to Dragon's Den, with Deborah Meaden buying into the business. Established in 2012, Billy and Margot now have four fabulous flavours to choose from, including Strawberry and Apple, Honey and Banana and Apple, Banana and Carrot and Coconut Creme.
The dairy-free cooling treats are made with real fruit and superfoods, as well as coconut oil which promotes healthy skin and coat, and come in a fairly large tub suitable for all breeds. Their tub is the optimum diameter to cater to flat-faced dogs like pugs, frenchies and bulldogs, as well as pooches with longer snoots like whippets and greyhounds.
Marie also recognised that whilst some owners prefer to hold the tub to control how their dog eats their treat, some dogs prefer to take matters into their own paws. The Billy and Margot iced treat tubs are 100% edible, made with cardboard designed to disintegrate in the gut if swallowed, as well as being printed with non-toxic vegetarian ink.
Grain and dairy-free, they also include a range of fruits, coconut oil, flaxseed oil and aloe vera, and are packed with vitamins, minerals and antioxidants. Dependent on your dog's breed you may want to manage their potion control with these generous tubs, but Billy and Margot say that the lid can be placed back on, and the product re-frozen at any time.
The iced treat has a softer consistency to others we've tried previously, with a creamier texture, more like a soft serve, making a nice change from some of the other products on this list.
Read more about Billy and Margot here: Billy and Margot iced treats with real fruit
Doggy Doggy Yum Yum
From the team behind Baboo Gelato, this natural and organic dog ice cream is a delicious, dairy-free, gluten free and vegan treat to cool down our furry family members. Inspired by her flat-coated retriever, Dasha, Annie Hanbury – a Bologna-trained professional ice cream maker – launched the brand after wanting to make better 'ice cream' for dogs.
Their peanut butter and banana frozen dessert is made with live coconut yoghurt, bananas, peanut butter and agave syrup. This means it's also lactose-free, making it gentler on tummies, as most dogs struggle to digest lactose without a runny tummy.
Live coconut yoghurt contains live cultures which are good for the gut, and it also contains vitamin C, magnesium, potassium and iron, working as a good immune booster. Meanwhile, bananas contain potassium, vitamin B6 and vitamin C, are high in fibre which is good for gastrointestinal problems, and magnesium which is good for bone growth. Then there's pooch-favourite peanut butter, which is not only an absolute favourite tail-wagger, but also contains lots of B vitamins, vitamin E and magnesium.
The ice cream comes in 120ml tubs which are recyclable, too. There is even a wooden spoon in the lid to help your dog scoop out every last bit. You can get your paws on Doggy Doggy Yum Yum at one of four kiosks at tourists spots across the UK including West Bay, Morecombelake, Weymouth and Lyme Regis, or shop online for £2.65 a tub at Baboo Gelato.
Check out our full review on Doggy Doggy Yum Yum here: Doggy Doggy Yum Yum peanut butter and banana ice cream for dogs
Jude's
Last summer, Jude's launched their first ever flavour for dogs. The canine-friendly ice cream is part of a partnership with Battersea Dogs and Cats Home, so not only does it taste good, it does good too. A tub costs £1.50, available from Ocado, and five per cent of sales go directly to supporting all the hard work the charity does for dogs and cats looking for new homes.
The Hampshire-based business developed the plant-based product using real fruit purees, meaning both you and your pooch can enjoy the taste of Jude's ice cream together this summer.
The strawberry, apple and banana ice cream is made up of water, 11 per cent strawberry puree, 11 per cent apple juice, 10 per cent banana puree, fructose, coconut oil and beetroot juice.
Each tub is 90ml and I find it's the perfect size for Phoebe and Frank to have one each – any bigger, and I'd probably have them share. The ice cream itself smells really sweet and yoghurty, and I'd be lying if I said I wasn't tempted to grab a spoon and tuck in myself (though I do have my own Jude's in the freezer).
Pick up your own Jude's ice cream for dogs here.
Read more about the charity Jude's ice cream here: Jude's ice cream for dogs supporting Battersea Dogs and Cats Home
Cool Dog
The iced treat comes from the team behind the award-winning human ice cream Granny Gothards, sold at Waitrose.
Available in a blueberry and banana flavour, the ice cream is lactose-free, making it better for dogs, who are mostly lactose intolerant, helping prevent digestive problems. It's made with 54 per cent banana, which are high in potassium, vitamins and fibre, as well as more than five per cent fresh blueberries – a superfood rich in antioxidants.
The treat is Food Standards Agency approved, and contains 100 per cent natural ingredients that are completely vegan. The recipe also contains calcium and vitamin D for strong teeth, protein to support energy and zinc for a healthy coat.
Vibrant purple colour thanks to the blueberries, it also contains a small spoon scoop in the lid to feed your pooch with. Each pot contains 125ml of ice cream, and costs around £2.50 a tub. It's a great little portion size for one each for our large dogs, and features two of their favourite fruits, which offer added health benefits as well as cooling properties.
You can get your paws on some Cool Dog Ice Cream via Not In The Doghouse, costing £30 for a multipack of 12.
Find our full review of Cool Dog here: Cool Dog lactose free vegan ice cream ideal for summer
Scoop's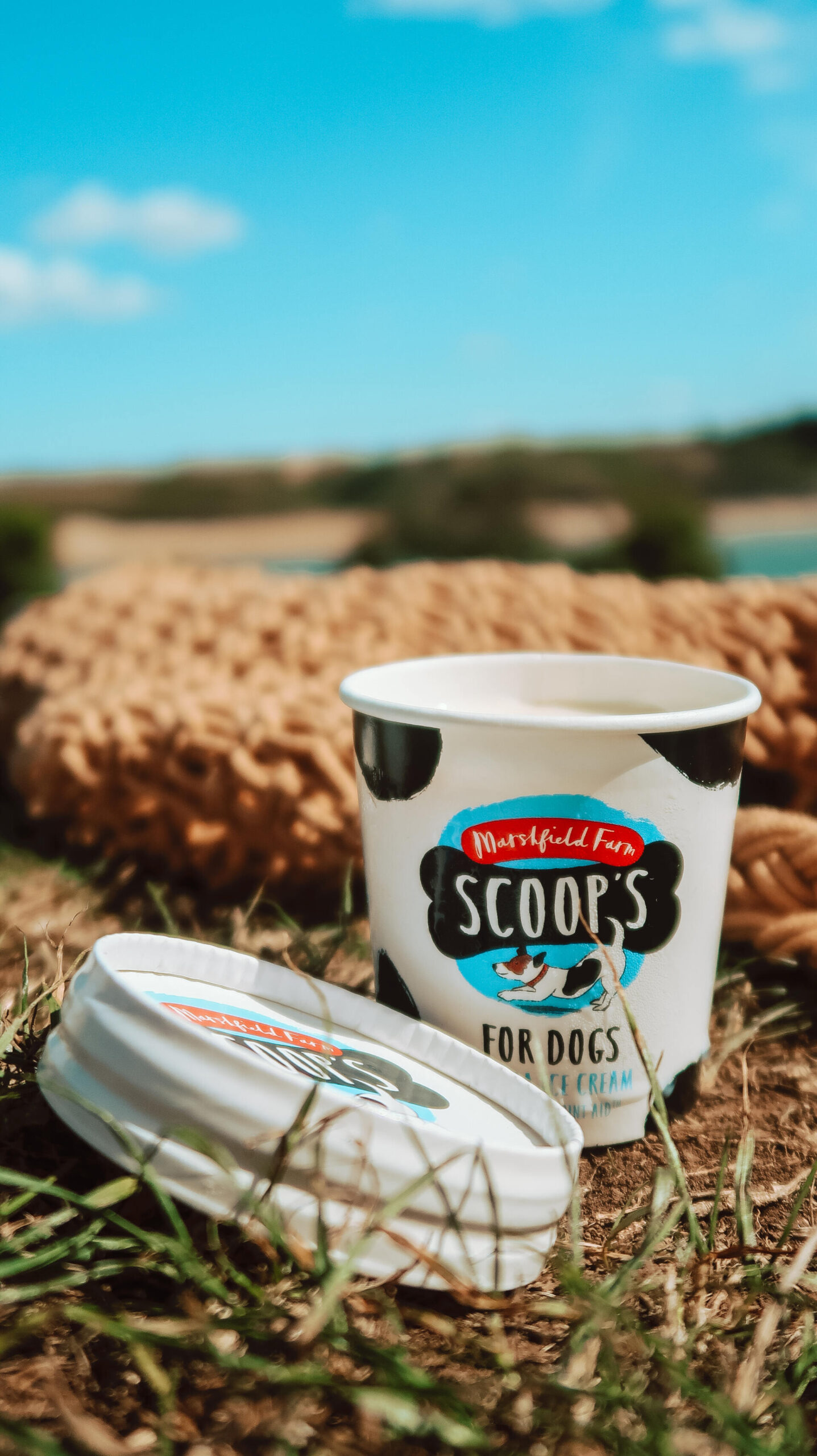 Scoop's is made by Marshfield Farm, a dairy farm best known for its award-winning ice cream for people. The farm was established in 1971, and in just over 40 years has developed from a small herd of 35 cows to around 250 British Friesians. 
Scoop's currently comes in two flavours – vanilla and mint – and has been specially formulated with reduced lactose milk from the farm. While made up of 80 per cent fresh milk, it contains a lactase enzyme that removes the lactose from the dairy product. 
The vanilla dog-friendly frozen treat contains an added natural joint supplement containing Glucosamine and Vitamin C for joint and muscle support, and is completely free of palm oil. Meanwhile, the mint flavour includes GWF Nutrition's odour aid  to help fight nasty bacteria in the mouth and gut and act as a natural breath freshener.
They said: "Scoop is always at our side – and we thought it was about time she had a treat too! In 2018, we floated the idea of making a dog-friendly ice cream for Scoop, thinking it would be popular at our summer parlour for the pooches that visit. 
"We named the ice cream after the little lady herself and the diva has most definitely loved the attention. Fast forward a few years and it's one of our biggest selling ice cream flavours – that's including our human ice cream!"