A few weeks ago, we went to wash Phoebe and Frank's blankets and noticed their beds were looking a little tatty. It's safe to say they likely wouldn't have survived the washing machine – and their design made it a real pain to get the insides back in after they'd dried too.
And luckily, Aldi's Pet Event was on, so I popped down to the middle aisle to scout out their selection of dog beds – and I was really surprised at the range of choice.
As part of their Specialbuys, the budget German retailer has launched memory foam and quilted mattresses, scalloped pet chairs, as well as extra large, super soft beds. Now, the thing when you have two dogs is that you have to double all your costs, and this style of bed in a retailer like Pets at Home range anywhere from £55 upwards for just one.
So I was pretty smug taking my two grey checked pet beds to the tills and seeing a total of £49.98 on my receipt – just £24.99 each. It's unheard of to get a decent, well sized dog bed for under £50 these days, let alone two!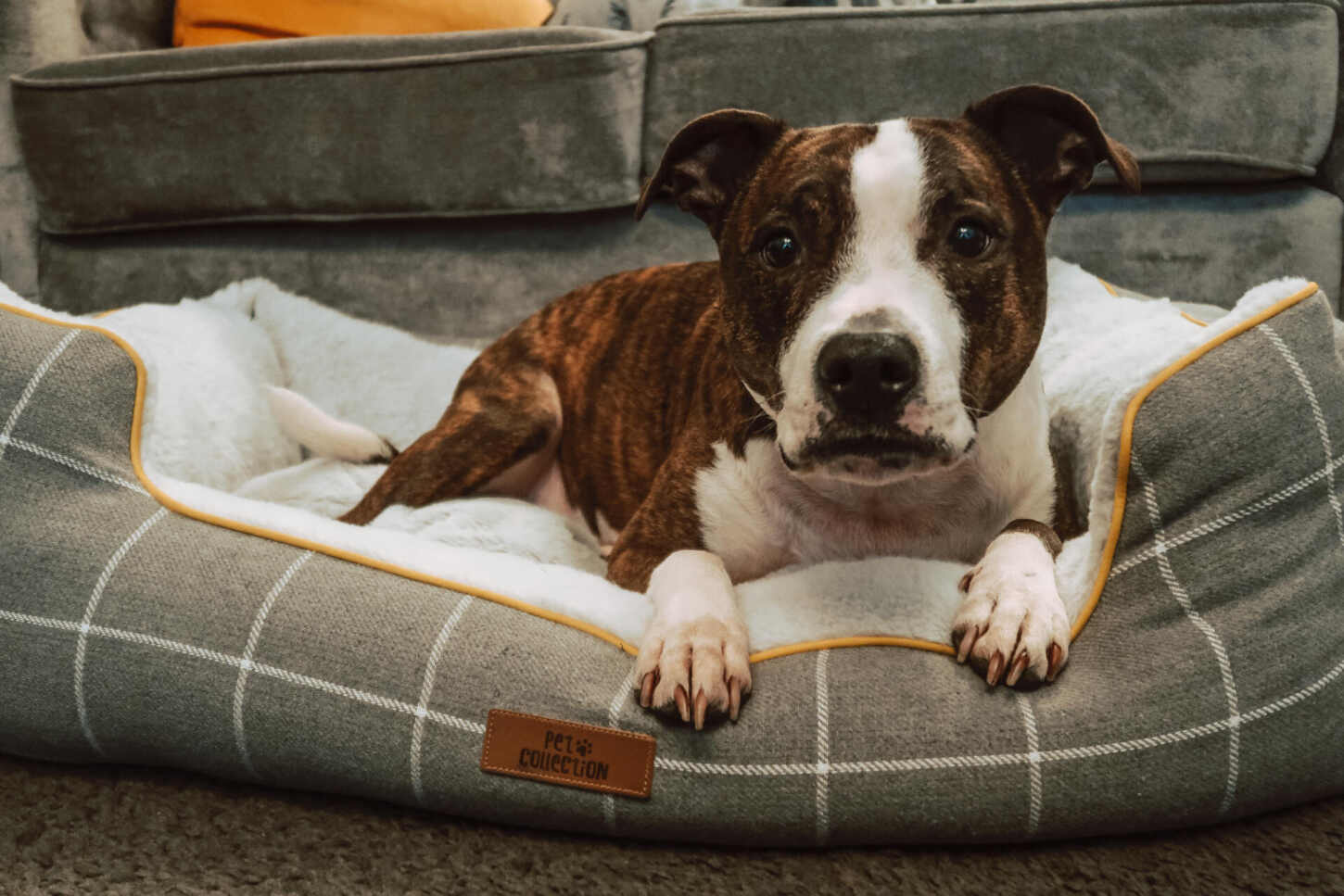 The rectangular beds are a medium grey with a light check pattern on the outer and base of the inner cushion. Inside the faux fur lining is very plush and cosy, which Phoebe snuggled into straight away. The sides are sturdy and well stuffed, meaning it will take quite a while for them to wear down, but it keeps its shape really well, with a little dip at the front, labelled 'Pet Collection'.
Around the edge of the bed there is a subtle but stylish mustard binding trim, which makes the beds feel as though they were made for our grey and mustard lounge. Phoebe and Frank also had some grey and mustard check blankets to snuggle under, which match both the bed and the room, tying everything together.
Read more: Why we returned the B&M outdoor raised dog bed
The bed is 80cem wide by 60cm deep and 26cm tall, which allows Frank the space to stretch  out. There's no doubt Phoebe and Frank will occasionally squeeze into just one of these beds for a cuddle – and they can both fit – but we decided two beds would be best so that they have their own space to sleep at night. There's nothing worse than someone hogging all the covers, right?
The limited edition release is also machine washable, which was really important for us. The inner cushion can be unzipped and the cover washed, while the rest of the bed can be put in the washer whole.
Aldi's product description reads: "In a luxurious X Large Grey Check Soft Dog Bed your furry friend will have the comfiest night sleep they've ever had. Made from super soft fabric, it's a cosy plush bed that your dog will love, not to mention it will look great in any room. This bed is machine washable and includes a removable cushion for easy cleaning. Don't hang about, pamper your pooch today!"
And honestly, it really was the comfiest nights' sleep the Scamps had ever had – and do you want to know why? After making up their new beds with their blankets, we tucked Phoebe and Frank in while we visited my brother, and when I checked on the Tapo security camera, they didn't move a muscle the entire time we were gone.
Not only that, but – usually, we cover our sofas overnight to stop the dogs sleeping on them – we forgot to put a protector on the sofa, to which Phoebe and Frank would normally jump at the chance to bag the best seat in the house. To our surprise, when we awoke on Saturday morning, both dogs were still tucked up and snoozing.
Other items included in the pet event include treats, beds, accessories, coats and even a cordless grooming kit. What's more is you can also get free delivery over £30.