October has arrived and it's time for pumpkin everything. We want pumpkin spice lattes, trips to the pumpkin patch, Emma Bridgewater pumpkin mugs and spicy pumpkin soup – and for our canine companions? Pumpkin treats! T'is the season, afterall.
Not only is pumpkin super seasonal this time of year, it's also classed as a superfood, full of fibre with lots of digestive benefits. Not to mention the fact dogs love the flavour of the giant orange veggie we typically use to carve jack-o-lanterns.
Speaking about the benefits of pumpkin for dogs, The Kennel Club said: "Pumpkin and squash are packed full of fibre and vitamins that help keep your dog regular whilst also giving them a healthy-looking coat. You can cook the flesh of these fruits, but make sure you remove the seeds and rind too. You can also give your dog unsweetened tinned pumpkin."
As a result, it's not uncommon to turn over a packet of your dogs favourite treats and find pumpkin on the ingredients list. And this time of year, many release limited edition pumpkin treats to help you feel like your getting your pooch involved in all the fun festivities that come with autumn.
So, here at Lady and The Scamps. we've pulled together a list of our favourite pumpkin treats – including old favourites like Soopa and Green and Wilds, as well as brand new limited edition launches from Denzel's and Pooch and Mutt.
Pooch and Mutt Pumpkin Spice treats
And to celebrate the snuggly season sweeping in, Pooch and Mutt have launched the CUTEST limited edition treats that are perfect for enjoying after a walk through the fallen leaves at your favourite woodland spot, or a trip to the pumpkin patch. Hypoallergenic and puppy-friendly (from 12 weeks) their new Pumpkin Spice probiotic meaty treats contain seasonal superfood pumpkin and a range of nutrient rich ingredients to make for a 'warm hug' of a reward for your dog.
It probably goes without saying that these treats don't contain any coffee like the much-loved PSL drink, but it definitely feels inspired by the season. Instead, the cute clover-shaped treats are made with 26 per cent chicken, as well as pumpkin, cinnamon, melon, collagen and, as with all of the probiotic meaty treats range, added probiotics for healthy digestion.
These treats are formulated with no added artificial flavours, colours or preservatives, with no grain, cereal, gluten, beef, soy, dairy and non-genetically modified produce, making them easier on the tummy too. Probiotics, which help balance the gut, help with this too. In fact, Pooch and Mutt say that a dog's gut can in turn affect their mood. The new Pumpkin Spice dog treats are currently available on the Pooch and Mutt website, costing £8.99 for three packs – which is less than £3 a pack.
Read more: Pooch and Mutt's adorable Pumpkin Spice dog treats inspired by the PSL
Denzels Jack-o'-lantern of Pumpkin Bites
Low calorie, grain free and hypoallergenic, Denzel's have launched a jack 'o' lantern full of tasty vegan-friendly pumpkin treats, made with fresh banana, fresh pumpkin and beetroot, as well as Phoebe's favourite – peanut butter. Suitable for puppies from 12 weeks old, Denzel's have been a favourite of ours from day dot, not just for their yummy treats, but for their sustainable ethos, creativity and ingenuity. For example, did you know this box that these treats come in has been designed to hang up as a halloween decoration afterwards?
Denzel's dog treats come in 100 per cent plastic-free, biodegradable and compostable packaging. Baked locally in the UK, Denzel's keep their carbon pawprint low, only using healthy ingredients you recognise, without all the additives and fillers. This Jack-o-Lantern packet of treats is priced at £2 on the Denzel's website, along with some of their other new Halloween launches. They offer free delivery for all orders over £15, which is so easily done when you know how much your dog loves them.
Other new launches include their toffee apple sticks and haunted house box, but you'll have to grab them quickly, because they'll 'boo gone' soon!
Read more: Denzel's go 100% plastic-free with new compostable packaging
Plant and Paws Carrot and Pumpkin Chews
Plant and Paws is relatively new to the market, having launched in Arugust 2022 – but they're already being stocked in large retailers like Wilko. Phoebe and Frank love their Carrot and Pumpkin chews, which are a great grain-free treat that help keep teeth clean and improve doggie breath. The chews – suitable for dogs over six months – are packed with vitamins and minerals, and are ideal for dogs suffering with weight issues, allergies, pancreatitis or digestion problems.
The plant based chews feature a very short list of ingredients, including brown rice, potato flakes, non-palm glycerine, cellulose fiber, rapeseed oil, yeast products, dried carrot pieces and pumpkin flour. Pumpkin seeds are known as 'Power Seeds' as they are excellent for skin, coat, soothing digestion and may even help protect your dog against intestinal parasites and worms.
The dental chews are available for £2.50 on the Plant and Paws website, or via Wilko. Each packet contains three sticks, so we recommend ordering in bulk to save a little bit of money.
Read more: DIY Pumpkin Spice 'Latte' for dogs recipe
Lily's Kitchen Chicken Protein Bites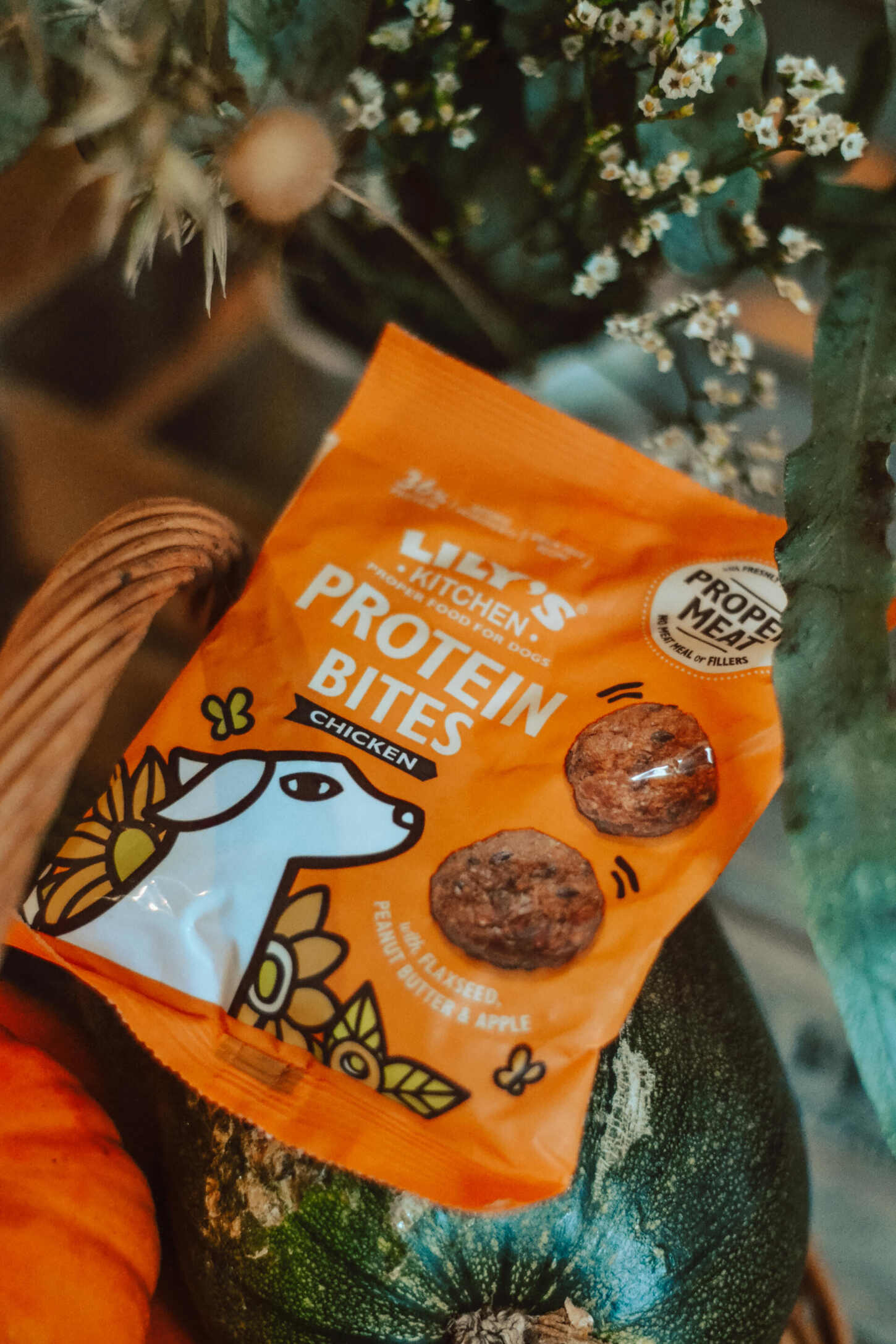 These little 40g bags of bites are said to 'pack a real protein punch', with 36 per cent protein and only 19 calories per treat, making them an awesome, healthy energy booster. The recipe contains 72 per cent freshly prepared chicken, flaxseed, peanut butter, apple, pumpkin seeds and cinnamon for lip-smacking good flavour with added health benefits.
Pumpkin seeds contain the amino acid cucurbitin, which works to eliminate parasites from your dog's digestive tract, while flaxseed is filled with Omega 3 and Omega 6 fatty acids. The protein bites are vet and nutritionist approved, and are suitable for dogs from four months old, with a recommended feeding guideline of up to five a day. Smaller dogs could even get away with breaking their bites into smaller chunks to make them go further, but we find they're a good size for Staffies to scoff on the go for that little boost.
Each bag of treats comes in at £2.25, or you can pick up a box of 12 Lily's Kitchen protein bites for £25.65. We've found the handy little packs to be great for those days out with the family or when you finish a dog walk with a pint in a cosy village pub.
Read more: We tried Lily's Kitchen Protein Bites for dogs perfect for picnics
W'Zis Postman and Roast
W'Zis wins best dog treat branding around – we're huge fans of their 100 per cent natural, grain-free and plant-based treats that come in a range of fun flavours, including Postman and Roast. We ordered their tin and mixed refills three pack, which cost £12.95 and features all three of their flavours. You can pick which colour and flavour tin to receive, and it comes with three mixed refills which can top up your tin six times, which is approximately 600 treats. It works out at great value costing around £2.10 per refill, and that's not including the tin you get to keep.
Their Postman and Roast flavour smells just like a Sunday dinner, which is created by a smokey vegan bacon which is paired with sweet potatoes, pea, tomato, pumpkin and sunflower seeds. W'Zis treats have a deliberately firm texture and angular profile to prolong the eating time to promote teeth cleaning. What's more is that they're only one calorie per treat, making them ideal for training and for owners that can't resist the ingenious evolution of puppy-dog eyes.
Read more: W'ZIS healthy dog treats in fun flavours with handy refill tin
Soopa Healthy Bites Carrot and Pumpkin
We love the Soopa Healthy Bites, which are grain free and hypoallergenic, and made from human grade ingredients. These small bite sized pieces are excellent to use for training and come in a handy pocket friendly pillow pouch so you can use them on the go! Moreover, inside the recyclable cardboard packaging is a resealable plastic pouch which is the perfect size to take on walks.
Their carrot and pumpkin flower-shaped treats contain whole potato flour, potato starch, veg glycerine, carrot pieces dried, calcium carbonate, pumpkin seed flour, organic coconut oil and turmeric. We've heard a lot about the benefits of pumpkin in this post, but coconut oil is also a superfood rich in MCT's which studies have found help boost your dog's brain power while turmeric has anti-cancer properties to help keep your dog healthy and happy.
Green and Wild's Farmer Fred's Veggie Bakes
From Green and Wild's Farmer Fred's range of treats, we love these vegan veggie bakes filled with typical 'allotment' style grows. These healthy, wholesone treats are packed with a range of fruits and vegetables which contribute to a healthy digestive system, as well as rose hip to support healthy joints. The short and sweet ingredients list sees potato, sweet potato, carob, courgette, pumpkin, parsnip, apple, rosehip shell, coconut and banana, all wrapped up in a crunchy, irressistable treat.
These bags of veggie bakes come in at £4.96 on the Green and Wild's website, or get them for £4.49 at Hounds using the code SCAMPS at the checkout.