It can be really hard to find toys that won't perish within a matter of minutes, or if we're lucky, a couple of hours of play in a household of bull breeds. Plushies last 20 minutes max, balls are popped, squashed and de-squeaked shortly after, and rope toys are left in tatters after a game of tug-o-war.
We'd heard amazing things about the Company of Animals' Boomer Ball and had been considering getting one for a while, so when I found myself with a few Amazon vouchers, I decided to treat The Scamps for their one-year blog anniversary.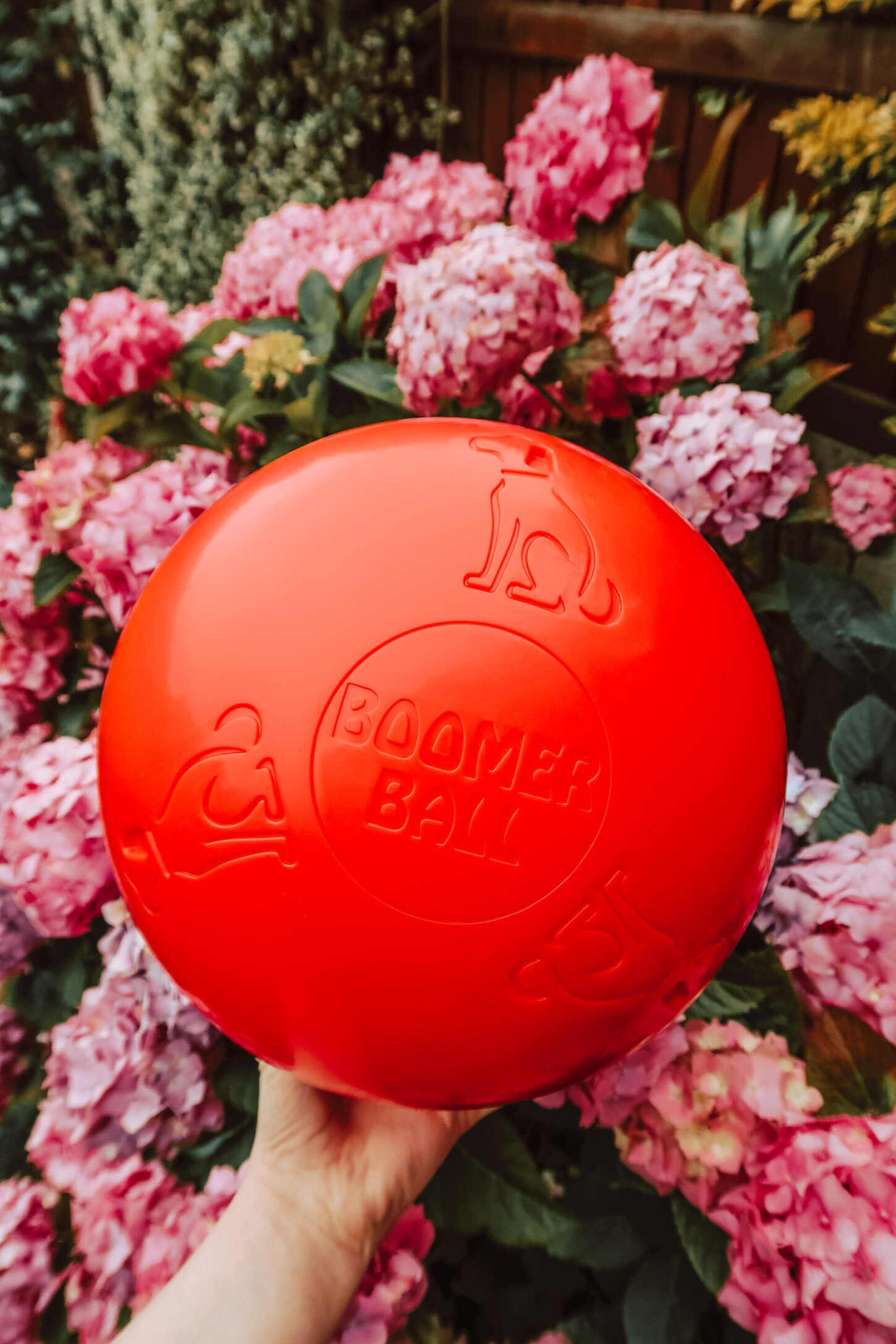 The Boomer Ball comes in four sizes, 4, 6, 8 and 10 inches, and as they're not designed to be carried, you should choose a size bigger than your dogs' jaw gape. To make sure our ball was big enough for both Phoebe and Frank, I ordered the 10 inch ball. In hindsight, we could have gone with the 8 inch ball, but 10 is fine for them!
Company of Animals describe the Boomer Ball as 'virtually indestructible', made from super tough polyethylene that your pooch would seriously struggle to sink their teeth in to. But they're not made for chomping and biting, but for batting with paws and booping with snoots, offering mental stimulation and hours of fun.
Phoebe is very ball-obsessed (she'd have made a great search dog for the police) and she very much dominates a game of kick-about with Frank. It's said to be a great toy for herding dogs, and you can almost see Phoebe trying to round it up! The ball is light enough to pick up and throw across the garden, which The Scamps chase after and burn off all their extra energy. If you're the owner of a high energy dog, this is such a great way to help wear them out.
We're lucky to have a good-sized garden for them to run around in with the Boomer Ball, but alternatively, it's a great toy to take along to a freedom field like Paddocks for Paws.
Company of Animals was founded by Dr Roger Mugford, who is widely acknowledged as being 'Britain's leading animal psychologist', and are a brand dedicated to 'activity, research and innovation in animal behaviour', developing products that assist in training and improve animal welfare. So much so, that it's not just dogs that have been known to enjoy a Boomer Ball, but also elephants, pigs, lions and polar bears! And if that doesn't attest to their toughness and durability, I don't know what will.
After a week, there was barely a mark on the Boomer Ball – and the light wear that was visible was from the slabbed patio, and very minimal. Since posting a video of our ball to Instagram, many other staffies have said their ball has lasted years – and we can 100% believe it! Even with two bully breeds, the Boomer Ball can really take a battering, and we're so impressed, we're considering getting another for double the fun!
The balls come in two colours – red or blue – but on Amazon, you don't get to choose the colour. We'd have much preferred a blue ball because dogs can see the colour better, but we do still love our red one (and so do The Scamps!)
In terms of price, the difference in price for each size is quite steep, starting at £3.96 for a 4 inch ball, £10 for a 6 inch ball, £17.68 for an 8 inch ball and £24.70 for a 10 inch ball.
The Boomer Ball is a brilliant puncture-proof, lightweight product – and one of the only toys we've found to live up to their indestructible claims. It's high quality and tough enough to withstand our very enthusiastic dogs. It's one of the safest toys they play with – of course, we always supervise them with anything they have, but with most toys I'll be on the edge of my seat waiting to pick up loose threads or chewed off chunks. With the Boomer Ball, I can sit in the garden and watch them with a cup of tea, and only need to get up when they run it under the bench and can't retrieve it themselves!