Denzel is making a list, and checking it twice – gonna find out who's naughty or nice. And luckily, Phoebe and Frank have found themselves on the nice list this year!
The chocolate cocker spaniel known for his soft and squishy bites and irresistible chews has launched a whole host of festive treats to get your dog into the spirit of Christmas.
It's a truly magical time of year, and Santa Denz and his team have been busy in the grotto to create tasty treats that have never before been launched by the brand. In previous years, we've seen Christmas Dinner and Pigs in Blankets chews, but Denzel's have gone all-out for 2021 with not one, not two, but five pawsome festive treats in some superb flavours.
The limited edition gifts – including a giant 3ft tube of bites – are all baked in the UK using natural ingredients to offer a low calorie, healthy treat for your pooch. Not only that, but since July, all of Denzel's packaging has been 100% plastic-free, meaning you can help limit your waste this December.
Here are five gifts from Denzel's that your dog is guaranteed to love unwrapping on Christmas day.
Denzel's Limited Edition Christmas Lunch Bites
The Denzel's bites have had a seasonal makeover with the Christmas Lunch flavour – which has previously proved popular as their chews in previous years. The soft and squishy training treats are a great way for your pooch to enjoy a taste of the festive fun, made with turkey, cranberries and stuffing.
Denzel's Christmas Lunch Bites – like the rest of their range – are made from 100% natural ingredients, gently baked in the UK into tasty, bite-size treats. In fact, there's only eight ingredients on their list, so we know exactly what we're feeding our pets this Christmas.
Read more: The Lily's Kitchen Advent Calendar and three other fab festive products
We're all known to put on a few pounds in December, but Denzel said not to worry, because his treats are low calorie, with around 110 treats in each plastic-free packet. We've always considered Denzel's bites amazing value for money, working out at less than 3p a treat, and they're a great size for popping into enrichment toys too.
Denzel's Giant Xmas Tube of Treats
If you simply can't get enough of the Christmas Lunch bites, Denzel's have launched a 'taller than a Great Dane' tube of them! The three foot tall tube – similar to the ones you get Jaffa Cakes in this time of year – contains 15, yes fifteen packets of the irresistible Christmas Lunch bites.
On the side of the tube is a ruler where you can even measure the size of it against your dog – and Denzel's height is on there too. From tiny chi's to huge hounds, you'll be able to see how your dog measures up to others, as they're marked along the side.
Inside, the 15 packets of Christmas Lunch bites are 50g bags rather than the 100g bags you can buy individually, but the £18 tube still works out much cheaper than buying 7-8 packets of full sized ones. Logically, there should be around 50-60 treats in each bag, and make amazing stocking fillers for all your four legged friends, complete with a card from your own dog! Or, if your pup isn't up to sharing, it can be stored away and used as treats throughout the year.
Denzel's Christmas Gingerbread Chews
Santa Denz's softly baked chews are now available in a brand new gingerbread flavour. This vegan treat is the pawfect for spicing up your dog's stocking this year, and it would be amazing to try and make a gingerbread house from them!
Made from a combination of banana and carrot, with added ginger which can settle upset stomachs, this gingerbread chew is gluten-free, so can even be enjoyed by dogs who are prone to allergies.
The plant-based treat will keep your dog busy enough for you to get the roast out of the oven unscathed, whilst offering some dental care too. And what's more is that when Denzel's changed their packaging to be plastic-free, they added an extra chew into all their packs, so you now get four treats in one £2.99 pack. Phoebe and Frank will be glad to hear they won't need to share the last one anymore!
Denzel's Pigs in Blankets Treats Bauble
Are pigs in blankets the best part of Christmas, or are pigs in blankets the best part of Christmas? And instead of feeding The Scamps tidbits from under the table (not like there'd be much left), they can enjoy these soft-baked bites from Denzel.
One thing I really love about Denzel's is that they don't inflate their prices just because it's Christmas, with the Pigs in Blankets treat bauble keeping a £2.99 price tag much like the rest of their treats.
The bites are made with a pork, apple and honey flavour, making them totally tasty and full of protein. We can't get over how cute the bauble packaging is, which can be hung on the tree ahead of the big day.
Denzel's Christmas Grotto Gift Box of Dog Treats
Now, if you want to get your paws on all three different kinds of Denzel's Christmas treats this year, then why not pick up the Grotto gift box!
The special festive gift is priced at £5.99, and features 50g of Pigs in Blankets Bites, 50g of Christmas Lunch Bites and 75g of Gingerbread Soft-baked Chews.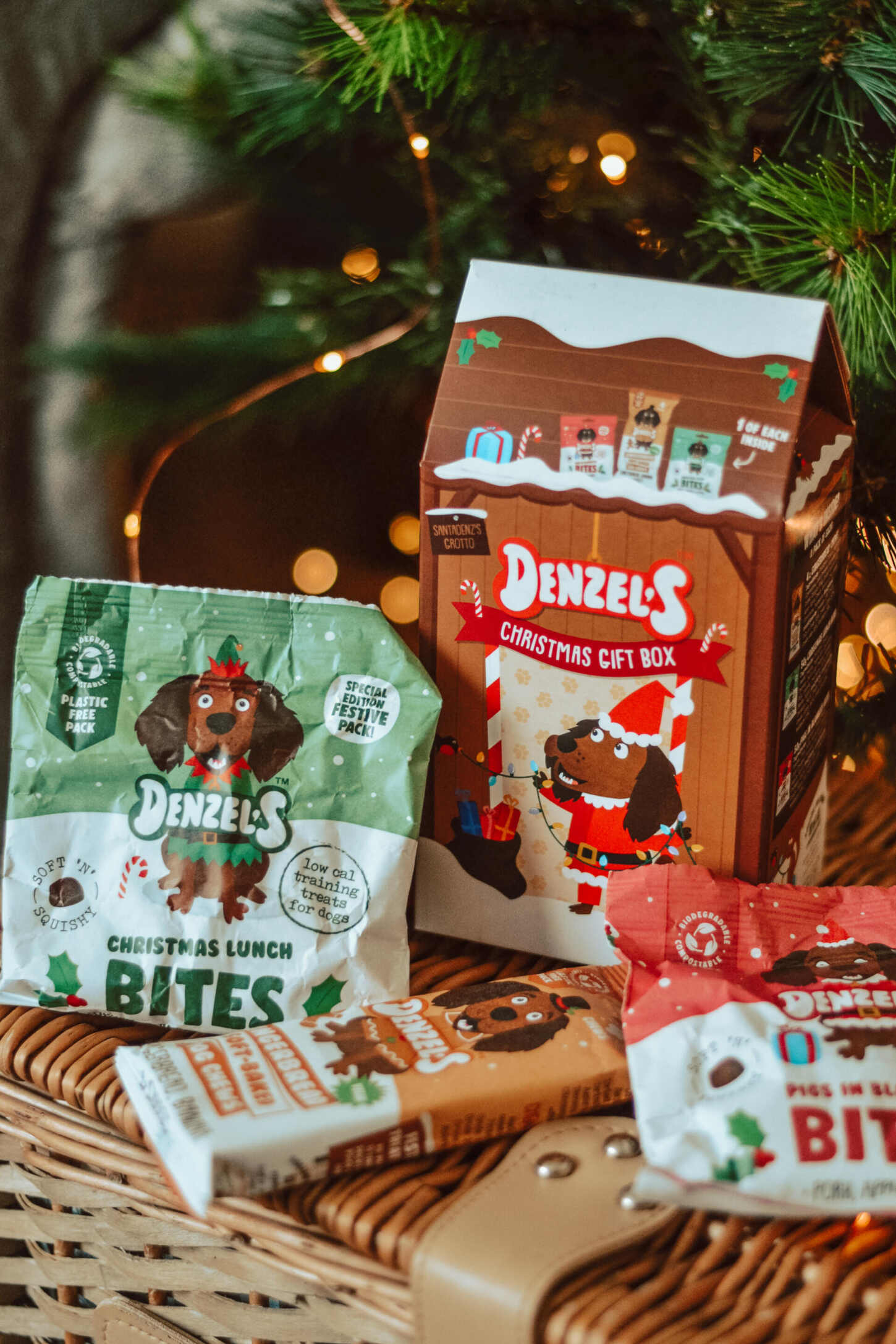 The box features Denzel dressed as Santa, and looks like a little gingerbread house – hey, maybe you could use it to build your gingerbread chews house around, decorating it with the bites. You could even use some pet friendly peanut butter to glue it all together!
Which of these deliciously festive treats would your dog like to see under the tree from Denzel this year? Don't answer that, we know it's all of them.