Arriving at the NEC for the first time, I had never seen so many dogs under one roof as I attended my first ever Crufts. For 2023, the annual dog show was held from Thursday, March 9 to Sunday, March 12. 
The international dog show – run by The Kennel Club – is one of the largest in the world, attracting over 18,000 competitors and hundreds of thousands of visitors each year.
Until now, I'd spent Crufts weekends watching Channel 4's phenomenal highlights coverage, and after years of wanting in on the action and atmosphere of the event, I finally made it to Birmingham for the real thing.
Because it was my first time visiting Crufts, I wanted to share my personal experience of the event, offering up some of my tips and advice for visiting if you're planning on booking a ticket for next years' show. 
Travelling to Crufts by train, I arrived at Birmingham International shortly before 9.30am, which drops you off practically inside the NEC. As someone who was visiting solo, this was very reassuring and felt very safe. The car park, had I driven, requires a shuttle bus to the event, so rail travel seemed the preferred option.
Entering the arena, there were dogs literally everywhere you turned. I visited on Thursday, which was gundog day, but throughout the week, there would be working and pastoral, terrier and hound, and finally, utility and toy. These rotate each year, so next year utility and toy should be on Thursday, with gundogs and Friday and so on. 
I spent around six hours at Crufts, conscious of getting home to my own hounds, and managed to pack tonnes into my day. So here's exactly how I spent my day at Crufts 2023:
Main Arena
There was only one main arena event I was absolutely desperate to see, and that was the East Anglian Staffordshire Bull Terrier Display Team at 10.30am. Having arrived at half nine, I spent an hour getting my bearings, pottering around hall one, and generally just trying to get used to what is a hugely over stimulating atmosphere. There is a LOT going on at Crufts, and one of my top tips would be to be as prepared as possible and know what you want to do and see, to avoid any disappointment.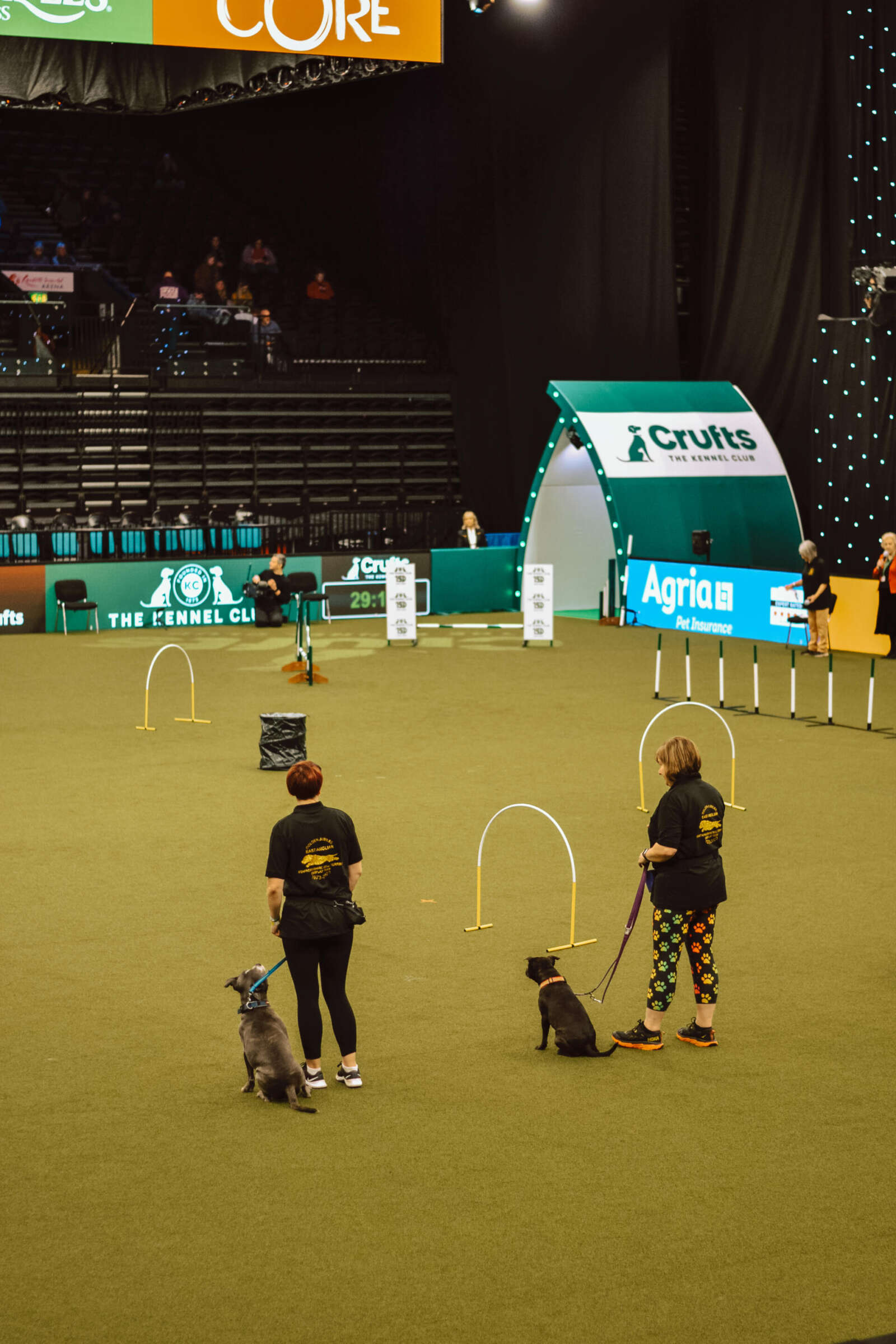 The Main Arena is located through Hall One, with seating all around so you can get a fantastic view of the floor. I got myself a front row seat, and was able to enjoy a mid-morning snack from my bag while I had the chance. While there are a number of food vendors at Crufts, they can get quite a queue during busy times, so I decided to take a packed lunch with me.
The Staffordshire Bull Terrier display was, of course, the top of my list of things to see at Crufts, with Phoebe and Frank both being predominantly Staffie crosses – and what a delight it was to see.
Eight pocket-rocket Staffies showed off their heel work, speedy agility, and scentwork, with one junior handler and her pet pooch showing off some fantastic tricks, too. 
But the highlight for me was seeing Retired Police Dog Stella the Staffie – the police forces first ever Staffordshire Bull Terrier, who was previously a drugs, cash and firearms dog for Gloucestershire Police. Stella still loves her scentwork and provided a brilliant demonstration of her skills, as well as having a rather comical sneezing fit in the ring.
Some of the other events I'd have loved to have watched were the agility, freestyle heel to music, and flyball competitions, but with so much to see and do at Crufts, I decided to head out into the halls and make a dent in my day.
Having now attended my first Crufts and seen the layout of the halls, next year I'll be able to better plan my day to catch more arena shows. Because halls one to five are all connected, if you were in hall three and wanted to watch a show in the Main Arena, you might find yourself having quite the battle through the crowds and stalls to make it there, so knowing exactly what you want to see can help you know where to be, and when. Alternatively, you could even go to Crufts on multiple days, focusing on events and arenas one day, and shopping the next. 
Thanks to the fantastic coverage by Channel 4, I was able to catch up on some of the Main Arena displays I didn't manage to catch, though.
Discover Dogs
The Discover Dogs area of Crufts is a fantastic opportunity to meet and greet dozens of different pedigree dogs, with over 200 breeds on display, split into Kennel Club categories so that they're easier to find. Naturally, I headed straight for the Staffies where I met two gorgeous dogs called Rosie and Arthur.
Also venturing around the Discover Dogs section – located in Hall Three – I met a beautiful Australian Shepherd named Loki, who is well versed in TV and film, as well as a Napolean Mastiff called Paula, and the biggest Great Dane I've ever seen in my life.
Discover Dogs is the ultimate opportunity to speak to knowledgeable owners and breeders, gaining first hand advice on grooming, training and temperaments, making it ideal for dog lovers looking for a canine companion but aren't sure which breed is best suited for them.
It's also an incredible opportunity to see quite rare breeds up close and personal, making for a really quite magical experience. You could almost spend all day in this comparatively small area of the NEC – even more reason to visit for the whole four days at Crufts.
Shopping
I've already spoken a little about shopping at Crufts on the blog this week, including our top picks of the best stalls for 2023, and also everything we actually purchased from the show.
Split across the five halls, there are around 500 retail stalls at Crufts selling everything you could possibly think of for dogs. The stalls, sadly, aren't in a particularly simple formation, laid out to get the maximum number in, so it's not a matter of walking up and down rows – it's VERY easy to miss some. 
I started out in Hall One and made my way through each of the halls until Hall Five. There's no definitive start to each hall, so you may find yourself in halls three or four without even realising. There is a full list of traders and their stalls located in the show guide, though, which can certainly help – I even saw some people ticking off which ones they'd been to!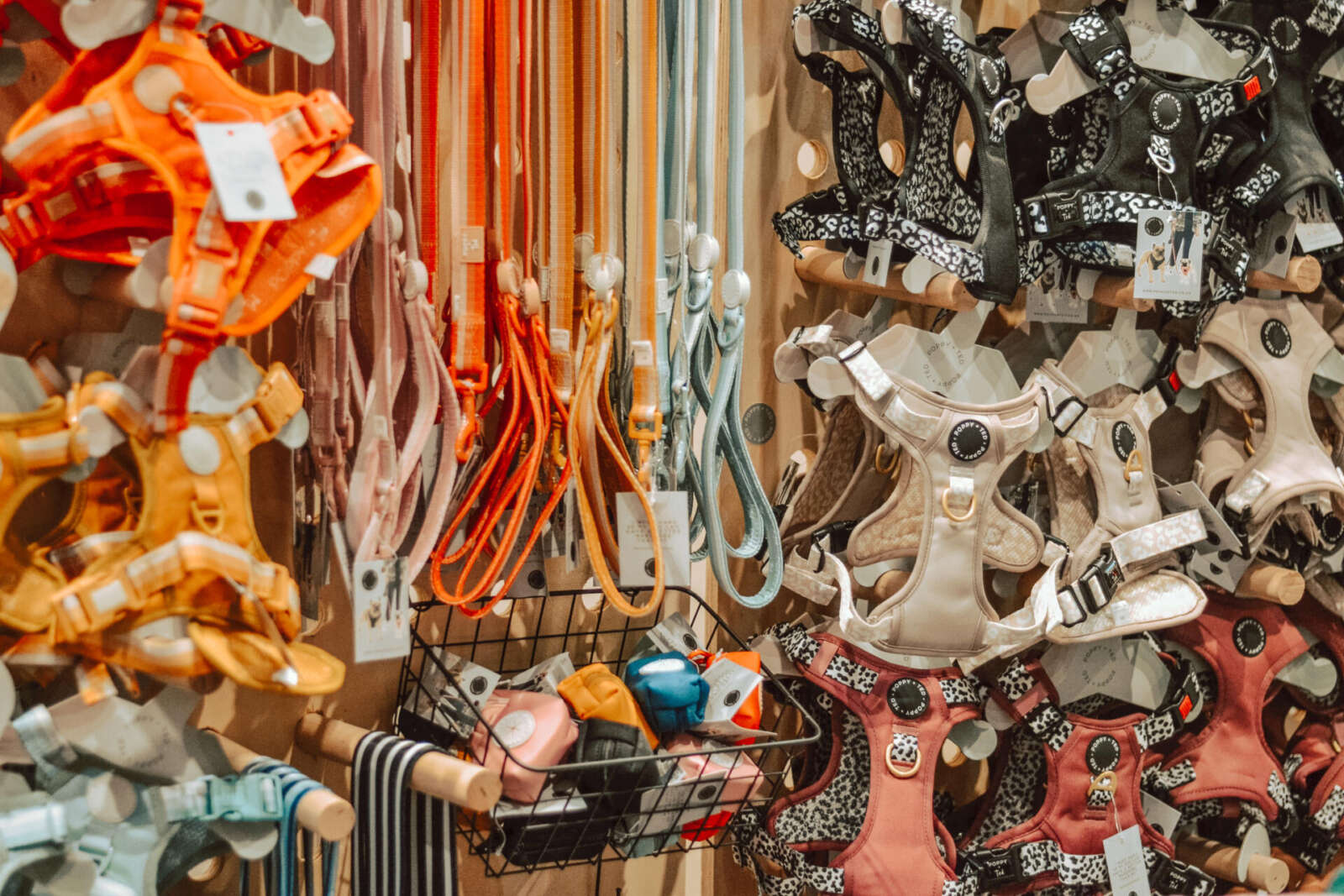 I spent just over £100 at Crufts, but you can do it as cheaply, or as splurgy as you like. Some people save money year-round to spend at Crufts, but equally, you can make it a fun, budget-friendly day out without spending a penny, but it is worth taking advantage of some of the discounts and deals that are exclusive to the event.
We were able to stock up on treats, toys and grooming products, meeting some of the wonderful brands we've worked with on Lady and The Scamps, while discovering new brands who we'd love to feature in the future. 
The whole atmosphere was really friendly and I really enjoyed talking to stall holders about their products. It's the ideal time to ask questions and gain direct insight from brands as to what they're doing, what's new in, and their plans for the future. Some of the displays were incredible, too – we love an Instagram moment!
When I made it to hall five at around 1pm, I made my way back around through halls four, three, two and one, taking time to stop off again at Discover Dogs, and making sure I hadn't missed anything (I still managed to miss a handful of stalls).
And by 3.30pm, I was absolutely shattered, my bags overflowing and weighing heavy on my shoulders. Fully defeated by such a delightful day, I headed back home to watch the highlights on Channel 4 and give my dogs a big cuddle. 
We'll definitely be visiting Crufts again next year, but will absolutely be more prepared for the day. I'd love to watch some more of the Main Arena shows and catch some of the actual breed showing next year, but I still had the best day. I'm so pleased with my purchases, and can't wait to get stuck in to reviewing them over the next few weeks.