Tittesworth Water was the ultimate day out of my childhood. There was nothing better than packing a picnic, playing on the huge park and finishing the day with a proper ice cream. Now I'm in my 20s, its still the pawfect day out – but this time, for my kids – the dogs.
On the edge of the Peak District National Park, near Leek, the reservoir is owned by Severn Trent, and makes for a fun day out for all the family. The scenic drive to the stunning Staffordshire location is almost as tranquil as Tittesworth itself, with views of the Moorlands for miles.
We visited on a glorious Saturday arriving at around 11.30am. I thought that we would struggle to park, as we'd taken four cars between us, but we all got a spot next to each other on the overflow car park. Parking is £3 for up to two hours, or £5 for all day, there are some cash only machines, but the odd one where you can pay on card. I'd recommend paying the fiver, and then you don't feel pushed for time. Plus, you can leave your car at Tittesworth and walk up to The Lazy Trout pub just five minutes up the road after your visit. The car park is open 7am – 6pm October, February and March. 7am – 5pm December and January. 7am – 9pm April to September.
One thing at Tittesworth Water is incredibly clear – dogs must be kept on leads at all times. For us, this is absolutely brilliant because it meant we could relax knowing that another dog wasn't going to come bounding through the woodland at the Scamps. The fact you can't have your dog off lead has been the cause of some moaning on Trip Advisor, but the rule helps keep our dogs safe on the waterside walk. During our visit, most people obeyed the rule, besides one cockapoo owner near the stream who let their dog off to chase a ball in the water. Luckily, we were just heading off from that area.
The dogs on lead rule isn't in place to ruin anyone's fun, but to keep everyone safe. There is sometimes blue algae present in the reservoir, which is toxic to dogs, so keeping them leashed will prevent them swimming in the water. Another reason is that there are ground nesting birds that are sensitive to the disturbance of dogs. Similarly, dog mess can be dangerous to the local cattle, so they shouldn't be allowed to roam in the hay meadows.
The wildlife rich habitat links local agricultural landscape with wild moors, with views of the rocky Roaches stretching for miles. The reservoir was built in 1858 and supplies homes and businesses in the Staffordshire Moorlands and Stoke-on-Trent. It pumps on average 28 million litres of water a day and has the capacity to provide up to 45 million litres a day.
When we'd paid for parking we headed towards the Tittesworth visitor centre – built in 1998 – to get onto one of the four walking trails. The trails vary in length and difficulty, but all offer spectacular scenery and lots of sniffs for your pooch to get their nose in.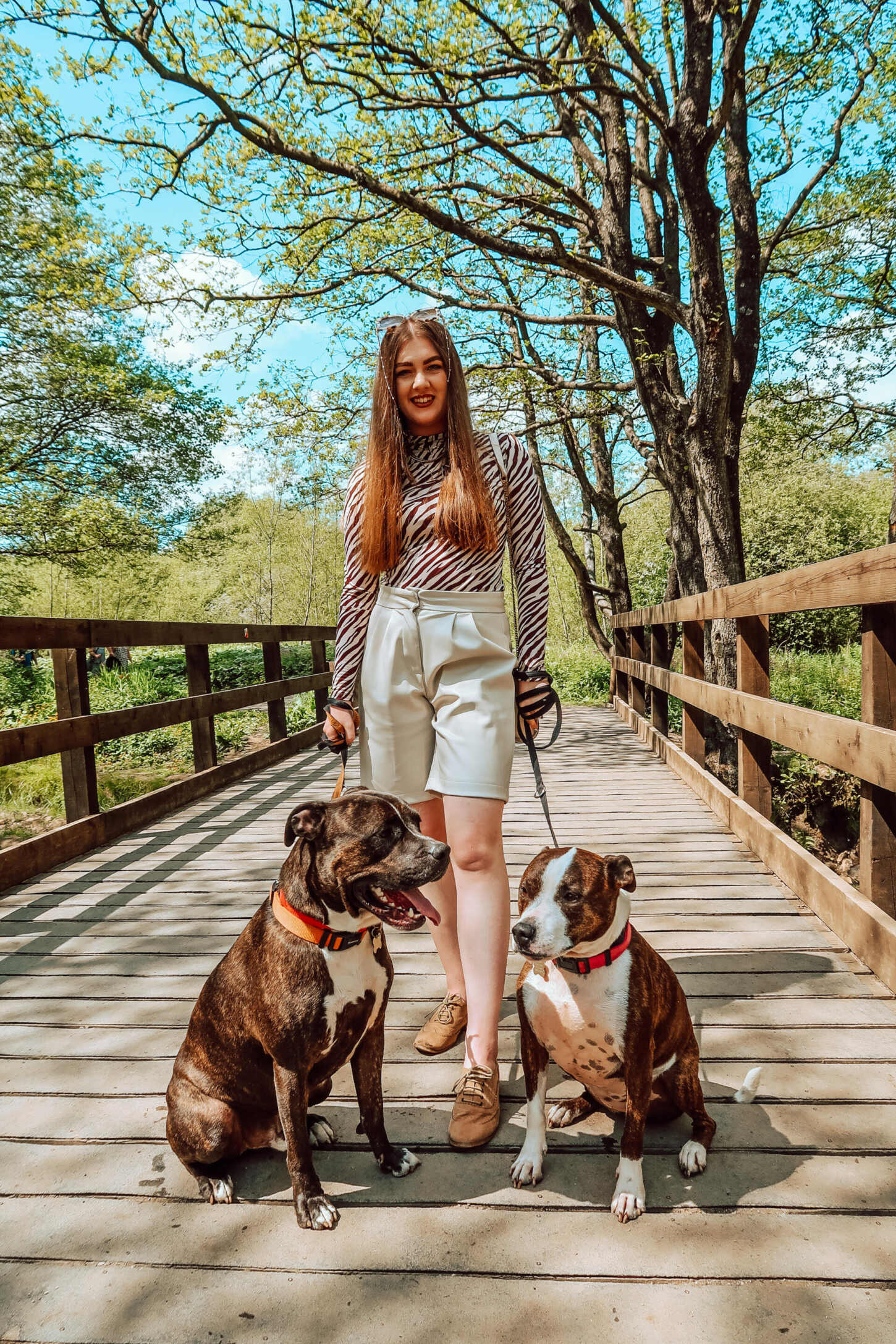 The trails are:
Churnet Trail: 1km – An accessible, short loop along the edge of the river, suitable for the whole family. Catch a flash of bright blue as a kingfisher darts past. Note: wide path with one slight gradient.
Fosters Trail: 2.75km – An accessible, short loop for the whole family with fantastic views of the reservoir. Listen in the woodland for the sound of woodpeckers drumming. Stop at the play area for little ones to let off extra steam. Note: some boardwalk and slight gradients.
Crabapple Trail: 4.5km – Wander through Fosters Wood out on to the meadows to enjoy orchids and other wildflowers buzzing with bees and butterflies in summer.
Loop through Crabapple Wood before returning via the meadows. Note: some steps and steep gradients. May be muddy in wet weather. Please stick to the paths to avoid trampling delicate plants.
Reservoir Trail: 7.5km – Take a longer loop around the reservoir and across the dam to drink in fantastic views of the open water and The Roaches beyond. Keep your eyes on the sky to spot swooping swallows, swifts and martins. Pop into one of the hides to see wading birds at the water's edge or a heron standing tall, and listen for the curlew's haunting call. Note: some steps and steep gradients, and a short stretch next to a public highway.
We got onto the Churnet Trail, sticking to the paths as we also had a pushchair with us, so took the most accessible routes. We walked through some lush woodland, taking in the wild rhubarb and cow parsley before arriving at a small stream that the dogs all took a dip in to cool off. Phoebe – who despises baths – absolutely loved getting her paws wet here, as did Winston!
We headed over two boardwalk bridges and found ourselves in a meadow of buttercups overlooking the reservoir. We perched on a bench to give the dogs some water before turning back on ourselves to bag a good picnic spot. There are plenty of places to take a break on the trails, and a couple of dog waste bins on the trails, so you won't have to carry your poo bag too far.
As we passed the visitor centre again, I popped inside to buy three Frozzys dog ice creams for the dogs to enjoy whilst we had out picnic.  They stock all four flavours and they're around £1.70 a pot. Dogs aren't allowed inside the on-site cafe, but there are plenty of outdoor benches and a doggy drinking station. We found a great patch for our entourage of eight adults, two kids and three dogs, with one picnic bench in the sun and one in the shade, with the rest of us scattered on picnic blankets.
My only 'complaint' would be it would be great to see a few more bins in the picnic area. We took all our rubbish home as we couldn't see one between where we were sitting and the car, but we know not everyone is as considerate, and of course, we all want to keep the reservoir as clean as possible.
After our picnic we took a walk up to The Lazy Trout for a drink. In all it was a gorgeous day out with the rolling Moorland countryside as a backdrop. Tittesworth Water offers a tranquil waterside walk with woodland trails and picturesque picnic opportunities for you and your dog to enjoy. We're really pleased that most people stuck to the dogs on leads rule to offer a relaxed, trigger-free walk for Phoebe and Frank, and the Frozzys doggy ice cream was the icing on the cake.