For October, the Hounds Chew Box has had a seasonal makeover, and it giving us all the autumnal vibes.
For those of you who are new here – the Hounds Chew Box is a monthly subscription box filled with natural treats and chews. They cost £8.49, or £8.07 when you subscribe, and the contents are always worth more. What's inside is always a surprise, and they're a great way to discover new brands and products you may not have purchased from the shop previously.
But, friend of Lady & The Scamps can bag themselves 10% off at the checkout, making the box just £7.65 when you enter the code SCAMPS. 
We've previously reviewed several of the boxes here:
And yes – we are running out of ways to word our titles!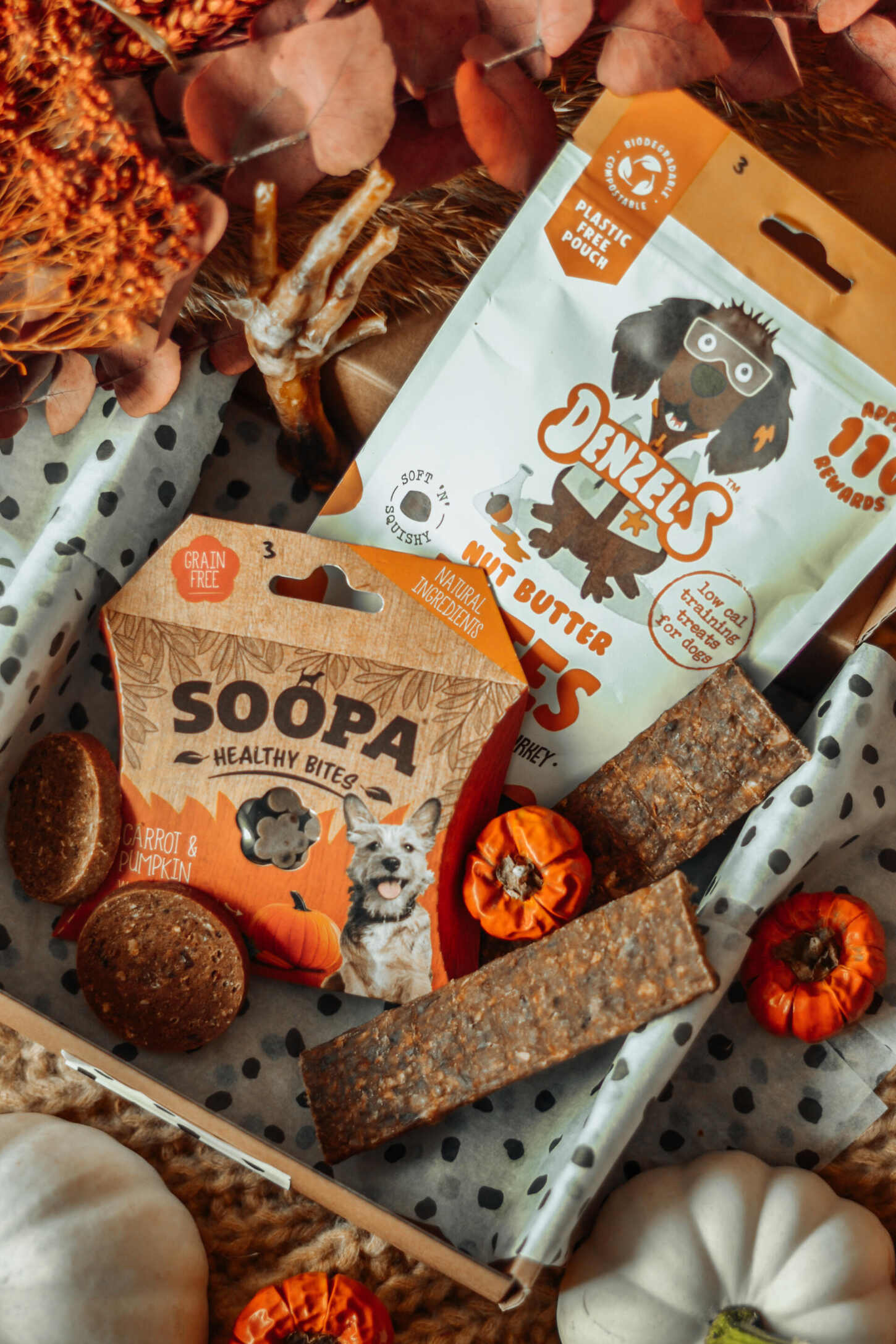 Here's what's inside the October Chew Box:
Soopa Healthy Bites Carrot and Pumpkin
Soopa's vegan treats are all grain free and hypoallergenic, and made from human grade ingredients. The small, flower shaped treats are great for training, and come in a handy pocket-sized pouch perfect for taking on walks. The carrot and pumpkin flavoured bites are very seasonal, with pumpkin seeds known for promoting healthy skin and coat, soothing digestion and offer some natural protection to your dog against intestinal parasites and worms.
Denzel's Nut Butter Bites
Beautifully branded Denzel's bites come in a completely recyclable pouch containing around 110 treats, which at £3 a pouch, makes treats around 3p a pop. A source of protein and fibre, the nut butter bites are made with peanuts, cashews and coconut oil, making it 13% nut butter. Denzel's add 18% turkey with the chickpea flour, sweet potato and vegetable glycerine – and that's it!
The brand create gently baked treats here in the UK, inspired by co-founder James' cocker spaniel, Denzel, who features on the packaging. There are six different flavours to choose from, but the Scamps love the nutty ones. Nuts are packed full of healthy oils and fats to fight against cholesterol. Denzel's also never use palm oil – so as to maintain high standards of sustainability.
The soft, squishy treats are 100% natural, grain, wheat and gluten free, and suitable for dogs over the age of 16 weeks.
Pick and Mix
As well as the two bags of treats – both priced at £3 each – the October Chew Box also contains goodies from the popular pick and mix table, taking the total value of the box over the £8.49 retail value.
The contents change monthly, and this month we were thrilled to receive a chicken foot, as well as not one, but two JR lamb coins and two boar strips. The coins are made with 100% fresh meat, and make the perfect healthy, air dried treat that is both grain and gluten free. The natural treats and chews from the selection table are always Phoebe and Frank's favourite – especially ones they don't have to share!