Picking the right dog food for your pet can prove pretty difficult, especially with so many options out there and new research coming out each year.
Raw, wet, cold pressed – you'd need a whole dictionary just to navigate the minefield that is the pet food industry.
But ultimately, it's about feeding your dogs a complete balanced diet at a price you can afford, that fits your lifestyle and keeps them happy and healthy.
And we recently made the switch from Oscar's to Canagan – and we could never go back!
Canagan, owned by Symply – who we've also tried – was founded by Eddie Milbourne following a career in independent pet shops.
Eddie formerly ran a successful pet shop in Middlesex, which also became the first town in the UK to have a supermarket with a pet-food aisle. As a result, Eddie lost his regular customers overnight and quickly realised that for independent stores to remain viable, they had to offer unique products that couldn't be bought in supermarkets.
The pet food mogul went on to be a UK distributor for an American brand of ultra-premium pet food supplying over 1,000 independent stores. But in 2008, the parent company was purchased by a global multi-national, and Eddie wasn't interested in continuing with the brand.
As a result, he launched his own successful company with strong ethical values focusing on the ancestral diet of our dogs, and supporting independent pet shops. Alas, Canagan was born.
Canagan is dubbed 'Britain's first grain-free pet food', made with pristine cuts of meat and fish with succulent vegetables and botanicals.
It's sold in 45 countries with over 10,000 retail partners, and has been recognised by royalty with a Queen's Award for Enterprise: International Trade in 2017.
Phoebe and Frank have been on the Canagan grain free chicken dry food for dogs since Christmas, and we've been really pleased with the Scamps reaction to it – and their overall health as a result.
The brand keeps the recipe 'close to their ancestral diet', with the correct ratio of protein to carbohydrate and a host of vegetables and botanicals. It's carefully balanced and nutrient dense, with an 85% nutritional value on allaboutdogfood.co.uk – higher than previous brands we've used.
Read more: What happened when we tried the ethical independent pet food Symply
In comparison, Oscar's was around 66%, and when we made the switch, we were worried about costs increasing – but found them to be much the same.
We were paying £55 a month for an 18kg bag of Oscars, with a 12kg bag of Canagan costing around £65. But, because Canagan is more nutrient dense, we could feed Phoebe and Frank much less while offering the same amount of nutrition, meaning both bags lasted four weeks, despite a 6kg difference.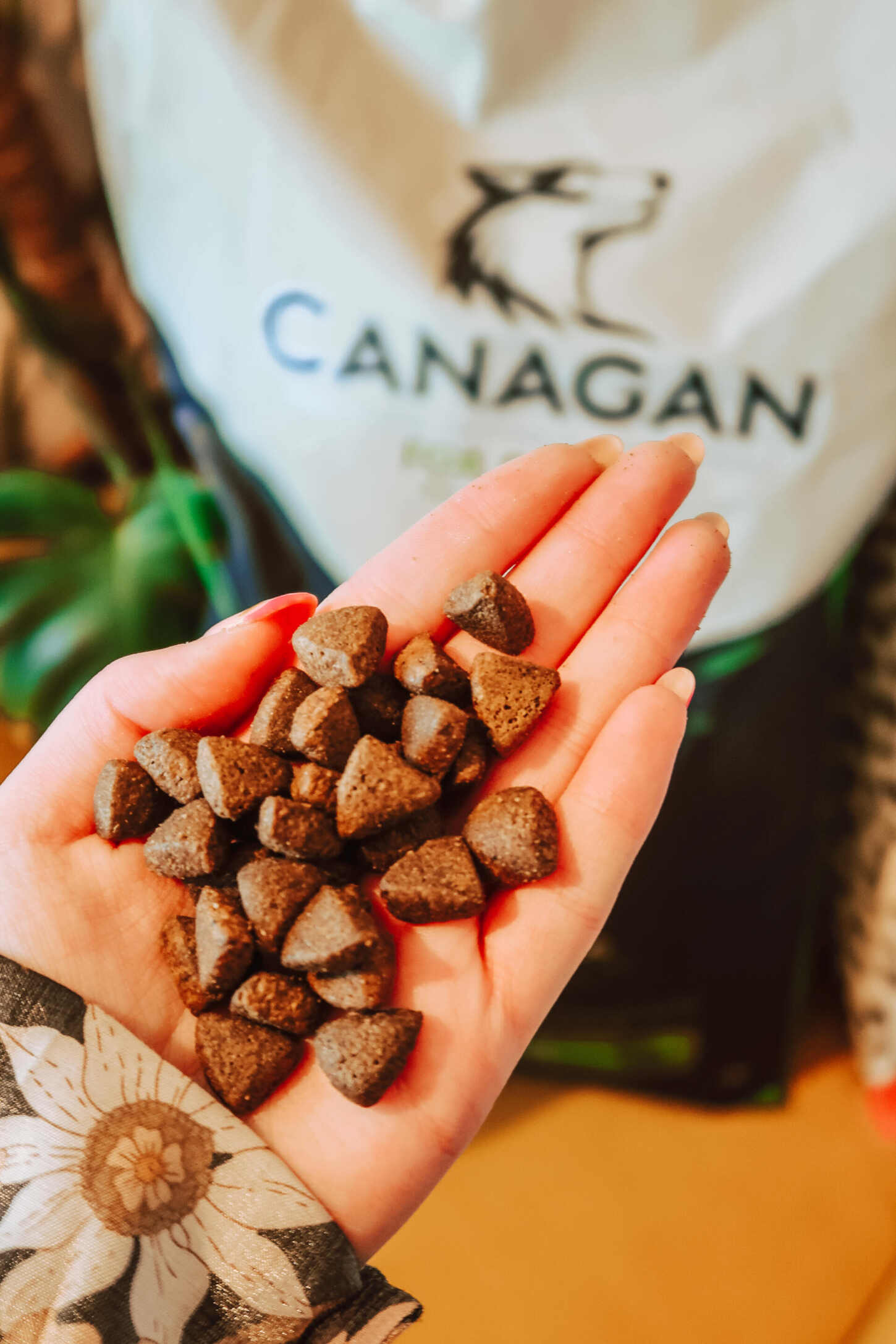 The free-range chicken recipe is made with highly digestible sweet potato – great for slow-release energy and fibre, as well as seaweed, which contains iodine to support thyroid function and control metabolism.
In terms of botanicals marigold stimulates white blood cell production and strengthens the immune system, while cranberry is rich in Vitamin C and helps promote a healthy urinary tract, and camomile is thought to reduce stress.
Read more: PitPat Food's personalised meals based on your dogs' activity levels
Canagan said: "We never compromise on quality and always strive for the highest standards. The quality of our ingredients shines through in the flavour, which is why Canagan is the first choice for our companions."
Since feeding Canagan, Phoebe has never missed a meal – whereas we found she'd begun turning her nose up at breakfast daily on her previous diet. At first we thought she was being a diva in the hope of scrambled eggs, but soon realised that she simply wasn't enjoying it anymore. And we couldn't believe the change in her when we switched to Canagan, jumping out of bed in the morning and asking for her morning scran.
Frank, on the other hand, will eat anything, but we think Canagan leaves a much bigger pile of drool around his bowl at mealtimes.
But something that has gotten smaller, besides their portion sizes, is their stools. Now, it's a taboo subject unless you're a pet parent, but both Phoebe and Frank have had a reduction in the size of their waste as a result of their diet improving – which can only be a good thing.
Canagan also generates their own zero-emissions solar energy to power their UK distribution centre and headquarters, with 80% of their vehicles being electric, with an aim to move to 100%.
Canagan added: "We are proud that we take as much carbon out of the atmosphere as we put in, making us carbon neutral.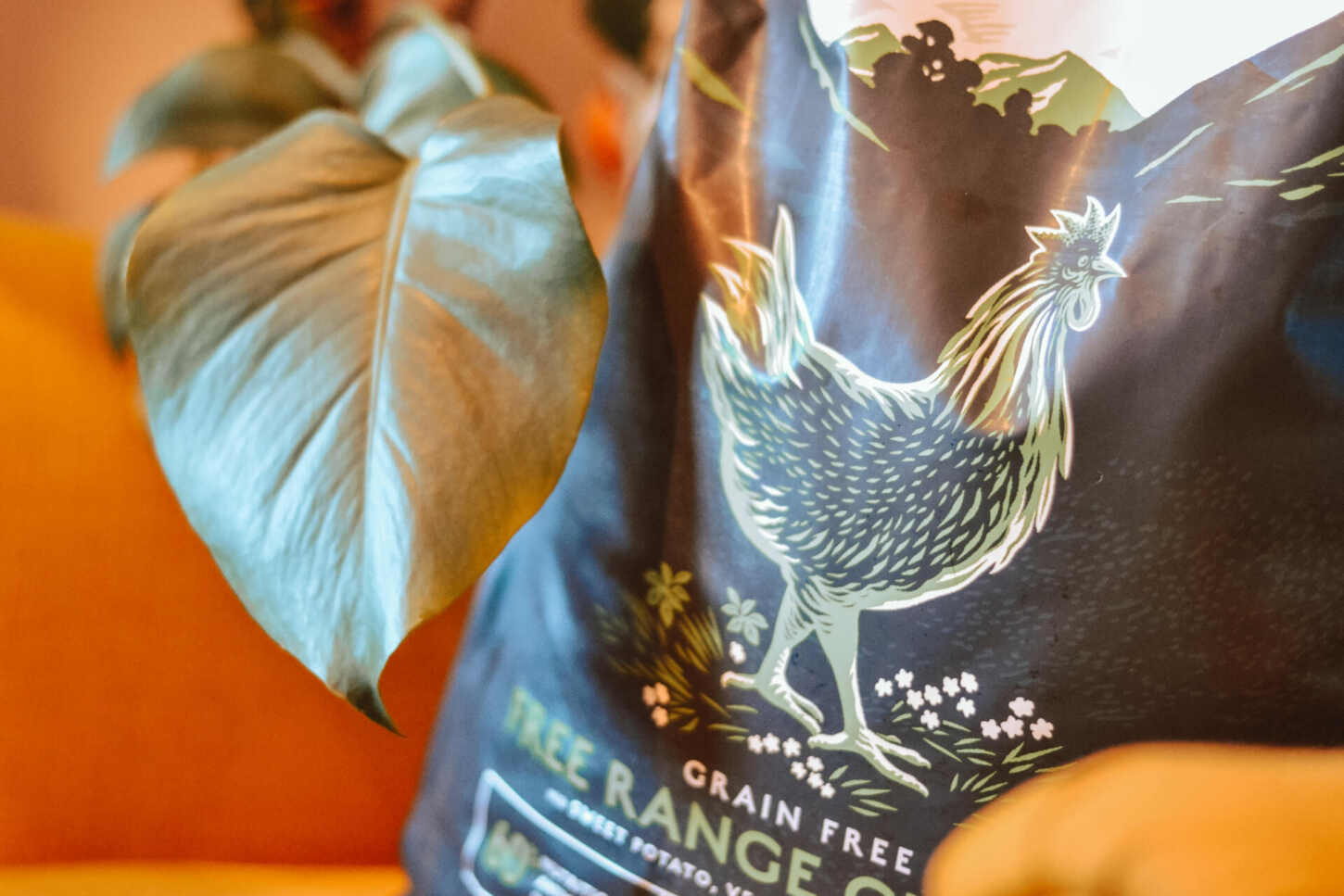 "We also work with global initiatives, including the Southern Cardamom Rainforest project in Cambodia that protects tropical rainforests from illegal logging and poaching – this project has saved over 3,000,000 tons of carbon emissions each year and has saved over 13,000,000 to date."
Canagan is only available through selected independent pet stores, where Eddie and his son, James, believe ' there is no better place to get the nutritional expertise your pet needs'. I order mine from Hounds, in Newcastle, where you can get 10% off with the code SCAMPS.