When Phoebe stopped eating her breakfast, we thought she was just going through a phase. Chancing her luck to see if she could get something better, or refusing to eat next to Frank – I mean, you can't blame her, he's a really messy eater.
We persisting in putting her food down at 9am, taking it back up, and trying her again an hour later. We cut our treats, toppers and wet food, but Phoebe would continue to turn her nose up at her breakfast, and then eat it when she was hungry at around 4pm – so come tea time, she wasn't interested, again.
For the first time in 15 years, we decided to swap our dog food. We'd always used a home delivery service, ever since we adopted our old Staffy, Lyla – so when she passed away and we rescued Phoebe, we just continued on the same food we'd always used. So, we decided to try something new to see if it made a difference in Phoebe's breakfast time behaviour.
Our friend recommended a brand called Symply – a 100% family owned business that has zero external investors, and promise to use 'the very best ingredients money can buy'.
The company was founded by pet food distributor Eddie Milbourne in 2008, after the brand he was distributing got bought out by Mars. Eddie is a CEO with strong ethics and core principles that we can definitely get behind. In his time as a shop keeper, Eddie saw the negative effect on his business when the products he stocked became available in supermarkets – and as such, wanted to create a brand for independent businesses where they could curate a supportive working relationship.
That's why you'll never see Symply on mainstream shelves. They only supply independent stores, who can offer a level of knowledge, care and service that cannot be matched elsewhere.
Over the last month, Phoebe and Frank have been putting their fresh lamb kibble through it's paces, and for us, the results were instant. On The Scamp's previous dog food, Phoebe consistently refused breakfast daily, with Frank soon learning to follow suit. On Symply, the second dinner was served, it was scoffed at 9am on the dot, every day – except for one. When my parents went away for a few nights, Phoebe refused breakfast on the third morning of them being away – however, I 100% put this down to the stress of a separated pack, and the day they came home, she was back with her nose in the bowl as normal.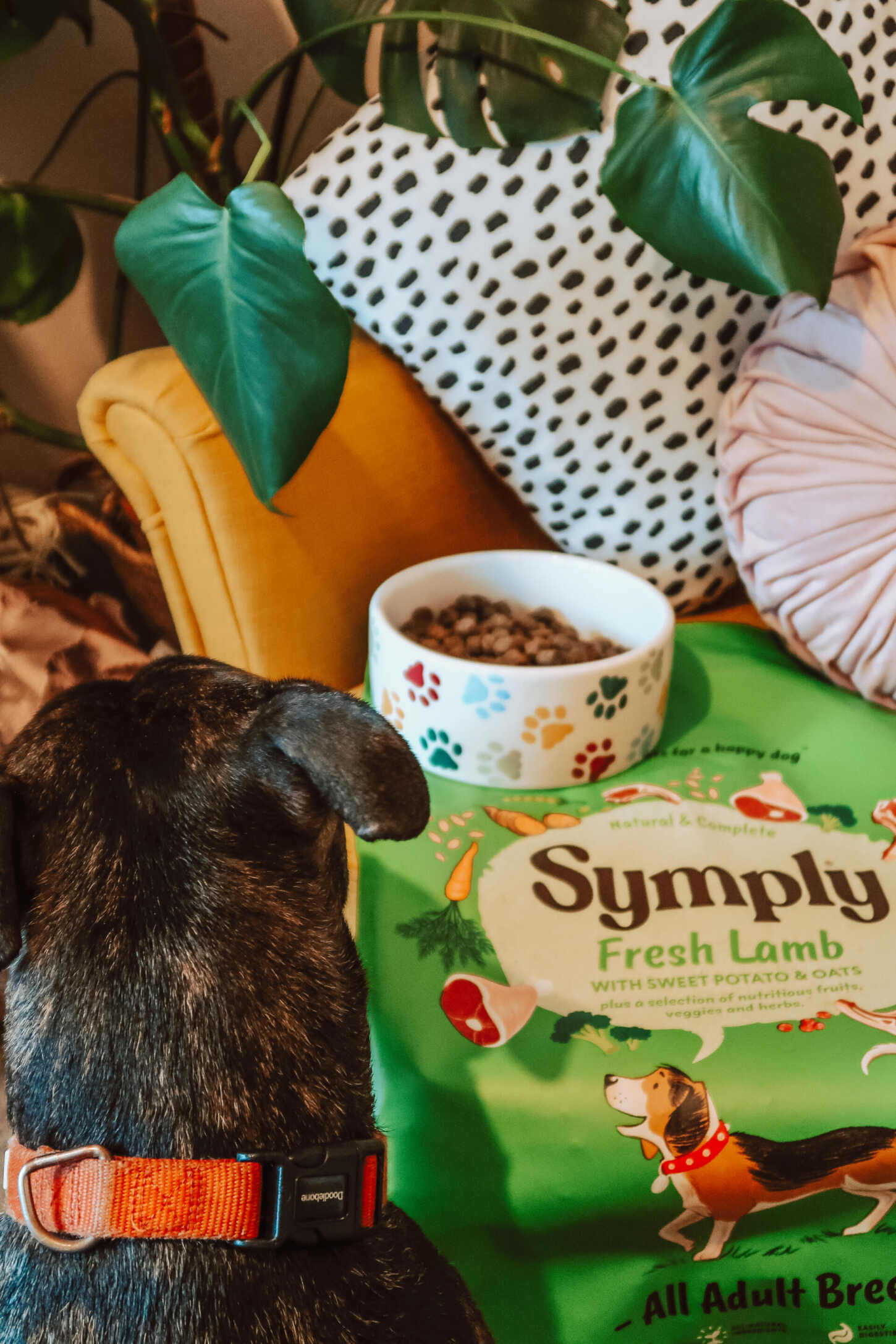 Their lamb kibble contains 26% fresh lamb, 15% dried lamb, 3% lamb fat and 1.5% lamb gravy, which is highly digestible, and packed with zinc and omega oils. The hypoallergenic recipe is wheat and gluten free, made with prebiotics and veggies like sweet potato, broccoli, carrot and spinach that are easy on sensitive stomachs.
Other ingredients include whole oats, potato, pea starch, peas, alfalfa, salmon oil, whole egg, apple, cranberry, marigold flower and bilberry, with added vitamin E and selenium to help maintain a healthy immune system.
Symply said: "Dogs love nothing more than running, playing, catching and splashing. A warm hug, a rub on their tummy and a delicious meal in their bowl is all they really want. We've created a food that is nutritionally balanced, wholesome, natural, pure and simple. It's rich in freshly prepared meat, so it's easy to digest, giving them all the energy they need to show how much they love you. The best meal for your best friend."
Produced in the UK using locally sourced meat and fish to help support British producers, Symply like to keep their carbon footprint and environmental impact to a minimum. As such, their new bags can be recycled with your carrier bags at your local pet store, supermarket or recycling centre. And as I mentioned in a previous post about planet-friendly pet parents – it's best to try and get a larger bag if you are able to afford and store it, to reduce emissions and ultimately, save money too.
Symply's fresh lamb recipe starts at £13.99 for a 2.5kg bag, £32.99 for a 6kg bag or £59.99 for a 12kg bag. Previously, we'd always had 15kg bags, but 12kg is the largest size available at Symply. That said, because the food is better quality and higher in protein, we could feed both dogs less kibble to maintain their weight, and a 12kg bag actually lasted us the same amount of time as our old 15kg bag – four weeks!
We think the kibble itself is a really nice size – slightly bigger than Phoebe and Frank were on before, but smaller than the PitPat food, which I didn't think would be suitable for small breeds. Symply offers a great medium sized product that gives our American Bulldog crosses something to sink their teeth into in the morning.
The other thing we notice, of course, is that because what the Scamps were putting in was healthier, what they were putting out was also healthier, with smaller, firmer poos that smelled less. And Frank in particular had a bit of a flatulence issue, which has also subsided with a better quality kibble.
We've really enjoyed trying Symply, and honestly, it's a relief as a dog mum just to see the pups enjoying their meals again, as they're really quite food-driven dogs. We really appreciate the principles the brand strive to uphold, and that they're an affordable, independent business dedicated to supporting other small businesses from farmers to stockists.