Willow is Trentham Estate's newest restaurant offering with a Mediterranean-inspired menu – and it's 100% dog friendly.
Over the weekend, my family and I took Phoebe, Frank and Winston to brunch at the latest Parogon Group venue.
The Staffordshire based hospitality business own a network of the counties favourite pubs and restaurants, including The Orange Tree in Trent Vale, the Swan with Two Necks, in Blackbrook, and the Wayfarer, in Stone – and Willow is no exception to their high standards.
As you step into the venue, the heat of the day is combated by refreshing air conditioning, with the front of house floor to ceiling windows pinned open to offer a terrace feel. We were greeted by staff and directed to our table of six towards the back of the venue. Usually, when taking Phoebe and Frank to a restaurant, I've often felt shoved up a corner out of sight, but even with all three large bull breeds, our space was big enough for everyone to fit, and didn't feel like we'd been sat out of the way. We were sat in a corner table, but that suited us, as we only had to keep an eye out for other four-legged guests from two sides, rather than four.
Our server brought over three of the Willow-branded crate dog beds for the dogs to make themselves comfortable in. Frank wasn't a huge fan and preferred the cool wood floor under the table, by Phoebe and Winston sat in theirs during our visit. There are two sizes of dog beds available, so of course our pack had the larger ones. I loved the idea of dog beds for canine customers, as it's not something I've seen done locally before, and the different sizes goes to show that bigger breeds are welcome just as much as smaller ones.
We ordered a round of drinks, which was mostly cups of tea and a Strawberry Fields – a strawberry and cucumber mocktail for me.
I like to think the restaurant might have earned its name from the Willow pattern pottery, made famous by local potters like Minton and Spode. Inside, Willow offers a rustic and botanical theme, with incredibly lifelike palms that Phoebe definitely thought were real. It's very chic, with scandi style scatter cushions lining benches and booths. The whole space is bright and fresh, for floral and foliage decoration adorning seats and ceilings – you could really mistake yourself for being on holiday here.
To eat, mum, dad, Karl and John all ordered The Full Willow, a £9.95 breakfast with pork and leek sausages, grilled bacon, field mushroom, show roasted plum tomato, black pudding, baked beans, free range eggs and toast. Mel opted for the Willow pan-fried oatcakes with pulled smoked belly pork, wilted spinach and provolone cheese.
I ordered the Belgian waffles, which you can have savoury with bacon and peanut butter, or sweet. I went for the sweet waffles with vanilla mascarpone, blueberry compote and maple syrup – but asked for my toppings to come on the side rather than on top so I could dip and dunk. My waffles cost £6.95, and also came with the peanut butter and apple that would have come with the savoury pancakes, which the dogs enjoyed a nibble of.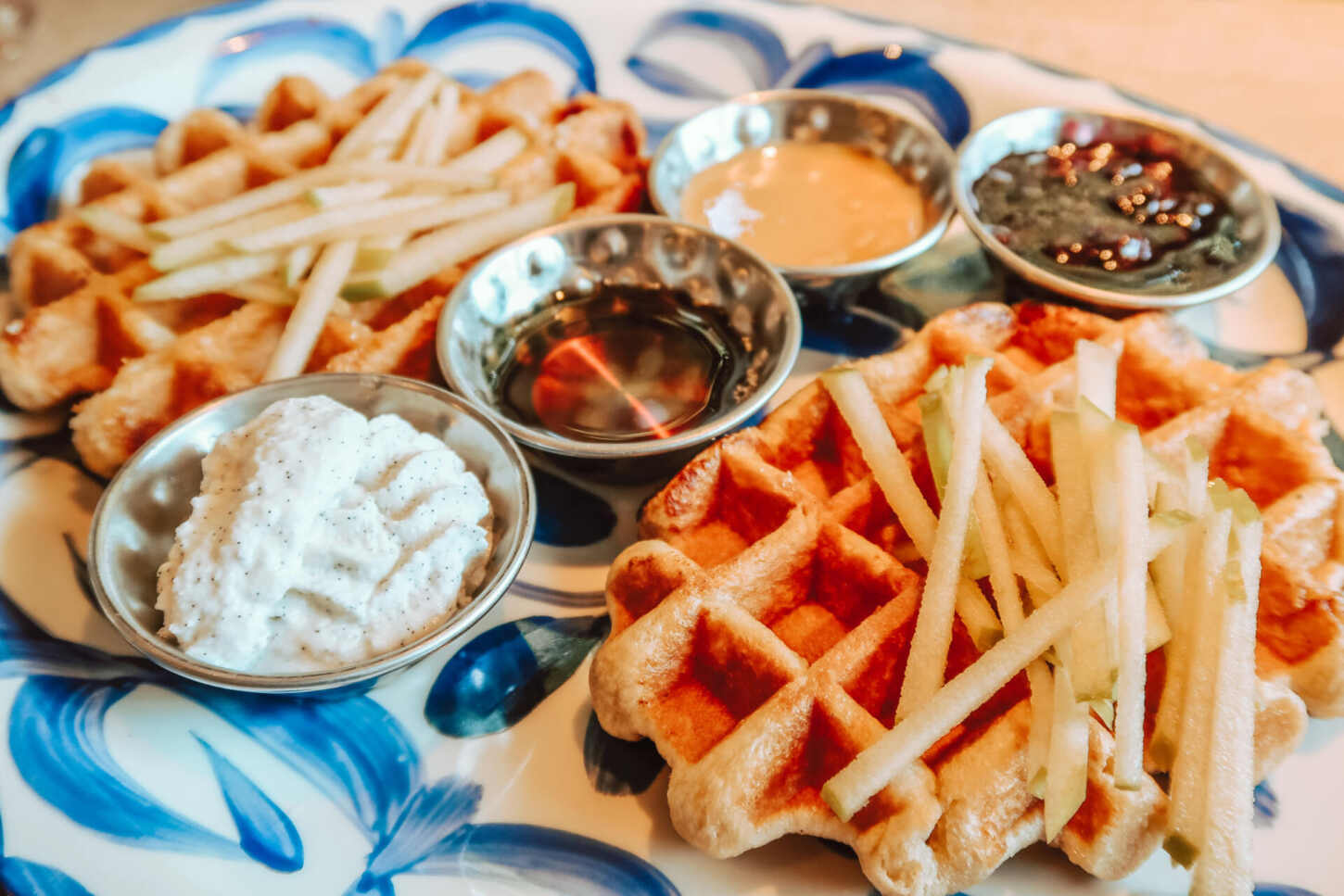 The food was lovely, with everyone who opted for Full Willow's complimenting the pork and leek sausages, as well as the portion sizes. The Belgian waffles were lovely, and it was nice to have the different toppings on the side to add just the right amount of each, and it was a great meal for the price.
During our visit, some staff were a little cautious about the dogs, whereas others came over to ask about them and give them a fuss which was lovely. After our food a waitress brought the dogs a bowl of water over – which was also Willow branded – which they were incredibly grateful for as it was really warming up outside. I have seen other visitors say their dogs received treats on their trip, but we didn't – it was probably an oversight, but we'd brought our own to keep the guys good anyway.
Read more about dog friendly pubs and restaurants: