Ad – this post contains press samples – all views are my own
When we first rescued Phoebe, she was incredibly highly-strung and had next to no experience of outdoor environments. Absolutely everything triggered her, from a leaf blowing across the street, to a bird sitting in a tree. But her anxiety-based reactivity towards dogs was the thing we knew we needed to work on – and fast.
Each time she tensed up at the end of the leash, with the heckles on her back arching, and would yelp at any dog she saw – be it 10 feet away, in someone else's yard, or on the other side of the road. It prompted pitiful looks from passers-by – as if we were stupid to own such a vicious dog. And I'm not the kind of person to stand and explain myself, because I shouldn't have to – but I can't tell you how infuriating it was to watch people tut, or drag their own yappy dog away.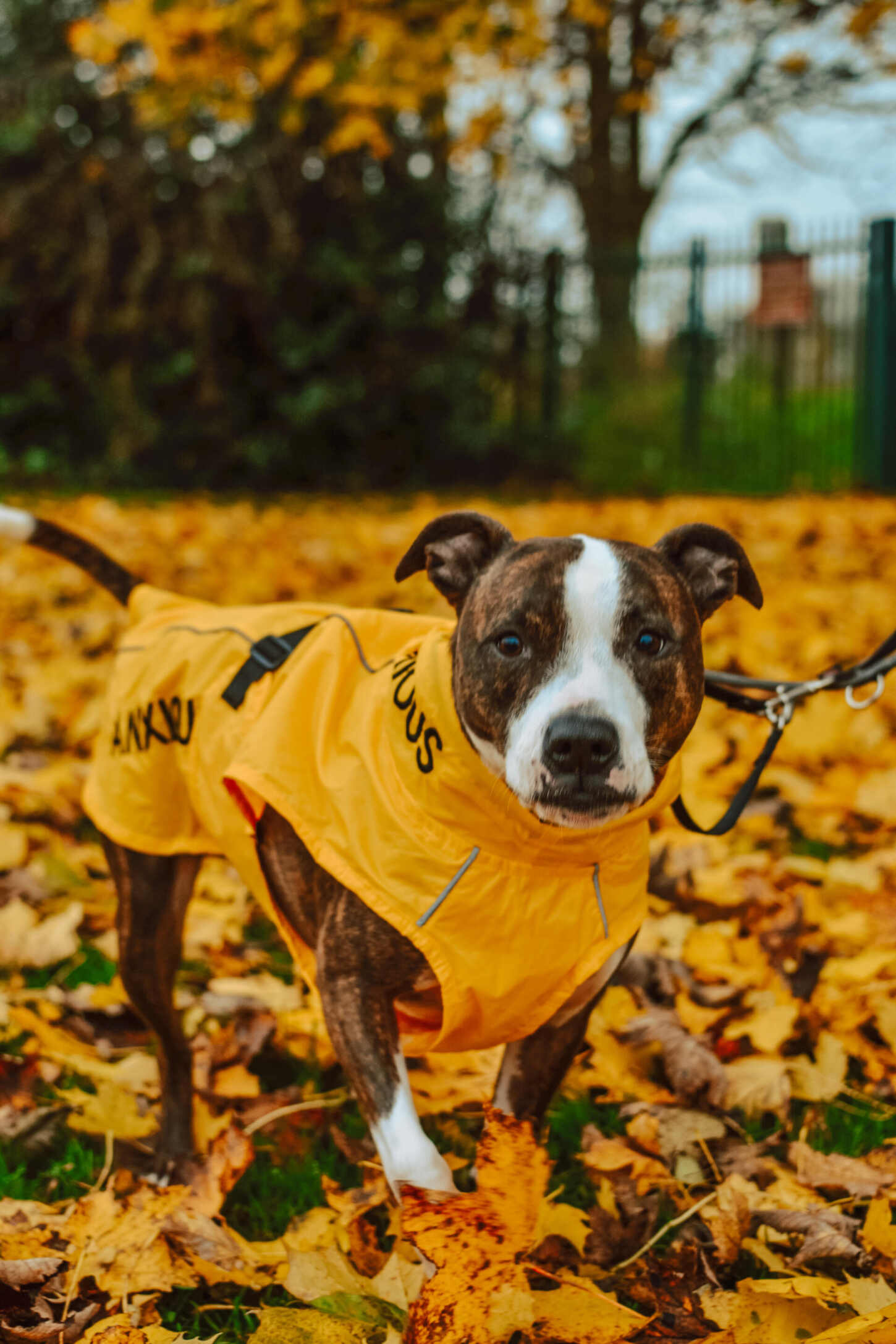 It took four long years of training to see a real change in Phoebe, but negative interactions and experiences can cause setbacks that take months to recover from. And no-one understands that better than the founder of My Anxious Dog, Sarah Jones.
When Sarah's cocker spaniel, Bella, was attacked during a flyball session eight years ago, the incident left her fearful and anxious around other dogs and strangers.
The 54-year-old, from Berkshire, found herself having to repeatedly ask walkers with off leash dogs to recall their pet when they came bounding over to a nervous Bella, so designed a range of bright yellow accessories that literally do the talking for her.
Her range of collars, leads, harnesses, coats and more have the word 'Anxious' embroidered in big, bold, black letters – so the message could not be clearer.
Sarah uses the colour yellow because it's a universal warning colour, even seen in nature with poisonous animals. It's used by police for crime scenes, and for building sites to suggest caution. It's the colour that captures our attention more than any other colour so it can be seen from a distance and that is why My Anxious Dog use yellow.
Sarah said: "Instead of always having to say, 'please keep your dog away' or 'she doesn't want to be stroked,' or 'she doesn't want to play,' or 'please don't touch her' – it was there in black words on her yellow harness and lead.
"It means walks are more enjoyable for Bella and I can relax too and not have awkward conversations with people while their dog jumps all over my fearful dog."
The brand recently launched a stylish new lightweight waterproof raincoat with their classic 'anxious' branding around the neck and on the back. It's available in sizes small to extra large, and has adjustable quick release side buckles and a drawstring around the neck to offer a bit of give. The large fits both 19kg Phoebe and 24kg Frank really nicely, and helps keep them dry and visible during wet weather adventures. Ideal for winter with its reflective strips that help them be seen even in the darker evenings!
We really love the high neck style, with a well shaped front which has been designed to protect dogs' important muscles from the wind and rain while allowing your dog to walk and run freely. But what sees My Anxious Dog stand out from the crowd in a sea of social media dog accessories is that it's a brand made by nervous dog owners, for nervous dog owners – and it shows in the thoughtful design. Sarah opted for quick release buckles to make it a more positive experience for noise sensitive dogs, rather than velcro – which could upset some canine companions.
Not only that, but we have always found that Phoebe walks nicer on her leash in a coat or jumper of some kind, because she feels safe and secure – so we know she actually enjoys wearing her My Anxious Dog jacket whilst out and about.
The coat is really easy to get on and off, with very little squeezing or manoeuvring. It goes over the head with the coat lying flat on the back whilst another piece of fabric comes under the chest and is secured with the strap around the midriff – which also stops the coat flapping around in the wind which could spook a scared pooch. It can be further secured with the two elastics which go around the hind legs. Then, there's a collar hole and harness zip to attach your dog ready for their stress-free walk.
The coat is lines with a cute yellow hearts pattern, but the detail that melted my heart the most was the My Anxious Dog tag inside, which reads: "If found, please contact my owners using the info below," with space to write your name and number should your jacket somehow go missing.
"No dog is beyond help," said Sarah. "It's about giving them space and encouraging them to see the world more positively."
Now, her dog Bella no longer suffers the 'It's okay, my dog's friendly' brigade and has been able to develop her confidence – and has even been able to attend classes again.
Whilst it might feel embarrassing to tell people 'my dog is nervous' or even 'my dog is not dog friendly', as a responsible owner, you have to advocate for your dog – and these coats are a really effective way to get the message across before having to open your mouth.
Dressing your dog in yellow is in no way admitting liability for being out with a reactive dog – they have every right to enjoy the experiences any other dog does.
Sarah added: "An owner who dresses their dog in yellow is not telling the world that the dog is dangerous. They are telling the world that the dog needs space and time to get to know new people. Yellow leads and harnesses are a great way to stop people in their tracks before they get too close, allowing the dog the time it needs to gain confidence whilst out and about. It is the responsible, safe way to encourage people not to crowd the dog and risk a reaction."
Sarah also runs a Facebook group called Anxious Dogs UK, with nearly 10,000 dog owners seeking advice and support for their shy or reactive dogs. If you're looking for tips on how to navigate training with a nervous pooch, it's a community well worth joining.