The Scamps have been on a Cornish getaway this August, and no trip to the seaside is complete without an ice cream on the harbour, right? 
We've noticed that a lot of ice cream shops down by the seaside offer dog-friendly ice cream tubs alongside their selection of human cone combos, perfect for enjoying together on a sunny day overlooking the sand and sea..
While on a day-trip to Padstow, Phoebe and Frank found a shop called Down By The Ferry selling Scoop's pet ice cream, and it was the ideal way to cool off while the humans had a little sunbathe. 
Scoop's is made by Marshfield Farm, a dairy farm best known for its award-winning ice cream for people. The farm was established in 1971, and in just over 40 years has developed from a small herd of 35 cows to around 250 British Friesians. 
In 1988, Will took on the challenge to create his very first ice cream flavour in a bid to diversify the family's dairy business. Exactly 30 years later, they launched their first dog ice cream, Scoop's, named after the family farm dog.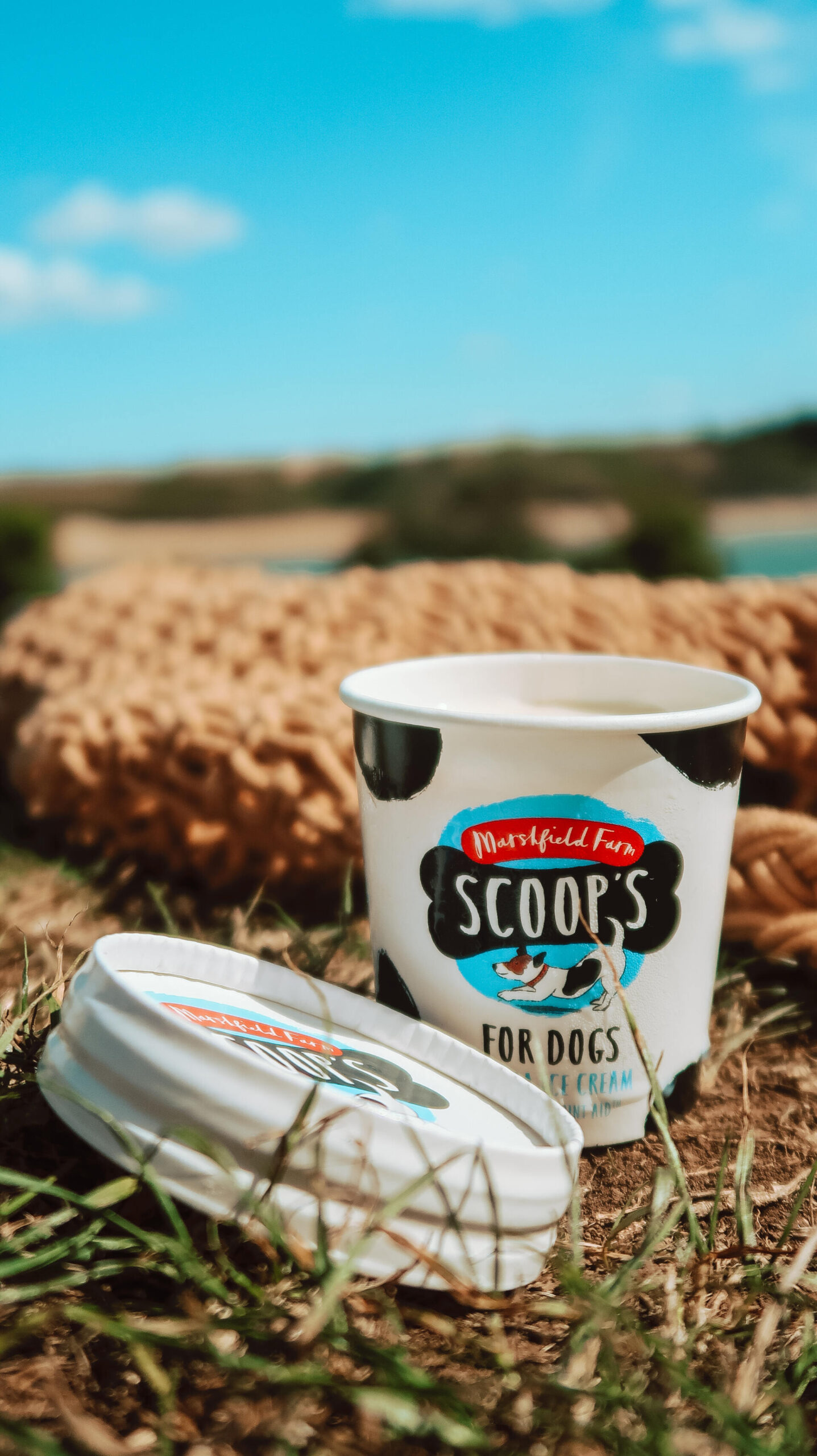 They said: "Scoop is always at our side – and we thought it was about time she had a treat too! In 2018, we floated the idea of making a dog-friendly ice cream for Scoop, thinking it would be popular at our summer parlour for the pooches that visit. 
"We named the ice cream after the little lady herself and the diva has most definitely loved the attention. Fast forward a few years and it's one of our biggest selling ice cream flavours – that's including our human ice cream!"
The cows on the farm are milked twice a day, seven days a week, and are free to roam across eleven-hundred acres of organically farmed land in the meantime. Their milk is then taken only metres across the yard to the on-site ice cream factory to be turned into delicious creations.
Scoop's currently comes in two flavours – vanilla and mint – and has been specially formulated with reduced lactose milk from the farm. While made up of 80 per cent fresh milk, it contains a lactase enzyme that removes the lactose from the dairy product. 
The vanilla dog-friendly frozen treat contains an added natural joint supplement containing Glucosamine and Vitamin C for joint and muscle support, and is completely free of palm oil. Meanwhile, the mint flavour includes GWF Nutrition's odour aid  to help fight nasty bacteria in the mouth and gut and act as a natural breath freshener.
They both come in 125ml tubs, which is the perfect portion for Phoebe and Frank as large adult dogs – you should be able to make a judgement as to whether to save your pooch some for later, or have them share with a canine sibling. Marshfield Farm added: "Scoop's Ice Cream for Dogs is made to be eaten as an occasional, frozen treat after a long walk along the beach or to cool down our furry friends on a hot day. While there are no governmental guidelines on quantities of frozen treats allowed in a dog's diet, one tub is a single serving and we advise not to give any dog more treats than your vet would recommend."
Being made with milk, the frozen treat is fairly fast-melting, so you'll want to feed it pretty much straight away. Phoebe and Frank had licked their recyclable pots clean within minutes and the effects were immediate – panting less and visibly more comfortable on our early morning trip out. It also kept them suitably occupied while I enjoyed my own honeycomb flavoured ice cream from Marshfield's, so there was no begging or puppy-dog eyes tempting me to share my iced treat.
It's safe to say that Scoop's ice cream went down a treat, and it's really great to see dairy farms diversifying and offering new things like pet-friendly ice creams, or – like near us – milkshake vending machines. You can find your nearest Scoop's stockist on their map locator here.
Read more: