Over the years, Frank has laughed in the face of 'tough', 'reinforced' and 'Staffy-proof' toys and your regular plushes and balls don't stand a chance. It took him four minutes to de-stuff this dinosaur, and as much as we love these B&M Scooby Doo balls, he'll ruin those the second you take your eyes off him, too. He chewed through a Kong Extreme Bone like a hot knife through butter, and decapitated one of his snake enrichment toys, too.
But, I think we have finally found a dog toy tough enough to withstand the most relentless of power chewers, and that they actually get excited to play with.
Goughnuts were first recommended to me by PC Tim Moss from the Staffordshire Police force, who uses the brand for his K9 dogs, the now retired Police Dog Cooper – the force's first Staffordshire Bull Terrier – and his Belgian malinois brother, PD Henry.
I've seen PD Henry tackle a fully-grown man to the floor, so it's no wonder your average dog toys simply aren't enough. However, the ultra-durable toys don't come cheap, so I've had them sitting on my Amazon wish list for the longest time, uhming and ahhing whether to buy them – and my only regret is that I didn't get them sooner.
During my visit to Crufts the the NEC in Birmingham earlier this month, I came across the TuffToys4Dogs stall – a UK wholesaler of Goughnuts – who I was able to chat with to discuss the best Goughnuts option for Phoebe and Frank. The member of staff was incredibly helpful and talked me through all of the colours, strengths and sizes, recommending the HD Maxx Ring based on their size, weight, power, and determination to chew. Usually, these cost £44.95 on Amazon or £32 from TuffToys4Dogs, but at Crufts I was able to save a little bit of money and get them both for £60.
The Heavy Duty Maxx Ring is ideal for larger dogs weighing over 25kg – Phoebe isn't quite that big, but I still opted for this size for I knew Frank would only want to swap with her, which wouldn't be safe, so two of the same size was necessary. 
On their sizing, Goughnuts explained: "After many years designing chew toys, we found it's healthiest to use a toy that reduces leverage in the dog's jaw, by forcing the jaw to stay more open while chewing."
Phoebe has a large jaw, and so, the Maxx still seemed a better fit than the medium. These rings have a 16cm diameter and 5.5cm depth, and are the most durable shape for extreme chewers.
The Goughnuts Ring Dog Toy was designed to give pups a safer, tougher chew toy, and most of the models have a red safety inner core which, if your dog can chew through to, can be returned and replaced or upgraded as part of the brand's lifetime guarantee. However, the Heavy Duty ring does not have the red core, in order to increase durability, but it is still covered by the lifetime guarantee if your dog manages to cause damage to it.
The new Heavy Duty rings are made with the strongest rubber compound, made with the same reinforced natural rubber designed by engineers that make rubber for spaceships and aircraft. 
Described on the Goughnuts website as the 'world's safest dog toy', if you deem your dogs toy no longer safe, all you have to do is pay to have it returned to the address on the website, and they'll send you a brand new one of the same size, or, the next size or strength up – whichever is more suitable.
Goughnuts added: "Sizing is very important. Bigger dogs need bigger diameter cross sections to help eliminate scissor-like chunks that are the primary reason for intestinal blockage."  
As with all yous, it's always best to keep a close watch on your pup in case things get rough. Supervised play will help toys last longer and most importantly keep your pal safe, since no dog toy is truly indestructible.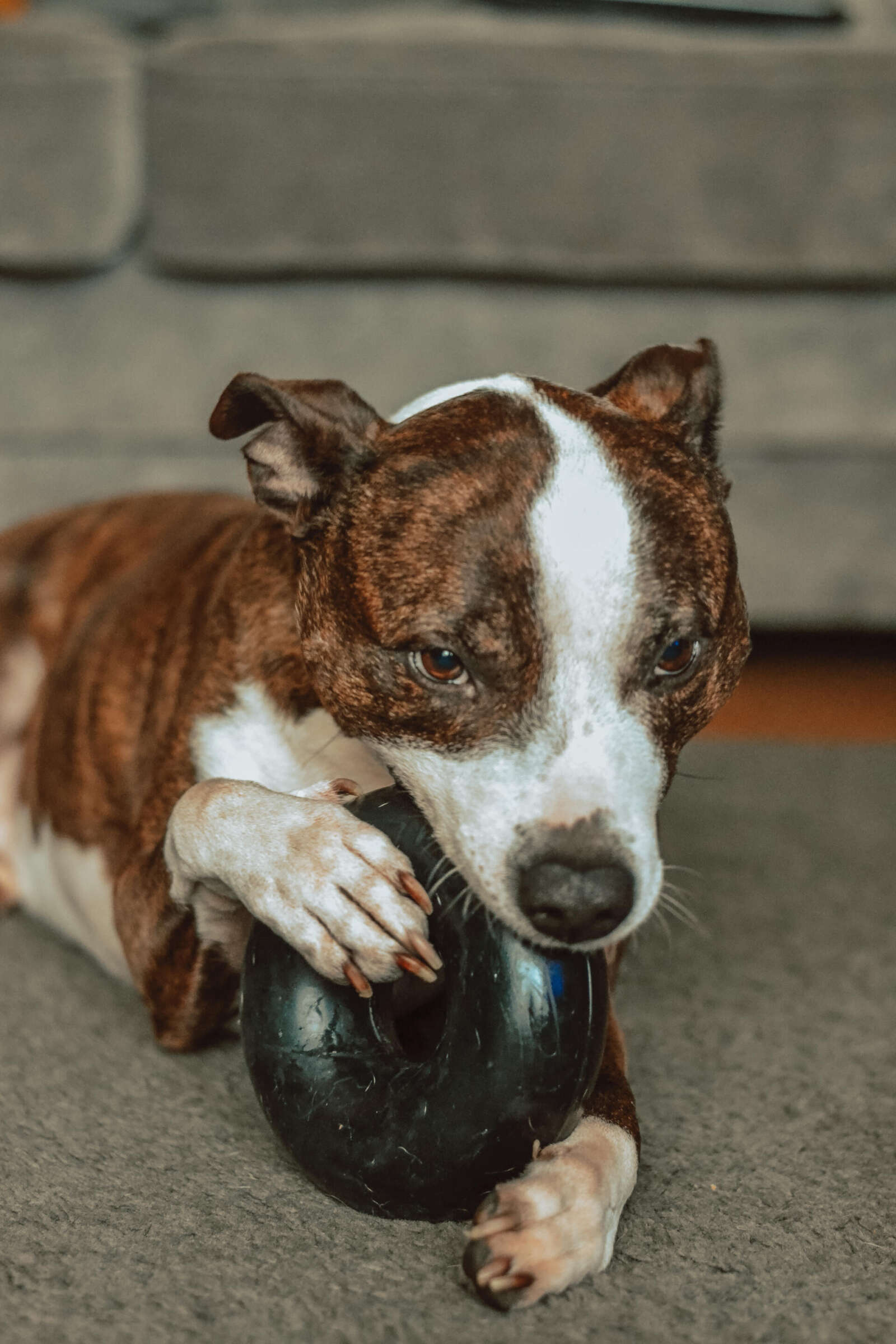 The first day I gave Phoebe and Frank these Goughnuts, I was convinced that – like with every other toy I've bought – Frank would ruin it in half an hour or less. He took it off round the back of the sofa with determination in his eyes, but after 30 minutes of power chewing, he eventually gave in, having absolutely worn himself out playing with it. This is the sign of a brilliant dog toy, because I could then trade the toys for a treat, and put them away for another day.
Phoebe equally loved the toy, but played slightly differently than Frank. Instead of incessant chewing and chomping, Phoebe likes to pick her toys up and bounce them, as well as play more interactive games like tug. Sometimes she just likes you to hold it while she chews, because she's an absolute diva.
Upon removing the toys, I inspected them for wear, and the teeth marks left indented into the rubber were minimal. If it were a scratch on a car, you'd t-cut it out. 
Every day since, Phoebe and Frank have played with their Goughnuts for half an hour or so – making for around two weeks of pretty consistent extreme play – and they are still in mint condition. Neither of the Scamps have been able to nibble at seams or chew off chunks – they've just been able to experience the joy of power chewing without destruction, and still have an in-tact toy to play with.
Good enough for police dogs, they are the perfect toy for Staffordshire Bull Terriers and similarly determined aggressive chewers, having saved both my money and my sanity, with no more ruined toys, wasted cash and bags full of stuffing.
When it comes to 'indestructible' toys, we've only ever really considered the Boomer Ball unbreakable, it's an outdoor-only toy, far too big and boisterous for in the house, but the Goughnuts are perfect for indoors.
It's so nice seeing the dogs' faces light up when we bring out their toys, and they offer an extra bit of peace of mind, too. While I would always supervise the dogs with their toys, 99 per cent of their toys require you to be on the ground with them, collecting discarded pieces of plastic, or playing interactively to avoid immediate combustion. Phoebe and Frank can play pretty independently with these rings in the same room that I'm working, keeping them entertained while I'm on important meetings and calls at work, without fear that Frank's scoffing the pieces he's pulled off.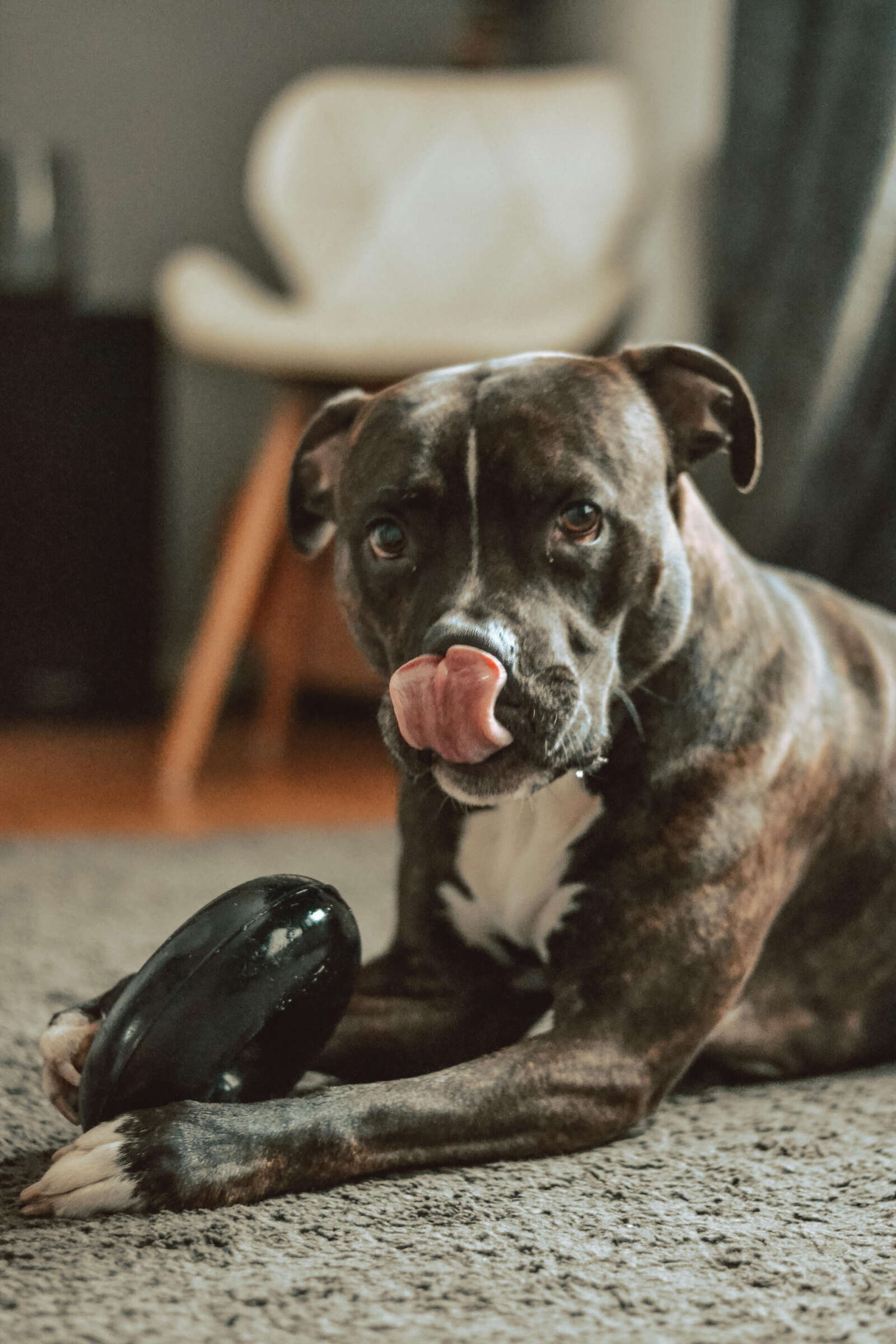 You could even get creative with these toys, and use them as doubly enriching, by covering them in peanut butter, or finding a natural size-appropriate chew to place in the centre ring. For example, half a beef trachea could be the ideal size to fit in the hole, acting as a holder for the chew, making it last longer because your dog has to work harder to get that last bit out.
They're more expensive than your average dog toy – but these aren't your average dog toy. Not by any means. 
The Goughnut is the ultimate chew toy that's basically Staffy-proof, with the added benefit of lifetime guarantee, which means no more wasting money on cheap and inferior products. They're a well-worthy investment, and we can't wait to pick up some more of the designs, like the HD sticks, later this year, too.
You can shop the Goughnuts on TuffToys4Dogs, or Amazon here.