Having found ourselves big fans of the Scrumbles softies, nibbles and gnashers, Phoebe and Frank have been giving their range of wet and dry food a go, too!
The hypoallergenic brand was founded by Jack Walker and Aneisha Soobroyen, who appeared on Dragon's Den in 2019. Scrumbles was born after some costly trips to the vets over their cat, Boo's, sensitive stomach, with their pup Smudge benefitting from their pet nutrition research as well.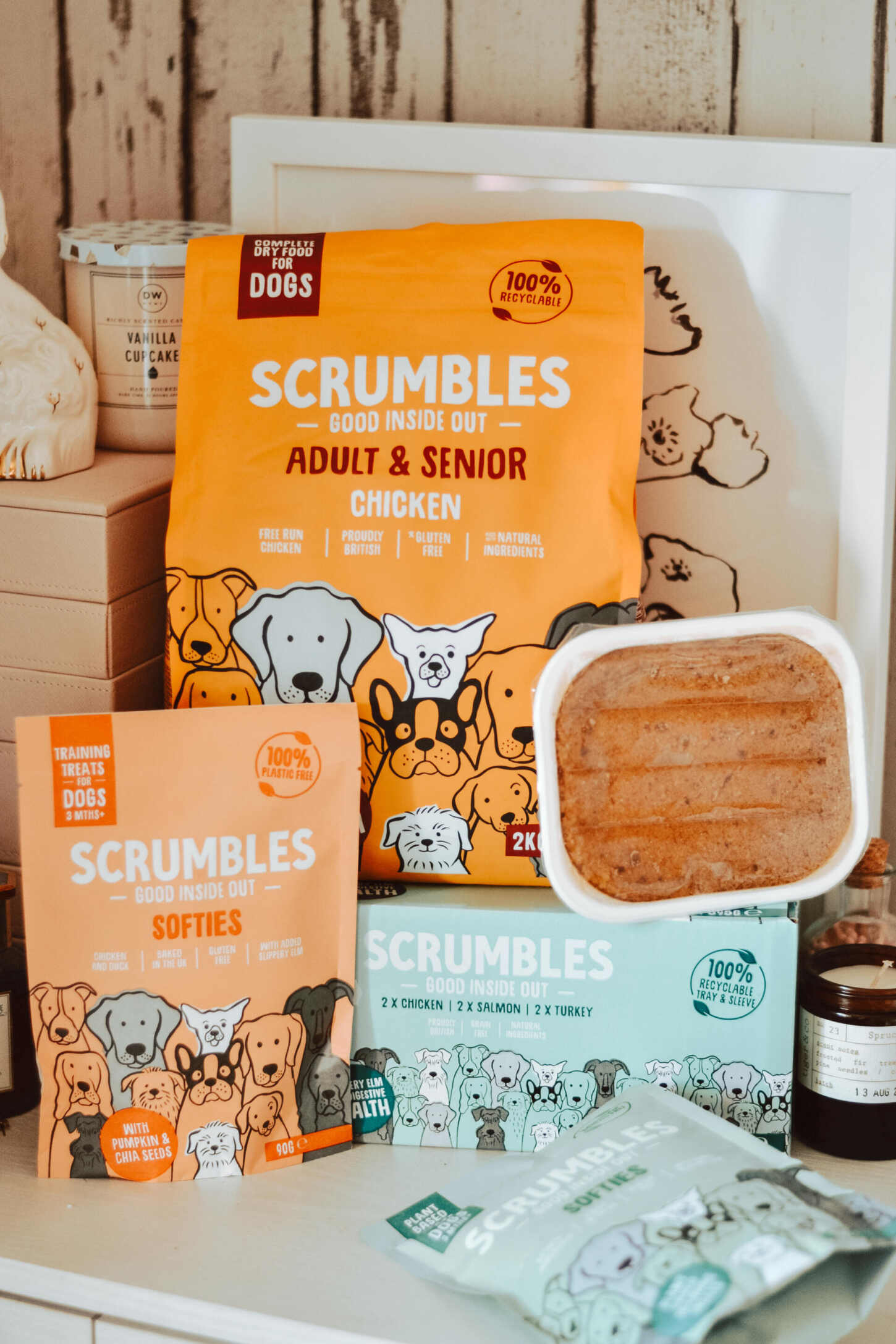 Their branding is fabulous, in pretty pastel colours with sweet illustrations, with their dry food coming in three options: Chicken Dry Dog Food, Salmon Dry Dog Food and Chicken Dry Puppy Food.
Phoebe and Frank got their paws on the adult and senior chicken dry dog food, which contains 60% chicken, of which 30% is fresh – giving Scrumbles an 81% nutritional rating on All About Dog Food – which is something we can really get behind. Not just that, but the chicken is human grade and free run, with added probiotics for good gut health. The complete foods' ingredients also include rice, oats, dried alfalfa, salmon oil as well as vitamins and minerals, with 29% protein.
Read more: Three eco-friendly Scrumbles treats to add to your dogs shopping list
The natural dog food, tailored to dogs with sensitive stomachs, is 'responsibly made and affordably priced', costing £11.49 for a 2kg bag, or £40 for 7.5kg. We found the kibble itself to be on the smaller side, at a little over a cm wide, making it ideal for dogs under 15kg, in my opinion. But the mono PE bags can be recycled at larger stores to avoid landfill, which is great.
Scrumbles is ideal if your dog suffers with allergies, as they exclude common allergens like gluten, eggs and dairy, as well as being junk free. Live bacteria aids digestion and supports the immune system, and you'll be pleased to know that better quality food means better poos.
And if your dog loves wet food, why not go for the Scrumbles wet food variety pack, which includes two trays of each of their three tasty flavours: salmon, chicken and turkey.
Suitable for dogs over three months old, the hypoallergenic wet dog food variety pack features a selection of delicious, digestible, grain-free recipes in 395g trays. This reminds me a little of the Forthglade trays we love, with the Scrumbles trays also storing well in the fridge, and lasting up to two days as a topper with their kibble.
Each recipe includes 70% fresh meat, with the turkey offering added carrots and cranberries, while the salmon recipe features sweet potato and peas. The chicken wet dog food has carrots and green beans, with all three including Slippery Elm – Scrumbles' signature ingredient which helps soothe tummies and support digestive health.
Slippery elm is the soft, stringy part of the inner bark of a slippery elm tree, which coats and lubricates the stomach lining, soothing it in the process. It's also high in fiber, so can help relieve both constipation and diarrhoea in dogs.
Read more: 6 reasons to try Scrumbles Gnashers daily dental sticks
These complete recipes can be fed alone, or alongside kibble, and comes packaged in recyclable trays in a cardboard outer when bought individually in supermarkets. The variety pack costs £11, and comes without the cardboard sleeves to save on unnecessary packaging.
Phoebe and Frank really enjoyed the wet food trays, particularly the turkey and the salmon, and as the variety packs are available in our local Sainsbury's, I'd definitely pick them up in future to offer the Scamps something a little different at dinner time, without compromising gut health.