Reading the choices of Lily's Kitchen wet food flavours is like reading a restaurant menu. At times, I forget I'm buying for my dogs and wonder which flavour I'd like.
Coronation Chicken, Lamb Hot Pot, Great British Breakfast and Wild Campfire Stew are among the tasty sounding flavours.
So if I'm having a Sunday Lunch, why shouldn't my dogs!
Lily's Kitchen believe our pets deserve as good food as we eat. The business – named after Border Terrier, Lily – started much like Hounds. Founder Henrietta discovered the ingredients in regular pet food and was horrified. So she created her own natural, no-nasties food she was happy to feed her own pooch.
Phoebe and Frank are fed Oscar's kibble, but we like to top their dinner with some wet food to make it more exciting and nourishing for them. We add about half a tray of food, or a quarter of a tin to each evening meal.
The Lily's Kitchen Sunday Lunch is made of 60% fresh chicken, alongside potatoes, peas, carrots and spinach.
I love that you can physically see the veggies in the meat and can tell that it's a product put together with love.
The Lily's Kitchen website has a feature where you enter your dog's weight, age and activity levels, and it will calculate the ideal amount to feed! It will give you options for feeding just wet, or kibble combined, too.
The Lily's Kitchen Organic Chicken Supper combines freshly prepped chicken, pork and beef, making the composition 50% real meat – not derivatives. It's certified organic, meaning it's good for sensitive dogs, like Phoebe. It also contains fish, carrots, peas and kelp!
You've got a great choice with Lily's Kitchen in that you can buy each flavour in a tray, tin or multipack, saving money each time. On the Lily's Kitchen website, you can also subscribe to have your food delivered each month, saving you 5% on your order.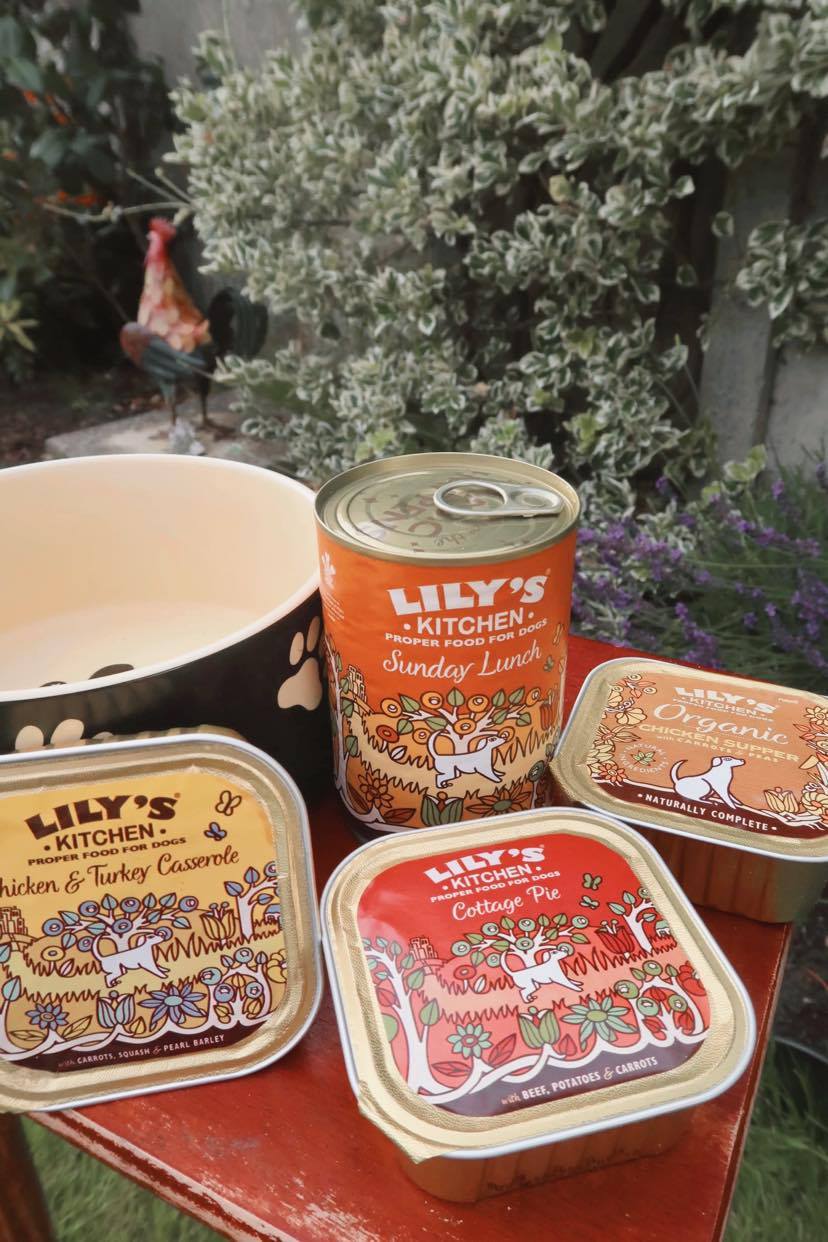 I love the idea of 'sharing' a meal with your dog. So when I have cottage pie, the dogs can too! It takes away that urge to feed them scraps off your plate as Frank drools on his own paws. The Lily's Kitchen cottage pie is made of 60% beef, as well as potato, carrots, broccoli, green beans and apples.
The Lily's Kitchen Chicken and Turkey Casserole is one of Phoebe's favourites and suits her really well. Made of 45% chicken and 15% turkey, it's more than half comprised of proper, quality meat. It also includes brown rice, apples, broccoli, peas and blueberries.
The Lily's Kitchen wet food branding is absolutely stunning. It's really exciting to head into the cupboard and pick out 'what's for tea'.