I'm not too sure where my tiny puppy has gone, but this week Frank turned three years old – and there was only one way do celebrate!
When we discovered Scruby Snax on Instagram we knew their adorable cream tea was the pawfect way to pawty in lockdown. The Leamington Spa based bakery is run by professional baker Megan, with help from her gorgeous Staffie Loki.
There are lots of 'doggie birthday cakes' floating around online – but we were looking for something a little bit different. The Scruby Snax cream tea was just £8 for six scones, and a glass jar of dog-friendly jam and yoghurt based cream, which seemed a really reasonable price.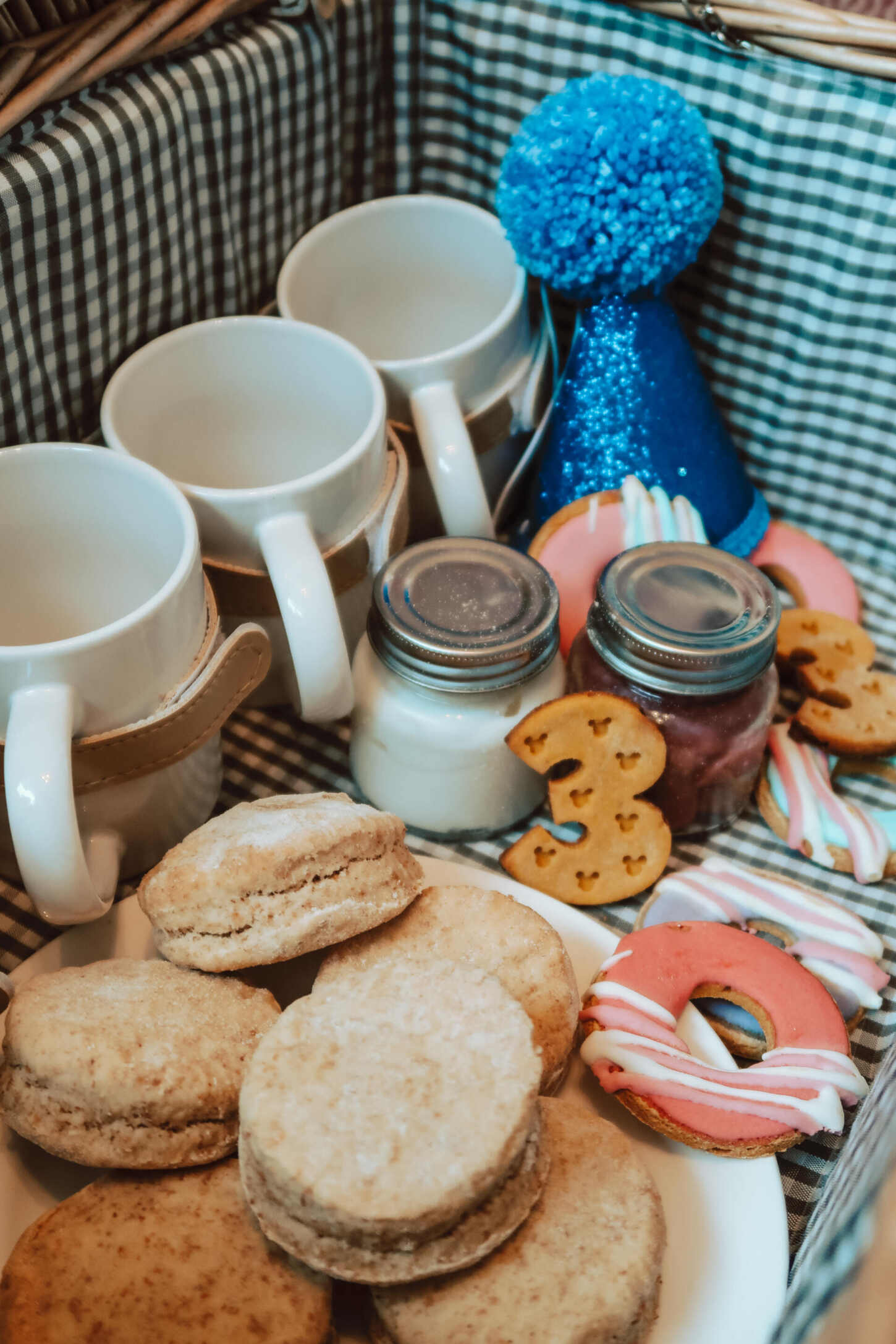 Megan needs around a weeks notice for afternoon tea orders, but her service was absolutely incredible. I ordered quite late on a Wednesday evening, and Megan emailed me straight away to see which date I would prefer my order to be posted – in five days time, or 12. Megan had no problem getting the package to me earlier than her stated posting times, and we had a lovely little natter over email. I love when you can build a rapport with a small business owner – and it's the kind of experience that will bring you back to order time after time.
The cream tea came in a cardboard box with a little window so you could see the goodies inside. They were clearly packed with love and carefully packaged, arriving with a handwritten note to thank us for our order. The note even named Frank, which I just thought was really nice and showed that real attention is paid to every order.
The scones are made with plain and wholewheat flour, milk, eggs and vegetable oil, and could be sliced in half to create 12 half scones. My tip to reduce crumbs would be to flip the scone upside down and add the cream – made with yoghurt, honey and cornflour – and jam – made with strawberries, honey and cornflour – to the surface. I then cut this in half to give to Phoebe and Frank. It's definitely less messy and reduces the risk of poorly slicing your scone.
I ordered the regular cream tea, but there is the option to have a blueberry version for an extra £1.
To add to Frank's little birthday picnic, I ordered some of the gotcha day cookies, which are a Disney themed biscuit costing just 60p each. I ordered a couple of the '3' biscuits, which were adorned with little Micky Mouse's. These biscuits are available in a range of flavours, so you can pick which one is your pet's favourite.
The options include:
Cheese
Carob
Peanut butter
Carob chip
Peanut butter & carob marble
Pumpkin, peanut butter & coconut
Banana
Peanut butter, banana & carob
Frank and Phoebe had the pumpkin, peanut butter and coconut, because we like the health benefits those ingredients aid, such as digestion and healthy skin and coat.
Megan and Loki at Scruby Snax very kindly gifted us some of the pawty rings as a surprise, which was so sweet. These are usually £5.50 per pack and shoppers can choose the colour, or opt for a mix. Our bag was mixed with pink, blue and purple pawty rings, which looked pretty tempting to taste myself! The great thing about Scruby Snax is that their products are natural, so if I really wanted to, I'd have had no issue with taste testing them. The pumpkin, peanut butter and coconut treats feature the aforementioned ingredients, plus coconut flour and egg, with egg whites, honey cornflour and food colouring for the icing.
Phoebe and Frank loved their treats, and are wondering when I'll be ordering some more – I've assured them it will be soon! Megan was so lovely and enthusiastic. and clearly adores her work, which makes ordering from Scruby Snax even more exciting knowing how much passion goes into it. The products are creative and immaculately presented, from their Jammy Dog-dgers and Custard Creams, to their brand new biscuit subscription box. Pupcakes, Woofles and Cinnamon Rolls are next on our list of goodies to try – you know when you go to a restaurant and can't decide what to order so order everything because it looks so good – well that's how shopping with Scruby Snax feels.
Get all the latest updates from Scruby Snax here.