When your a millennial pet parent with no plans to have children, Christmas becomes an opportune time to spoil your pets rotten – more so than usual.
I tend to spend more on the dogs than I do on human family members, and this year, Phoebe and Frank will be unwrapping a whopping £190 worth of presents this December. Of course, we're super lucky that some of these brands have gifted us products, including Hounds, Lily's Kitchen, Denzel's, Scoff Paper and Yappy. And it's been amazing to discover the festive ranges from some of our favourite brands this yuletide season.
We will be reusing out Hounds Personalised Sack from last Christmas to fill full of these goodies and save on wrapping paper, and have opted for a selection of edible treats, interactive brain training toys, accessories, and practical presents, too.
Their main presents were their new HOTTERdog fleeces and the Kong Replay toy – but we have lots to show and tell you about, which could offer some last minute gift inspo for your own pup.
Here are 13 gifts my dogs will be unwrapping on December 25:
Hounds Chew Box
The Hounds Chew Box takes all the stress out of choosing a gift, because they've picked out some suitably seasonal treats and chews that any dog will love.
The box costs £8.49, but the contents are worth more, with the December box featuring Denzel's limited edition Christmas Lunch Bites, Soopa Cranberry and Sweet Potato dental sticks, two JR duck coins and two JR turkey sticks.
All of these festive goodies are also available to buy separately, with 10% off when you enter the code SCAMPS at the checkout. What's inside is always a surprise, and they're a great way to discover new brands and products you may not have purchased from the shop previously.
These treats are sure to keep your pet (over the age of 12 weeks) entertained over the Christmas weekend, and well into the New Year, too.
Denzel's Metre Long Treats
A real festive showstopper, Denzel's Christmas Lunch Bites, as featured in the Hounds Chew Box, also make up this three foot long Christmas extravaganza!
The metre long treat tube costs £18 and contains 15 – yes, fifteen – packets of the irresistible treats.
On the side of the tube is a ruler where you can even measure the size of it against your dog – with Denzel's height on there too. From tiny chi's to Great Danes, you'll be able to see how your dog measures up.
The 50g bags make amazing stocking fillers. We think it's worth buying a tube and gifting a packet to all your four-legged friends! Plus, you can also get 10% off Hounds with our code.
Lily's Kitchen festive tin
Lily's Kitchen's festive tin is the canine equivalent of snaffling all the good Quality Streets – only there won't be any 'rubbish' treats or empty wrappers left in their wake.
Full of Festive Turkey Jerky, Scrumptious Duck & Venison Sausages, and Best Ever Beef Mini Burgers, this Cracking Festive Treat tin for Dogs is a great way to stop the dog slobbering over your Christmas pyjamas whilst you rifle through the biscuit tin yet again.
The tin is really lovely, white with gold detailing, which can be reused to store your dogs' favourite Lily's Kitchen treats year round. Alongside the Jerky, the duck and venison sausages are 70% duck and 4% venison, whilst the beef burgers are 80% beef. There's so much for your pups to get their paws on – but
which will yours be getting their snoot into first?.
Pooch and Mutt Christmas gift box
Coming in at under a tenner, the Pooch and Mutt Christmas Gift Box  has been beautifully designed box with a red and gold foil design, with snow falling on top of expertly wrapped gifts.
The box offers a double helping of tasty Turkey and Cranberry meaty stars, and their Turkey & Chicken Complete Wet Food Christmas Dinner, which has also received a festive makeover in environmentally friendly packaging.
Phoebe and Frank can't wait to get their paws on these goodies, but it's likely they'll share with Winston and gift him one of the dinners, and a bag of meaty stars after her enjoyed the Pooch and Mutt advent calendar so much.
Jessica and James handmade charms
I always get Phoebe and Frank an accessory of some description, be it a bandana or a festive jumper. This year, they've had the Jessica and James handmade charms to jazz up their collars.
The brand launched in October after creator Charlotte discovered a love of jewellery making in lockdown, and designs beautiful enamel tags so your dog can look as stylish as you.
They come in four different colours and designs, including navy, pink, pearl and grey, each £7.99. Frank's got the navy one, while Phoebe suited the grey – we decided to gift the pink tag to one of our lucky Instagram followers, while Winston will be receiving the pearl one under the tree on December 25.
The 15mm tags all have a different symbol on them, from love, stars and the moon to the electricity and power of lightning. They're all unisex, and suit dogs of all sizes, too. These are all available via Etsy, or in-store at Josiah and Co, Wedgwood, Barlaston.
Fluff and Crumble biscuits
Phoebe and Frank will be putting their milk and cookies out for Santa Paws on Christmas Eve, after we placed an adorable personalised order with Fluff and Crumble. 
From their 'Happy Howl-idays' range, the iced biscuit set – which is dehydrated rather than baked – cost £8.99, and is a really cute way to get the dogs involved in festive traditions if you have little ones at home. Or, just if they have their own Instagram account, like the Scamps.
The set includes a personalised note for Santa – with ours addressed from the Scamps, as well as two cookies and a glass of milk – not forgetting two carrots for Rudolph (how else would he fuel himself to travel around the world delivering gifts?)
Beautifully hand decorated, the biscuits are made in small batches with the brand's signature peanut butter and coconut recipe, meaning they're all natural, and free from sugar, salt, xylitol, additives and preservatives. The natural icing is coloured with ingredients like spirulina, turmeric, beetroot and coconut charcoal to give them their vibrant appearance and they look really fabulous. They almost look too cute to eat!
Forthglade Christmas soft bites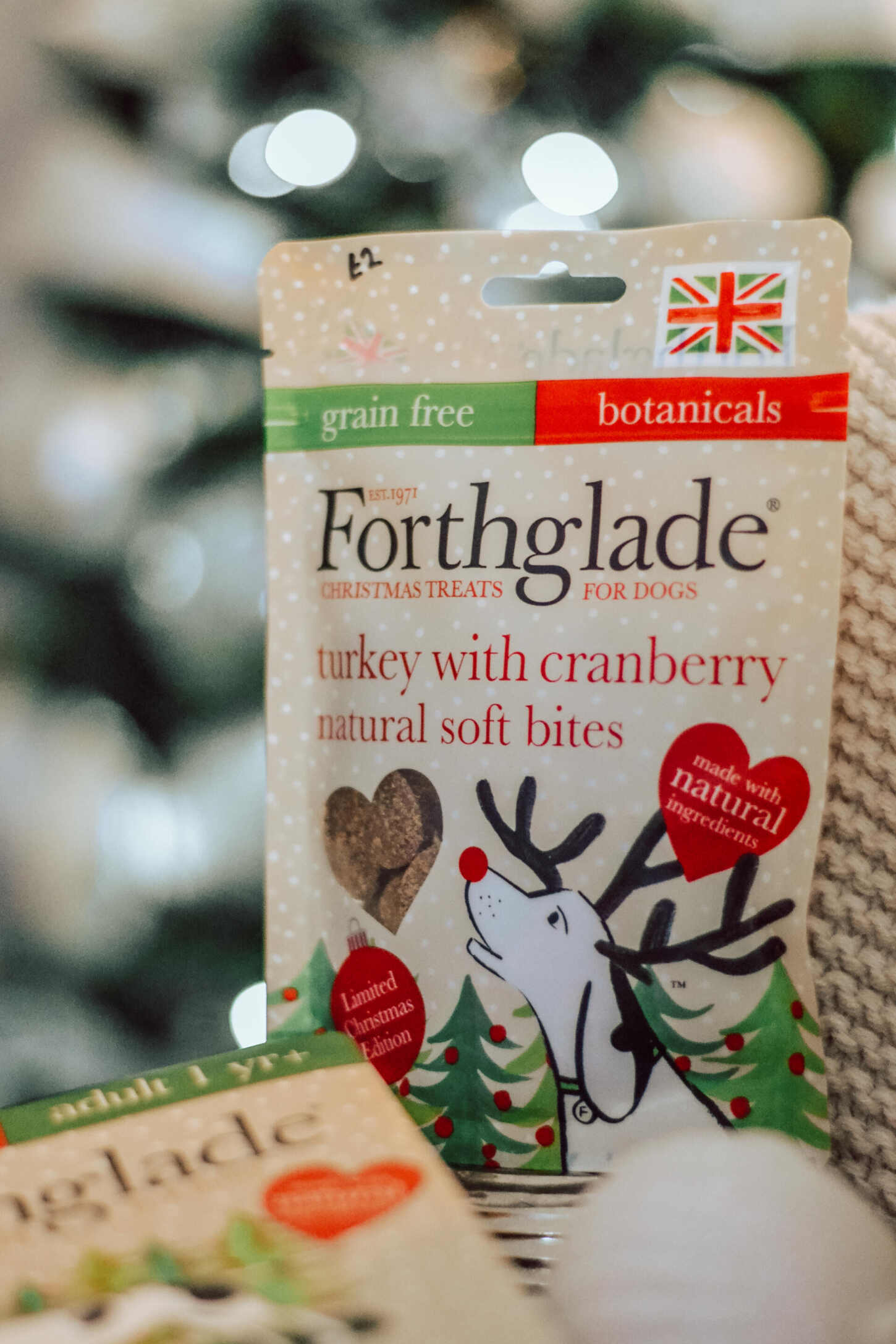 This year Forthglade's soft bites have had a seasonal makeover with their Christmas turkey and cranberry treats flying off the shelves.
Made in their adorable signature heart design, gently baked with a seam down the middle, you can easily break them in half to make them go further, and prevent your pup putting on too many holiday pounds.
Being grain free means they're good for sensitive tummies, with no added junk, fillers or artificial flavours, made with turkey, sweet potato, dried cranberry and parsley.
Scoff Paper Cards
Scoff Paper launched two incredible new festive flavours so that your dog can enjoy – and destroy – their own Christmas card this festive season.
The brand is the first ever ethical, rawhide-free cards for dogs, created for five minutes of sheer, shredding joy, which is brilliantly stimulating for your dog.
Online, there are currently seven different festive designs, each with their own Scoff Paper flavour, including their new limited edition flavours: Insane in the Candy Cane, and Turkin' Nine to Five.
The cards are £5 each, made using natural ingredients, as well as Omega 3 and Omega 6, and are vegan friendly, grain free and gluten free. Two of the seven designs also have the option to be personalised with your dogs name for an extra £1 to make it even more special.
Other delicious flavours of the menu include chompable cheddar, tearable t-bone, gnashers rashers, gone in 60 chickens and peanut drool, and boy do they make your dog drool.
Edgard and Cooper Gift Box
The beautiful blue tin from Edgard and Cooper is packed full of goodies that will keep your dogs' tails wagging well past December – including a limited edition bow tie you won't find anywhere else.
Inside the tin, you'll find a 0.7kg bag of their popular venison and duck kibble, an Edgard and Cooper Game and Duck tin of food, as well as a tray,  Edgard and Cooper Duck and Chicken Jerky,  Edgard and Cooper Busy Day Bar, and a bow wow bow tie paw-fect for the festive family photo.
On the inside of the cardboard sleeve that hugs the tin, is a recipe for snowball treats, using the kibble and wet food from the tin, alongside some cupboard staples, which are great to make in the Christmas/New Year limbo period.
You can bag your own Edgard & Cooper Christmas Gift Box For Dogs at Hounds, and bag 10% off using the code SCAMPS. 
Kevin and Katy Carrot
It just so happened that the day the Kevin and Katie the Carrot launched in Aldi stores was the day my local store opened for the first time. I managed to pop down after work, and despite all the Cuthbert the Caterpillars being sold out, I did bag a Katie and Kevin for Phoebe and Frank.
At £3.99 each, this was a fairly cheap gift, and frankly, I know they're not going to last five minutes, but will provide them both with some festive fun.
Kong Replay
As toys fail to last very long in our house, I've opted for a more brain-training type toy that we can use for short bursts of time to burn of energy and keep play time exciting. That's why I picked up a Kong Replay toy, with the intention of picking up a second one if they love it.
The toy cost £11.50, and is a treat dispensing toy with a twist. The paw-powered Kong toy is weighted in the middle, so that when your dog rolls it with their nose or paw, it automatically rolls back, inviting them to push again,
It dispensed treats from both sides when it rolls, with the motion providing healthy mental and physical stimulation, and a great way to feed breakfast or tea in a much more engaging way.
HOTTERdog fleeces
I've always wanted to get the guys an Equafleece for their winter walks and drizzly days, but simply couldn't justify the price tag for two large dogs.
However, HOTTERdog is made by the same brand for half the cost, albeit in a much smaller range of sizes and colours. Phoebe and Frank both fit the large beautifully, which cost aroud £27 each, rather than £43 had we gone with Equafleece.
I got Frank the Forest Green shade, and Phoebe the Grape, which are water repellent, stylish, warm and cosy. The jumper covers the torso, chest, belly and front legs, stretching to the base of the tail without restricting movement. Not only is the fleece water-repellent and washable but also it is extremely effective for drying off wet dogs such as working dogs or after swimming or hydrotherapy.
The Scamps did have these a little bit early as temperatures dropped from the end of November, but they're a great practical gift that they'll never outgrow now they're both adult dogs. It's definitely worth the investment.
Yappy Paw Balm
After wrapping their human's presents and sniffing around in the kitchen for scraps, the Yappy Paw Balm is the ultimate stocking filler to soothe paw pads and noses in the winter months.
This moisturising balm helps your dog's nose and paws feel soft, smooth, and very much cared for. Made from natural ingredients, the balm is cruelty free and doubles up as a great lip balm for you too (but only if your dog wants to share!)
For other fabulous Yappy gifts, don't forget to check out our blog post on Frank's personalised board game, and Phoebe's superstar journey book.